From Venice to Sicily, on four separate trips to Italy, my mother and I ate the most delightful candies, ice creams, and ices.
A gorgeous Venetian shop stocked an astonishing variety of torrone. We patronized the shop nightly for a week in bone-chilling December dampness and brought home big bars of the nougat and nut delicacy.
In the fair city of Verona, hot roasted nuts covered in sweetness were sold on the streets at a Saturday morning market.
In Roma, elegant eternal Rome, always close to a glistening gelateria, glass cases display endless varieties of frozen desserts.
Now, I look with sweet longing at the snapshots in my photo album of marzipan cleverly shaped into fruits and vegetables and sea creatures of every kind from the immaculate shops of stunning Taormina and smile. Delicious pistachio ice cream was had in the centuries old, exotic fishing village of Cefalú and lemon ices sold on the hot, sunny May mornings. Sicily – mysterious, dark, ancient, and delicious!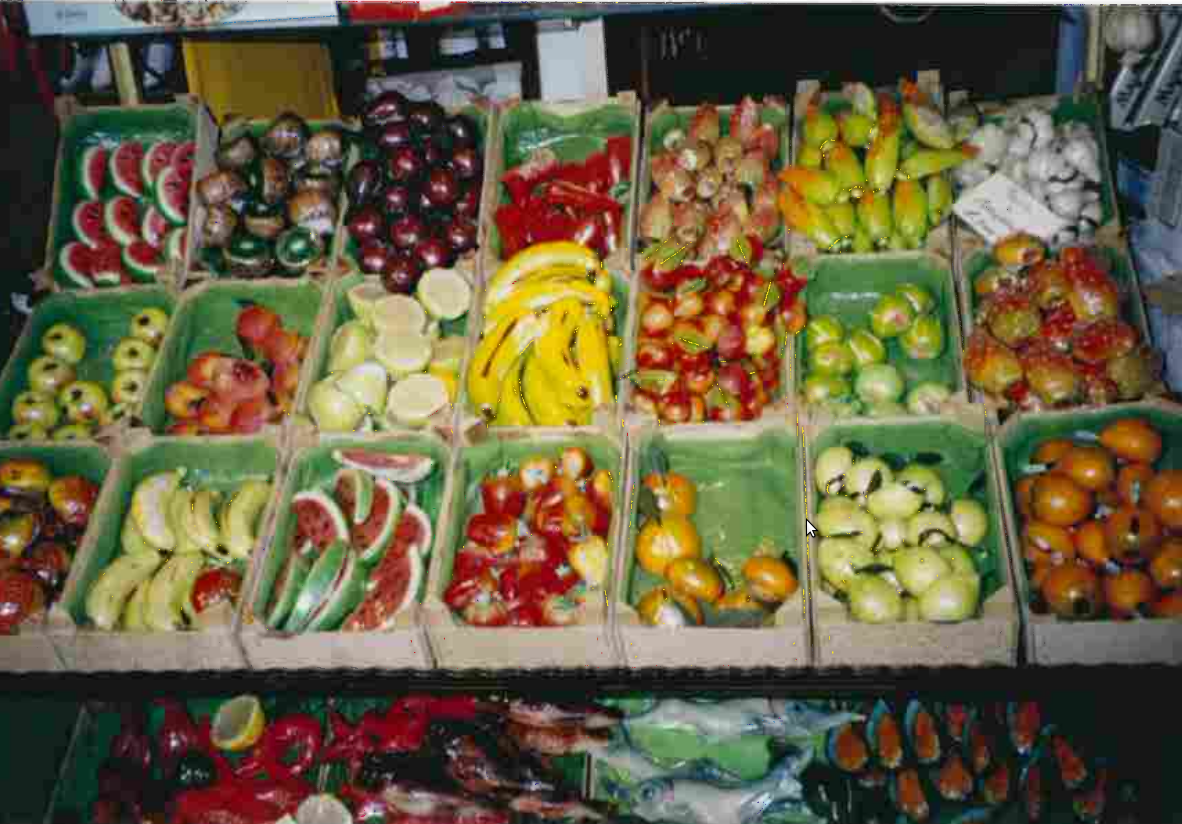 On our Sicilian adventure, we spent one morning in Reggio Calabria. I booked the eight‑hour tour for that half‑a‑day to glean something of my roots. From our hotel in Messina, we could see the mountains of Calabria, and we ferried across the windy straits. I had no idea that my dress had blown up to expose a full view of my underwear clad backside, until I caught a chagrined expression on my mother's face. It was quite a show.
Touching the terraferma of our ancestors, who lived in a small, distant village, the giant palm and tropical trees, blue water and blue mountains, and Moorish detailing in the architecture, gave the place an exotic atmosphere. The city was sparklingly clean and attractive, with the exception of a few ugly buildings contructed in the Fascist style. Preserve the old, tear down the new.
Face to face with the famous Bronzi di Riace, bronze statues found at sea, my mother's sole comment on the naked men was, "Yuck!"
Promenading along the streets, window-shopping, well-groomed, neatly-tailored pedestrians passed by. Il Papa had visited a local church. We had a lemon ice at Gelateria Lo Giudice, and headed back on the ferry, dress well-anchored, to Messina. On the sidewalk a man passed a flirtatious remark and then deliberately, audaciously helped himself to a look down the front of my dress with my mother standing at my side.
Could we have been in Florence a week without a single sweet? Most unlikely, but I recall only one hot chocolate on a cold February afternoon. It was the week of Ash Wednesday, the start of Lent, a time of fasting and abstinence.
The churches were bitingly cold and we froze to the marrow. Hidden in centuries-old, darkened church corners, as we walked past we would catch a glimpse of a celebrated painting, turn back, and behold a treasure known from the art books. Florence, the magnificent Renaissance city resplendent with art, art, and more art, and churches. Among the precious art, the most astounding object was the coarse habit worn by Saint Francis. Intoxicated with art, penitent as appropriate for our Lenten journey to the desert, it seems we bypassed the pastry shops.
My only suggestion to the Florentines: diaper your dogs.
By Gina Paone Kulch-Stritch