To be married in Italy by a rabbi who spoke Hebrew with an Italian accent was almost as funny as listening to Jerry Lewis speaking Italian in a dubbed film. Jerry's high-pitched, squeaky voice in Artists and Models and the rabbi's deep, solemn tones in our marriage ceremony ranged from ignorance to bliss on my emotional scale.
I simply said "sì," when the best man kicked me, or nodded when my name, Lucille Gang, was pronounced " Lucia Gong." Lo and behold, my husband reached for my ring finger and we were married. I understood "Baci" because Dean Martin was singing "Baciami," or was it "mi baci"?
Either way, I knew "baci" meant kisses. So when the rabbi said "baci", I knew what he meant. For me, it was present tense: "actions speak louder than words". When photographed holding a bouquet of long-stemmed lilies without removing the silver foil, I understood every spoken word that accompanied snickering and finger pointing. I learned a whole bunch of words for "jerk" or "nincompoop" in a second. "Stupida" was the easiest.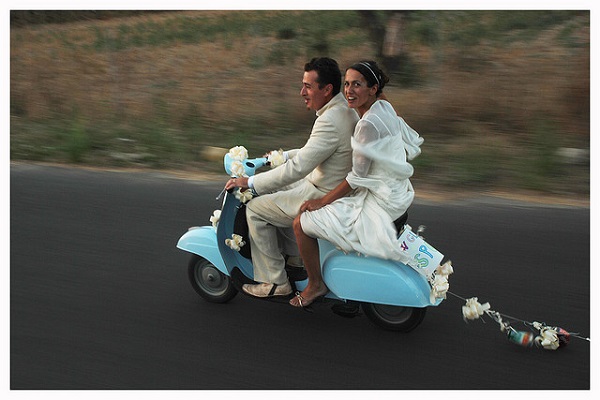 I felt Italian, although my language skills were limited.
In school, I studied Spanish for five years and couldn't speak a word, though I could translate Don Quijote. I loved the sound of some words, like Dulcinea, la cucaracha, and "Habla Usted Español?"
Lord: was "amore" Spanish or Italian!?
Volare was a favorite song of mine, and "oh, oh, oh, oh," was fun to say. I would stress and draw out the syllables in while learning Italian, all while accenting my words with gestures: all this made my Italian language vocabulary sound authentic. Well, at least to my eye. Of course, "cantare," which rhymed with "volare," followed by a long series of "oh, oh, oh," expanded my vocabulary.
Within a month, I was singing and sailing along on Adriatic Sea, awash in waves of shopping wisdom: "pane" for bread, "burro" for butter, and well practiced in "Como si chiamo questo?" ("come" is the correct form) or "What do you call this?" my hand gestures were "perfecto" (it should be "perfetto"). Misspronounciations on my part.
In the meantime, though, my name was also mispronounced. I was " Signora Shulkrapper", "Signora Shulepper," or Signora Shulpepper". Within a few months, I had acquired a speaking vocabulary that rivaled a first grade reader. I had insulted my neighbor, who, red-faced, left in a huff when I told her how her cakes tasted. The word "meglio" for "better" somehow got mixed up with a bad word that starts with the same sounds. I had to leave a class of pregnant women who were in the first class given on natural childbirth when they drew the sperm and the egg on the board because I couldn't stop laughing.
The last laugh was on me. Proud of my new language skills, I insisted on ordering my own meal from the menu at Vittorio's Trattoria. When it came time for dessert, I told Vittorio that I'd like a piece of cake. I had to use the word "sfoglia" (which is a kind of cake). I said, "spoglia". Vittorio reddened. My sweet young husband reddened. "What did I say?" I asked him when I sat on the back of his motor scooter and we headed toward home. "I only asked him for a piece of cake."
"You asked him to get undressed", my husband said. You've got to watch your f's and p's. He was annoyed. Hadn't he promised to love me forever? Where was the romance I expected to find in our marriage? Was it all a big lie? Did it all amount to f's and v's when it used to be p's and q's.
I started to cry. But my husband spoke "real" Italian. He stopped his motor scooter on the cobble-stoned street, leaned over, and "bacied" me.
By Lucille Gang Shulklapper