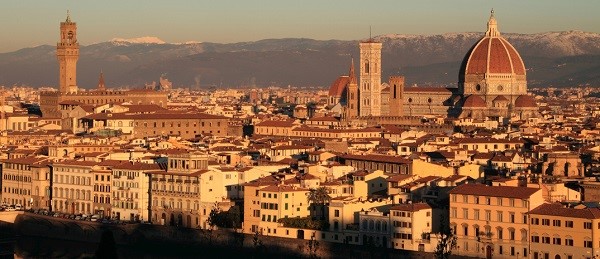 Firenze is one of those cities everyone should visit at least once in their lifetime, a place so beautiful you'll want to return again and again. Everyone knows about Florence and the Renaissance, the city's beautiful buildings and churches, and the priceless artwork that fills its museums, but Florence is much more than all that. In truth, Florence is a city that isn't just about history, or even art, but rather is a place that has been built on commerce and trade. Between the Baptistery and the Duomo, walking on the Lung'Arno, you get a sense of the intricate Florentine workmanship that has been passed down from generation to generation. Artisans and craftsmen made Florence the city we know today and although many companies based in the city, like Salvatore Ferragamo, have become internationally renowned, they all started small and local. So let's see some tips now about shopping in Florence!
Shopping in Florence, Italy
Leather goods
The leather industry is only one of the many that have developed and flourished in Florence through the centuries. If you visit the city, be on the lookout for high-quality leather goods that can be purchased in boutiques, little shops, or at the market. Florence is the perfect place to buy anything from jackets and purses to belts and shoes, as leather goods are an important part of the city's economy. One of the best leather buys you'll find? Great leather-bound photo albums and journals to record memories of your journey. If you love great buys and designer names then you'll also want to head to the outlets outside the city.
Shopping in Florence – Jewelry
Besides leather, Florence is also very famous for its jewelry. The city has a wealth of small jewelry boutiques that not only sell fine products but also offer a lovely shopping experience. The most famous spot in town to find the best jewelry stores is Ponte Vecchio. Ponte Vecchio, for those not familiar with it, is a bridge that goes across the river Arno.
What is very peculiar about this enchanting bridge is that it actually has full constructions on it, to the point that is seen from a distance, it looks like a miniature village. Indeed, what could be mistaken for small houses are actually stores, most of which are jewelry shops. Shopping on the Ponte Vecchio is a unique and unforgettable experience, especially when it is close to sunset and the light paints the city in an extraordinary way, bringing colors that match those used by the artists who have made Florence such a living museum.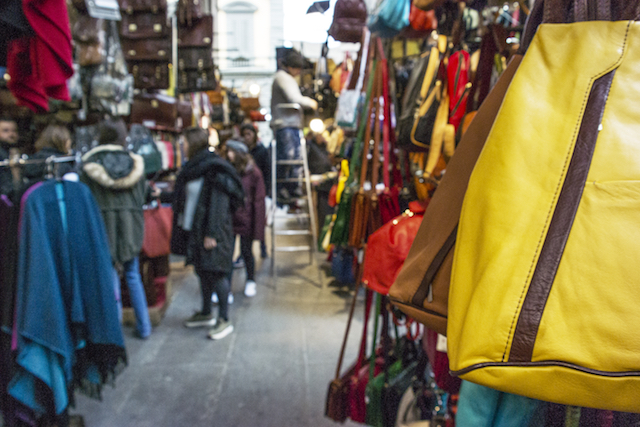 Where to go shopping in Florence?
Of course, while shopping in Florence we strongly suggest a stop in Piazza della Signoria for a coffee in one of its cafés and then a visit to the Uffizi, one of the most impressive museums in the world (expect long lines – but it's worth it!). And who wants to leave Florence without seeing Michelangelo's David? Then, of course, a glimpse at Santa Maria Novella is worth the trip to Florence alone, and if you have some strength and you are in the mood for some exercise, climbing the Giotto bell tower is actually a breathless experience, both physically and emotionally. The last stop we strongly suggest is Palazzo Pitti, home of fabulous architecture, fashion shows, and exhibits.
Then at night, when the shopping and the sightseeing are over, you can choose one of Florence's many famous restaurants to enjoy some great Florentine steak, along with some fine Tuscan red wine, which will truly conclude a memorable vacation. After all, Florence is an amazing city and it deserves every bit of your attention. Don't worry, she'll pay you back for your time and effort like only a few places in the world can.