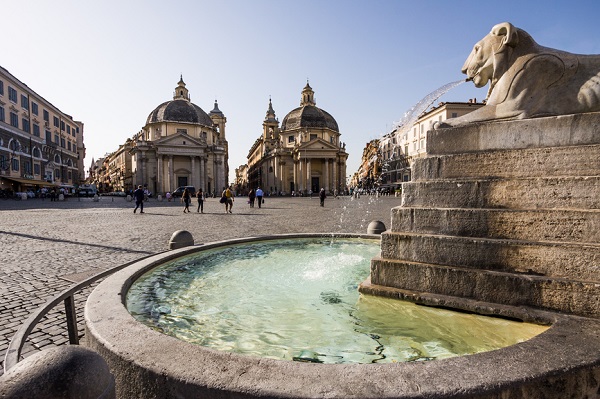 Many people coming to Italy for their holidays don't have a large amount of time and need a concise and effective itinerary allowing to visit the most significant places in the country, in as little as seven days.
This itinerary' ll help you get a good handle on some of Italy's important places of interest. With a short amount of time, you'll want to be prepared before travelling and have a well constructed and well organized plan. But fear not: we've done the foot work for you, so all that's left to do is pack your suitcase and fly over!
All places listed below are well connected by train and train stations are usually in the town centre, so you can go from one place to the other very easily.
Let's take our quick adventure through Rome, Siena, Florence and Venice.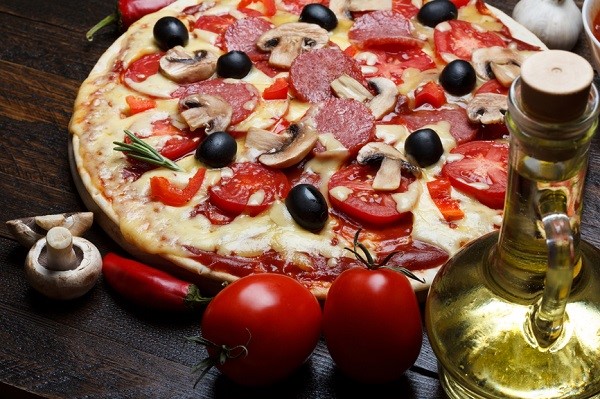 DAY 1 – ITALY IN ONE WEEK (ROME ITINERARY)
Check into your hotel, set your bags in your room and then head out for your first day of adventure. On your way, grab a cappuccino from a local café and enjoy the morning vibe of Italy. First, head towards Michelangelo's Campidoglio, where you can look over the Roman Forum. After taking some time to capture the beauty of Rome, continue walking along Via dei Fori Imperiali, seeing the remains of the Imperial Forum. This route'll take you directly to the Colosseum. Take the rest of the day to discover the Roman Forum and the Palatine Hill (west of the Colosseum). You can also take a quick walk to the north of the Colosseum and see the Domus Aurea (the Golden House), where Nero once lived. At the completion of your first day, stop by the Church of San Pietro in Vincoli, where you can see Michelangelo's statue of Moses.
DAY 2 – ITALY IN ONE WEEK (ROME ITINERARY)
After a good night's rest, head over to Vatican City to spend most of your day there. Start at St. Peter's Basilica, one of the most beautiful European cathedrals, where you can get a good look at Michelangelo's incredible cupola. Spend most of your morning here, exploring and capturing this beautiful place. After lunch, head over to the Vatican Museums and see one of the world's finest collections of art and antiquities (it's better if you book in advance), ending at the Sistine Chapel. The Sistine Chapel is a must see when you're in Rome – take your time to absorb the rich message it conveys. It may not seem much to do in one entire day, but rest assured: it is truly a lot of beauty to take in in one short time lapse of twenty four hours! If you still have a little energy left, stop by Castel Sant'Angelo. Finish your visit to Rome dining at one of its various outdoor restaurants in Trastevere: you won't regret it!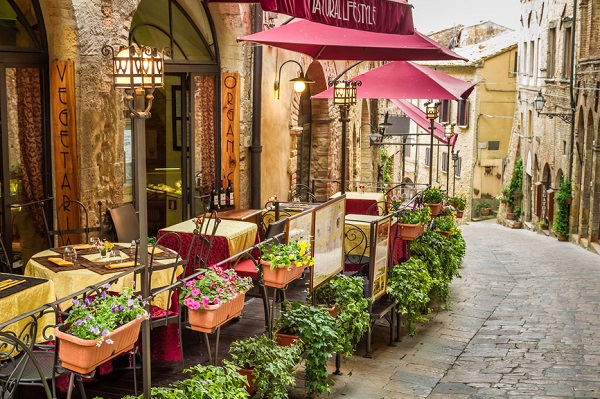 DAY 3 – ITALY IN ONE WEEK (SIENA ITINERARY)
Today, you're going to head 143 miles North of Rome into Siena (the second largest city of Tuscany). Once you arrive, check into your hotel and hit the streets. The first place to visit will be Piazza del Campo, which is the main square in town, where several sites of artistic and architectural relevance are located. Here, you can visit the Museo Civico and the Torre del Mangia: it's a bit of a climb to the top, but it'll give you a breathtaking view of the city below. Don't forget your camera! After this, walk to the Duomo and spend a few hours visiting the surrounding sites. You'll see the Museo dell'Opera Metropolitana and the Battistero. On your way back to your hotel, grab something to eat and sit down to people-watch and read a newspaper.
DAY 4 – ITALY IN ONE WEEK (FLORENCE ITINERARY)
Get up early and drive from Siena to Florence (it's only 21 miles). Your first stop should be the Uffizi, where you can spend the entire morning (booking in advance is advisable). Next, head over to the Museo dell'Opera del Duomo (do this before seeing the Duomo). Adventure to the top of the Duomo and enjoy the spectacular view of the city you'll get from there, then head over to the Battistero di San Giovanni and the Campanile di Giotto. On your way home, you can stop in the Galleria dell'Accademia, which houses the world-famous statue of the David by Michelangelo. Take a stroll along Ponte Vecchio and watch the sun set. Bellissimo!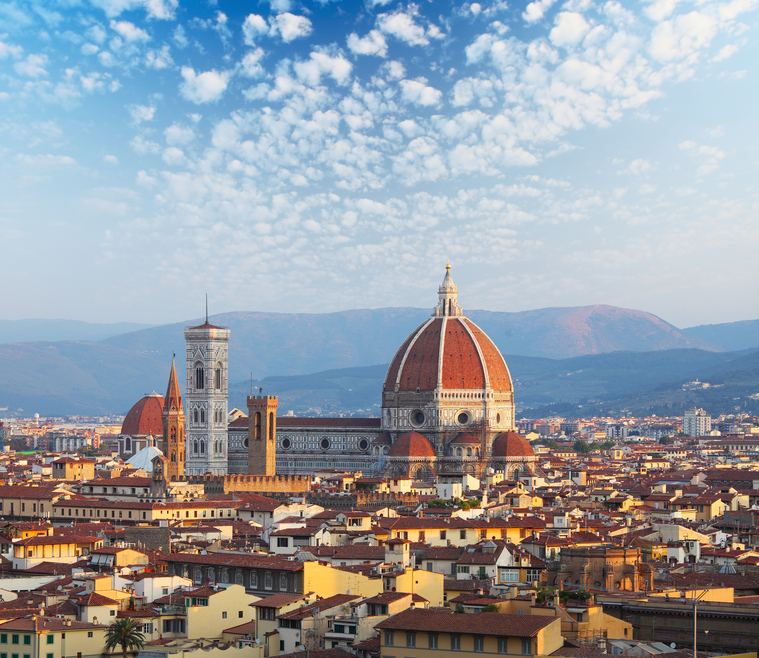 DAY 5 – ITALY IN ONE WEEK (FLORENCE ITINERARY)
Spend your morning observing the works of art at Palazzo Pitti, on the banks of the Arno, and then head to the Giardini di Boboli. After you have lunch, cross over the river to see many Renaissance sites  including the Cappelle Medicee. Wind down your day with a visit to the Basilica di San Lorenzo and Palazzo Vecchio. Kick off your shoes and have a good night sleep. Your tour is almost over – you'll need the energy!
DAY 6 – ITALY IN ONE WEEK (VENICE ITINERARY)
Prepare yourself for another early morning drive from Florence to Venice (about 165 miles Northeast). You'll arrive by taking the vaporetto on the Grand Canal to your hotel. Make sure you don't let this experience pass you by, but take in the magnificence of this city. Once you're checked into your hotel, stop by Piazza San Marco for a cup of coffee, then visit the Basilica di San Marco, which is at the front of the square. After this, go to the Palazzo Ducale and walk onto the Bridge of Sighs. Climb the Campanile and enjoy the city view from the top. You'll be able to see the entire city and the lagoon. Take advantage of the waterfront restaurants for dinner.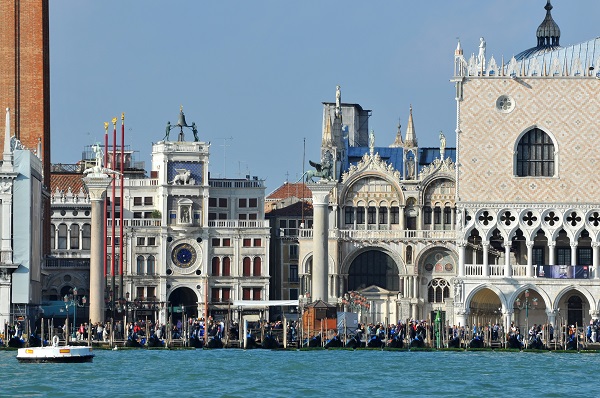 DAY 7 – ITALY IN ONE WEEK (VENICE ITINERARY)
Today, you'll explore the best art Venice has to offer at the Gallerie dell'Accademia and the Peggy Guggenheim Collection. Go shopping on the Rialto Bridge and buy some souvenirs before your trip comes to an end. Stop by San Rocco for some more art gazing and finish your day with dinner on the Lido. Take one last glance at Italy, before you pack up to head home.
Touring Italy in one week will require a lot of energy and time will run quickly by. Be prepared to walk! It's worth every bit of it. Don't worry about what you won't be able to see, just concentrate on what you did see. Italy isn't going anywhere – come back again to experience its wonder and magic. If you're looking for 3 week trip in Italy, make sure you check what else to add!
By Joey Papa