Assisi is between Rome and Florence, it is 30 miles north of Spoleto and 16 miles east of Perugia. This city began in the 7th Century and was conquered by the Romans 400 years later. It was Christianized in 238 by St. Rufino but is remembered for St. Francis. This city is another medieval themed city with its architecture and appearance. Most of this is due to neglect between the 16th Century and 1926, when the city was renovated and restored. This restoration was due to the 700th year of St. Francis' death which attracted millions to this forgotten city. Since 1926, Assisi has become a world renowned destination for Christians.
This city does not allow any outside traffic in. It is a walled city so this can be enforced quiet easily. There are mini buses that can be taken to and from the city's center if you need to park outside the city walls. Assisi is a smaller town so its sights can be seen in one full day without feeling rushed or crammed.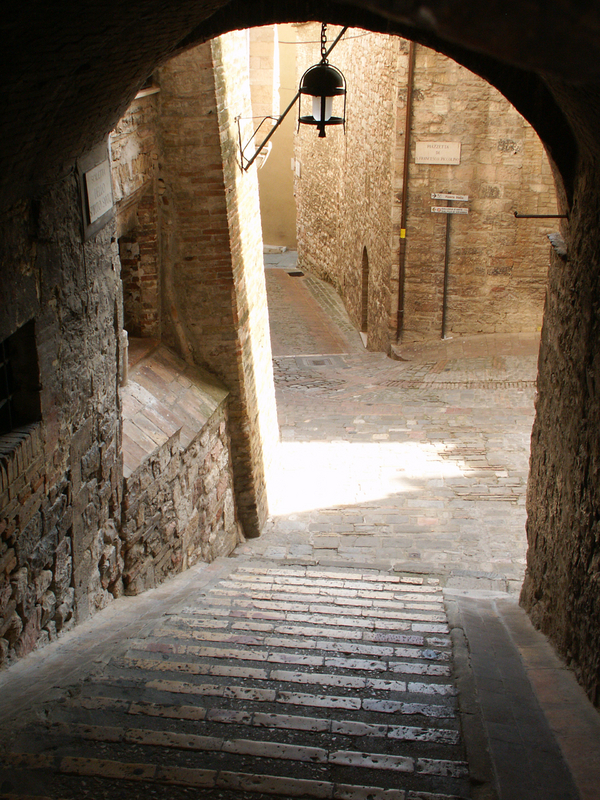 DAY ONE, ASSISI TOUR – EREMO DELLA CARCERI, SANTA CHIARA & TEMPIO DI MINERVA
Eremo della Carceri. This is the place where Francis and his followers built their first home. It's hidden within the caves of Monte Subasio, built in dense woods. Eventually this became the church and monastery of St. Francis. As a visitor you can take the self tour throughout the home and monastery, lead by a set of narrow steps taking you to the places where St. Francis slept and prayed. When you visit, be sure to leave a donation because the friars depend only on alms from tourists.
Santa Chiara. This is the church of Saint Clare, which is the burial ground for St. Francis' body. The church is dedicated to Saint Clare because she was one of the first and most persistent of St. Francis's followers. She also started the Order of Poor Clares, mirroring the work of the Franciscans. In the church you can see the Cappella del Crocifisso which is the cross that spoke to St. Francis and called him to a life of service and dedication of Christ. Here you will see a follower of Saint Clare veiled and stationed to stand before the cross in continual adoration. This is a sobering and enlightening sight to see. The dedication and honor the people hold for Saint Francis and above all, for Christ, is beautiful and indescribable. There is such a spirit of peace and humility in this church.
Tempio di Minerva. This is a fascinated church. The sanctuary dates back to 63BC! You talk about old history; this is amazing. The original building was built as a temple, during the reign of Augustus, dedicated to the goddess of wisdom. It was converted to a Catholic church in the 16th Century when Rome conquered this city. It remains an active Catholic church to this day. The outside of the building can be misleading. It appears to be a faultless classical façade on the outside but stepping inside you'll quickly realize a genuine baroque décor. It may throw you for a loop but it's worth taking the time to soak it in.
DAY TWO, ASSISI TOUR – SAN RUFINO & SANTA MARIA DEGLI ANGELI & WHERE TO EAT
San Rufino. This is the primary church of the town where both St. Francis and St. Clare were both baptized. It's a dome structure, much like a lot of the main city churches throughout Italy. It was constructed in the 12th Century and has been redecorated and renovated since. In this church is the grave of San Rufino, the bishop who brought Christianity to Assisi. He was martyred for his faith in the 3rd Century. If you choose to see the grave you will also be admitted to the small museum containing artifacts.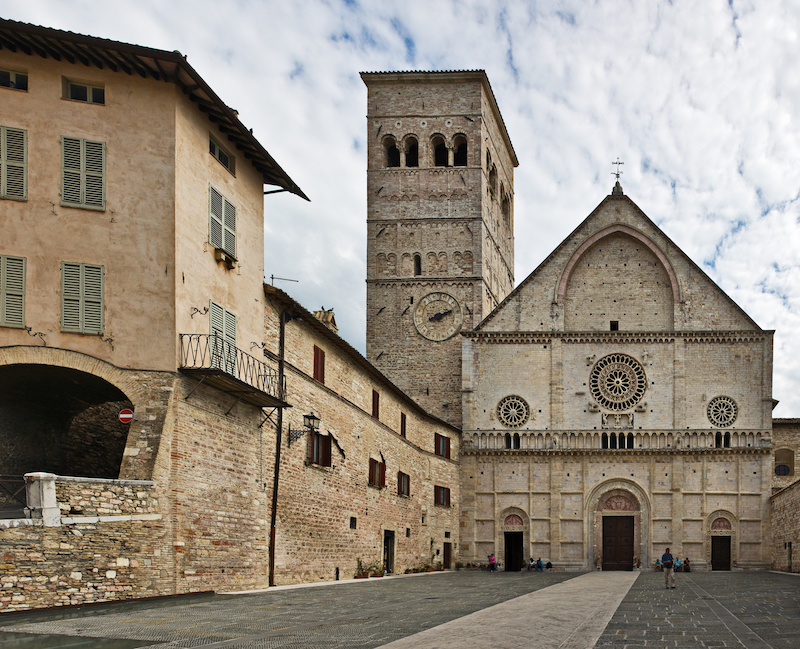 Santa Maria Degli Angeli. This small church is on the outskirts of the town (by the train) and houses a shrine built to remember and commemorate St. Francis' death. The church is built on top a small chapel, the Porziuncola that was restored by St. Francis.
Buca di San Francesco. This is the town's busiest restaurant. If you visit in the summer, you will enjoy your meal in the cool gardens and if you visit in the winter you will have your meal in restaurant's cellar, covered with brick arches. The restaurant itself is very busy due to its popularity so try to stop in at an off time so you won't have to wait and waste your time in line.
La Stalla. If you're looking for good old country food then make sure to stop at La Stalla. It's an old stable that has been converted into a restaurant. They serve up lots of meats, potatoes and veggies all roasted over an open fire. You can also indulge on some Italian favorites, salami, sausage and various cheeses. If you are visiting in the summer you can enjoy your meal outside under the vines and beautiful scenery. The cost of a meal is very affordable and is a good recommendation for those who don't want to spend a lot of time eating. A very quaint, rustic experience.
Even if you're not a Christian, make a point to stop by Assisi for its culture and history. It's fascinating to see what the local government has made out of this small town to accommodate the millions of Christian voyagers that come every year. Oh, and if you're interest in when the Christians make their journey, it's between late September and the end of the Christmas season.