Italians love vehicles on two wheels and it's safe to say that they're second to none when it comes to riding, designing and manufacturing them.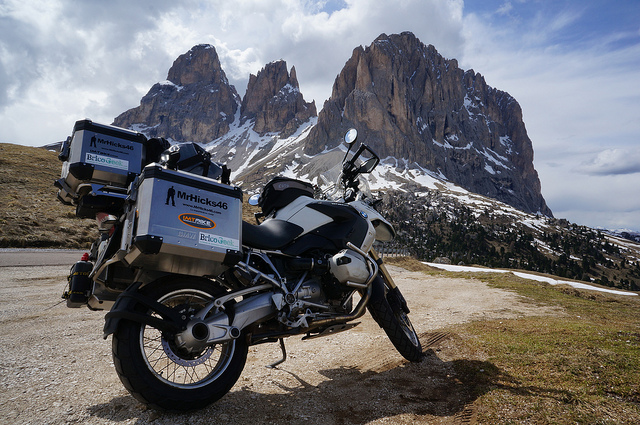 Motorbikes are an excellent way to get around in Italy, especially in the city, because of the usually heavy traffic and the never-ending difficulties with finding parking. Famous and classic brands, such as Bianchi, took over the market's leadership, in Italy first, then all over the world. Companies like Piaggio introduced glorious designs like the Vespa, that took over Italian streets, along with high cylinder motorbikes like Cagiva, Gilera, MotoGuzzi, Laverda and, of course, Ducati. Soon Italy was right up there with Japan as the biggest manufacturer of these types of bikes.
It is true: Italy quickly became a number one producer of motorcycles and still keeps up in the market pretty well. This is due also to the fact that its brands have, to many, reached a cult-like status. If you'd like to read more about the Italian motorcycle industry – and get some ideas to travel the country on two wheels, you can check our dedicated section.
Vacanze Romane, anyone?
Undeniably, Italy holds a top spot in the production of bikes and has been proud motherland to some of the best racers.
It is, however, to the iconic renditions of Italy's two-wheeled vehicles proposed by cinema that many think of straight away. In this light, our own beloved Vespa wins hands down the gold medal for most iconic Italian two-wheels, at least to the eye of the non-riding public. This is because the Vespa is powerfully associated to Italy and Italy's roads, and this association was portrayed and made famous around the world in a period –the 1950s – and in a manner –cinema– that go hand in hand with a well established image of the country.
That famous scene in Vacanze Romane (1953) where Gregory Peck shows Rome to young Princess Anna, interpreted by Audrey Hepburn, while riding a Vespa (as well as the scene where Hepburn runs away on one and has the Italian Polizia running after her throughout the city) has entered the world's collective imagination, and never left: it is, maybe unconsciously, to that type of Italy, the one depicted by Wyler in the movie, that people still runs back when thinking of this tiny, ubiquitous vehicle.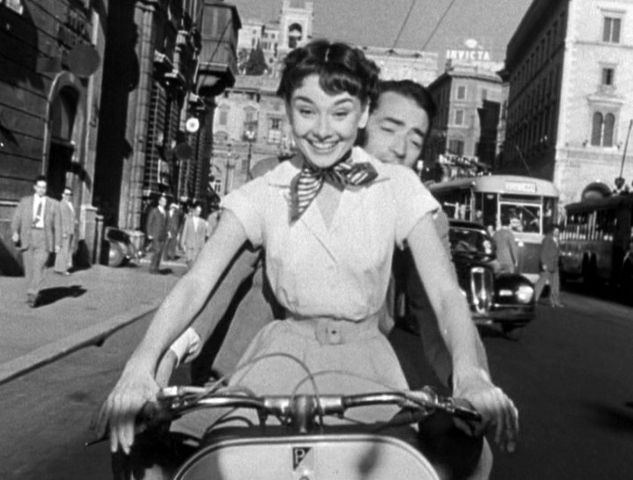 To this Vespa and to the country it still manages to bring to people's mind, we say: Grazie for the beautiful memories.
Two-wheels in today's Italy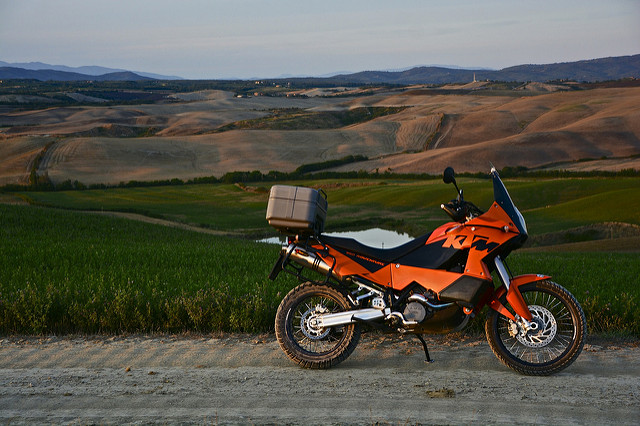 In certain areas of Italy, especially Emilia Romagna, motorbikes had a tremendous impact on people's life, and became a social phenomenon: it is certainly not by chance that some of our most successful professional racers were born in the region. Everywhere else, people enjoy bikes and scooters as a quick and –almost– stress-free alternative to cars, especially when moving around the city.
In places like Rome, Naples or Milan, where traffic is very heavy, having a scooter or a little bike has become almost a necessity: with one of them, zigzagging between cars is easy and one can also access restricted traffic areas, which are usually officially –and unofficially– open to two-wheels. With a bike or a scooter, forget about that endless and time consuming ritual that looking for a parking spot is: you can leave your vehicle virtually everywhere (provided it is a legal parking zone!). In the winter, watching men and women driving mopeds in their suits, while wearing bizarre waterproof caps can be quite amusing.
Driving a bike doesn't require a full driving licence, but only what in Italy is called A1 licence, with which you can drive all two wheeled vehicles under 125cc. This includes our ubiquitous and well loved Vespa, first symbol of independence to many young Italians. The minimum age to get an A1 licence is 16 (remember that you need to be 18 to apply for a full driving licence in the country). To drive a moped you need a driving licence called AM (patentino), and you can get it at the age of 14, so two-wheels are often the first vehicle many Italians own, thanks to which they can travel around more independently, without relying on their parents. Il primo motorino, the first moped, is one's true, first taste of adult life.
Italy's rules for driving these types of vehicles have gotten stricter over the years, with a limit on the number of passengers, mandatory helmets and the obligation to carry proper insurance and have a license plate. Unfortunately devices like cell phones meaning new dangers are arising. It is recommended to use all possible caution whether you're a driver, rider or pedestrian.
The problem with motorbikes is that they can sometimes present a danger in traffic, especially if not driven properly: some drivers jump lanes without paying proper attention to oncoming cars, and can get quite distracting to four-wheels drivers: it may be a good idea, it seems, to provide some more road preparation for bikes and moped drivers. However, in the summer months the benefits of riding a motorbike are out of this world, especially in gorgeous cities like Rome and Florence, or along Italy's endless, beautiful coast.
The refreshing breeze and the opportunity to fully enjoy some of the most exclusive panoramas in the world alone justify not using the car.
Italy, good food and bikes: the BBC got it all on tape!
When it comes to cooking shows, Britain sometimes gets edgy: it is certainly the case with the very popular Two Hairy Bikers series, where Simon King and David Myers, two, well… hairy bikers, who happen to be chefs, travel around the world on their bikes, getting to know local gastronomy. The show has featured Italy in its 2012-13 spinoff, Two Hairy Bikers Bakeation,  where they travelled  the country on their bikes, a BMW R1200GS and a F650GS, as well as a Triumph Rocket III, to discover how we Italians really cook, in a way similar to that used by Jamie Oliver a few years back.
Their Italian adventure starts in Venice, where they exchange their bikes for a gondola, then head to Turin and Piedmont, where they celebrate the country's 150th anniversary, only to head then to the Cuneo province and a hazelnut farm, where they learn all about how to make Nutella. They then run off onto less beaten tracks and travel the country, in between a cook off and some well deserved bike rides. Check out their style in this video where they bake a gorgeous focaccia beside the laguna, in Venice.
One last note, reserved for those American readers who might wonder about the use of Harley Davidsons, and the overall take on this type of lifestyle in Italy. While there are motorcycle clubs throughout Italy, with gatherings and reunions, they are not as widespread as in the US. Still, the energy, spirit and love for two wheeled vehicles is definitely reaching across the ocean and spreading.
Edited and updated by Francesca Bezzone