See also:
Southern Italy Regional Food
Northern Italy Regional Food
Much of what the rest of the world considers Italian food hails from the central regions of Italy.
Velvety smooth olive oils, world-famous cheeses, savory cured meats and rich tomato sauces grace the tables of the central area of the country.  Beef dishes can be found more often here, and the hills of Tuscany and Umbria are known for their wild boar. Both coasts share a love of locally caught seafood and the rugged interior is known for hearthy mountain fare.
Emilia-Romagna
The region has a fine gastronomic reputation. Stuffed pasta, including the tortellini of Emilia and the cappelletti of Romagna, often served with the famous ragù sauce (also known as Bolognese), are among the staples of this area's cuisine. The "king of all cheeses," Parmigiano-Reggiano, has found its way into recipes around the world, but its production is strictly enforced to ensure a continued tradition of quality. Pork products include Parma's famous Prosciutto, Zibello's time-honored Culatello, Bologna's Mortadella and the Zamponi (stuffed trotter sausage) of Modena. Romagna is home to fish and seafood dishes, too,  with eels being a favorite of Comacchio. The area of Modena is also the home of the coveted Balsamic vinegar of Modena, yet another masterpiece of Emilia Romagna that is often imitated, but never duplicated.
When it comes to wine, there are plenty of delicious varieties hailing from here:  the sparkling red Lambrusco Salamino di Santa Croce barely resembles the inferior mass produced versions available in the US. White wines include Albana di Romagna and Trebbiano di Romagna, both enjoyed since Roman times.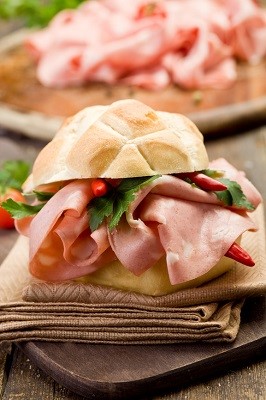 Tuscany
It can be argued that this is where Italian cooking was born, at the court of the Medici. The region is home to excellent olive oils, sheep milk cheeses and delicious roasted meat dishes. Florence offers its famous alla fiorentina steak and specialties that include ribollita, a thick vegatable soup, fagioli all'uccelletto (beans sautéd in garlic and sage with tomatoes) and fagioli al fiasco, made with oil, onions and herbs, cooked in a round bottle (fiasco) on a coal fire. Seafood dishes includes triglie (red mullet) and a delicious fish soup known as cacciucco alla Livornese. Siena offers panforte, a cake containing almonds, honey and candied fruit.
Tuscan wines sell worldwide and include the ubiquitous Chianti, which comes in both red and white. Brunello di Montalcino is rightfully praised, as well as the Vino Nobile di Montepulciano. The DOCG protected Vernaccia di San Gimignano is probably the best-known Tuscan white wine.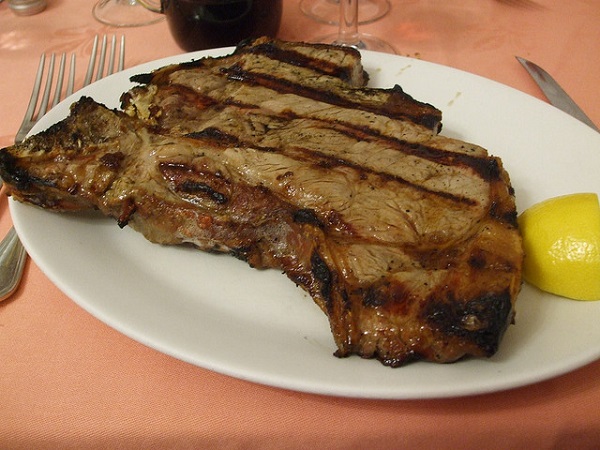 Umbria
The Umbrian town of Norcia, in the Apennine foothills, is the home of Italy's best black truffles (tartufo nero), which are served over everything, including local pecorino cheese. Many types of hand-made pasta like strozzapreti (priest stranglers) are offered in a decadent black truffle sauce not easily found outside Umbria. Norcia is also home to excellent pork products such as their prosciutto and various  types of salame. Besides delicious homemade fresh pastas made with egg, the region of Umbria is responsible for the production of much of the dried pasta consumed throughout Italy.
The wines of Umbria include many excellent whites like the famous Orvieto, as well as higly praised reds such as Torgiano Rosso and Montefalco Rosso.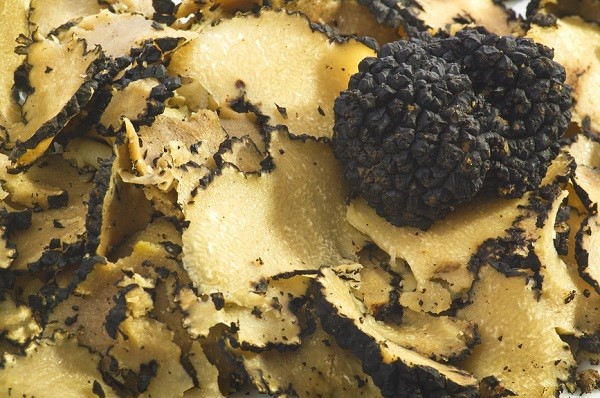 Marche
Le Marche' s  versions of the famous fish stew known as brodetto include red and gray mullet, cuttlefish or squid (or both), oil, garlic and saffron. The port of Ancona is known for stoccafisso (stockfish), sole, bream, clams and mussels. Vincisgrassi is made with ground pork, mushrooms, tomato and béchamel sauce and topped with local truffles. Favorite meats include veal, rabbit, game birds (quail, pigeon), chicken and goose. Both meats and fish are usually done either in a porchetta style using fennel, garlic and rosemary or potacchio (with onion, tomato, white wine and rosemary). Young Pecorino cheeses and the Casciotta d'Urbino is also popular.
Le Marche's wines include the reds Rosso Conero, Rosso Piceno and Vernaccia di Serrapetrona. Le Marche is home to standout white wines like Verdicchio (dei Castelli di Iesi or di Matelica) and Bianchello del Metauro, both excellent with seafood.
There are many Roman pasta specialties: bucatini all'amatriciana with tomato, onion, bacon and a dash of cognac, spaghetti alIa carbonara with a creamy egg, cheese and bacon sauce, dusted with black pepper "coal flakes", gnocchi alla Romana and rigatoni alla pagliata (rigatoni with calf's intestine). Meat dishes include abbacchio al forno (roast lamb) or alla cacciatora (lamb with an anchovy and rosemary sauce) and saltimbocca – a fillet of veal rolled in ham and flavored and served in a Marsala sauce. Favorite vegetable dishes include artichokes (carciofi) done either alIa Giudia (Jewish style) or alla Romana – cooked in oil with garlic and parsley.
Perhaps the best known roman specialties (now available all over Italy and mostly everywhere) is the bruschetta. Bruschetta is very simple: take a fingerthick slice of homemade bread, toast it and then rub a clove of garlic over the surface and sprinkle some good olive oil and salt. (You can aslo add tomatoes pieces on top).
Panzanella is another simple to prepare bread dish. Not quite as well known as the bruschetta (but it is a lot tastier than what it sound from the description).
Panzanella: take a slice of home made bread, moisten ligthly with some water, split open a nice ripe tomato and rub it over the bread until the juice is absorbed. Season with some olive oil, salt, a few drops of vinegar and a few basil leaves.
The white wines of Montefiascone and the Castelli (Frascati) will satisfy the most discerning gourmet.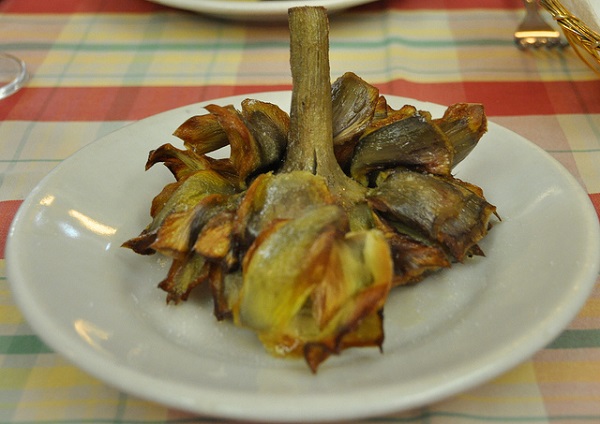 These two regions share similar cuisines, with Molise being a little more rustic. Among the pastas, note the maccheroni alIa chitarra, made by hand and cut into strips. Pecorino, Caciocavallo, Scamorza are all popular cheeses produced in these regions. In the mountainous interior lamb, kid, mutton and ewe are all favorite meats and are the basis for Molisian specialties like cacio e uova, lamb cooked in an earthenware pot and served with egg and sharp cheese. Pork is used for local prosciutto (including a smoked variety) and various types of salame. Molise and Abruzzi also share a love for porchetta (roasted suckling pig). Molise is known for its fiery diavolino red peppers, used in the traditional tomato ragù. The olive oil of Molise is among the best, but is not generally made in large amounts for export. The coast of Abruzzi and Molise is famous for their brodetto, which uses a local seafood favorite, red mullet. Other popular seafood includes fresh anchovies, swordfish, mussels and clams.
The gutsy Montepulciano d'Abruzzo is one of Abruzzi's most popular and affordable export wines. Biferno comes in Rosso, Rosato and Bianco varieties, all considered dry. Pentro di Isernia  is also found in dry whites and reds.
By Justin Demetri & Paolo Nascimbeni