Don't you think it's very sad when you hear a particular breed of animal or a species of plant has almost run into extinction, and even more terrible, when there's no chance of revival? One particular breed of pig, the Cinta (meaning belt) Senese (of Siena) had almost been lost forever.
Originating in Tuscany from around the areas of Siena, Montemaggio, Casole, Monteriggioni, Poggibonsi and Sovicille, it is believed that this ancient hardy breed was more than likely bred in Roman times, although the earliest acknowledgements found are dating from the Middle Ages. Within Siena's Town Hall, the Palazzo Comunale,  one can find a room named Sala della Pace that boasts a painting entitled 'Effects of Good Government in the Country' by artist Ambrogio Lorenzetti (1338). Here you can certainly see that the pig shown with a farmer is without doubt a Cinta Senese. Free-range pig farming was of great significance, and if you happened to own an area of forest, you may have been considered wealthy because you either kept your own herd of pigs, or you received an income from renting out your land to other swineherds. The income received would either have been a type of tax depending on the amount of acorns eaten, or a full 10th of the production derived from the pigs.
The food provided by the pig was never wasted, not even the eyes apparently, and the bacon fat (or lard), was an essential everyday kitchen ingredient. The popular method of storing the meat was to cut the pig in half lengthways, and once cleaned, the meat was salted. A term given to one half was 'mezena'.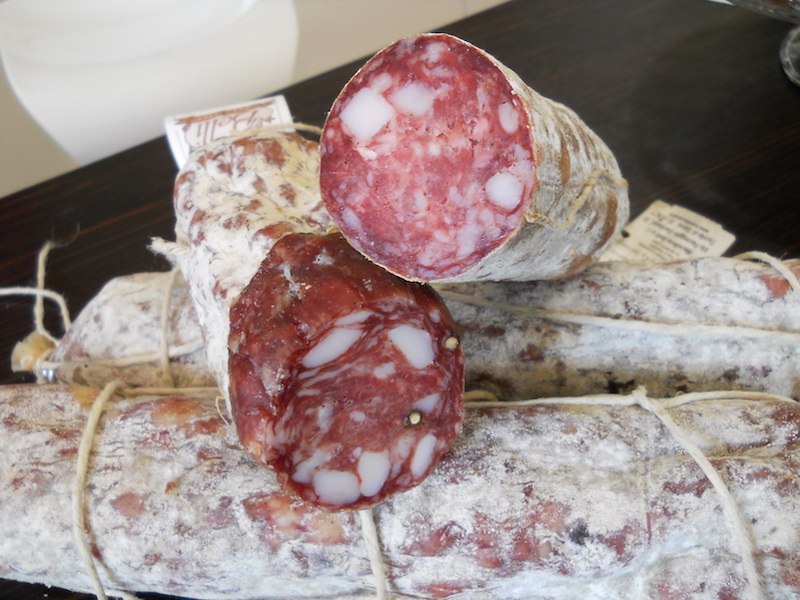 Up and into the 1950's many people owned one or more Cinta Senese for their meat, especially those who had unproductive land that was suitable for the hardy pigs to roam freely. The decline of the Cinta Senese was attributed to a couple of factors: a Large White, that needed to be kept for a much shorter period than the Cinta Senese before butchering, was introduced to Italy from the UK. This species also provided leaner meat, along with a quicker, larger production of meat. This event coincided with the increased demand for less fatty pork meat, just like that of the Large White. However, it was found that the Large White could not adapt to the same wild or semi-wild farming and terrain that the Cinta Senese was so familiar with. This led to a successful crossbreed between the two, that produced the Grigio Senese (Senese Grey), which then threatened the Tuscan Maremmana and Cappuccia breeds. Fortunately, in the year 2000, a voluntary Consortium was established in Siena, today known as Consorzio di tutela del Suino Cinto Toscano (Consortium for the defence of Suino Cinto Toscano). Products are given a tag confirming their origin, that is, a Protected Designation of Origin, which means the animal from which the produce is derived was born raised and slaughtered in Tuscany.
The number of Cinta Senese breeders over recent years have greatly increased and one of these breeders, Fabio Pinzo, welcomed Lucia Norrito and her Slow Food Tour on a visit, and I went along. Fabio's passion for the environment and permaculture, (harmonising the land's ecological systems with the needs of man without chemicals), eventually led him to starting up his own organic Cinta Senese farm in 1992 on the rugged slopes of Monte Amiata a dormant volcano in southern Italy, with perfect conditions for these little beasts. (Permaculture gained recognition in the 1960's by an Austrian farmer Sepp Holzer who had practiced the systematic method. A decade later, Australians David Holmgren and Bill Mollison scientifically develop the methods further. We met up with Fabio at Pigelleto, (the name is purely coincidental and has nothing to do with pigs) a fascinating natural reserve deep in the heart of Monte Amiata. From there, we continued our mini-bus journey deeper into the woods and arrived at what seemed to be an almost secret location. The mini-bus' engine was switched off and we were plunged into absolute tranquillity and stillness. Of course we could hear birds and the first nearby sounds of snuffling on the ground. It was mid October, we were quite high up, and a little rain had fallen the previous night turning the ground fairly muddy in places, but  we really didn't care much. Mud is good for you isn't it?
During our stroll towards the area of the Cinta Senese, we were privileged to meet a little group of another breed, the Maremmana, completely black in colour. These were just 3 months old and learning to socialise in a group without the mothers. They'd dare themselves to get close to the fence, and then run away! We were astonished to hear that there are only three breeders in the whole of Italy for the Maremmana pigs, one of them right here on Monte Amiata. Pulling ourselves away from these comical black piglets, we approached the area of the Cinta Senese, all of them aged at around eighteen months. And what magnificent free-range pigs they are. They were routing and snuffling around, telling each other off, and basically having a great time in and around oak trees. They love searching out acorns and roots to munch, on as well as being fed organic barley and orzo maize once a day. The quality of the cereal is important and Fabio will only obtain this from a grower he is familiar with. Eight kilo's of orzo maize produces 1 kilo of meat, in comparison to 'closed-in' pigs requiring just five kilo's to produce the same quantity of meat. This therefore reflects in the cost of the much leaner Cinta Senese meat that can be up to three times as much. Being allowed to roam and given a much looser rein, they're not building up toxins, and their fat is a "healthy" one, rich in unsaturated fats, omega 3 and omega 6. Only a homeopathic vet is used, and where other pig breeders use iron supplements, Fabio will not.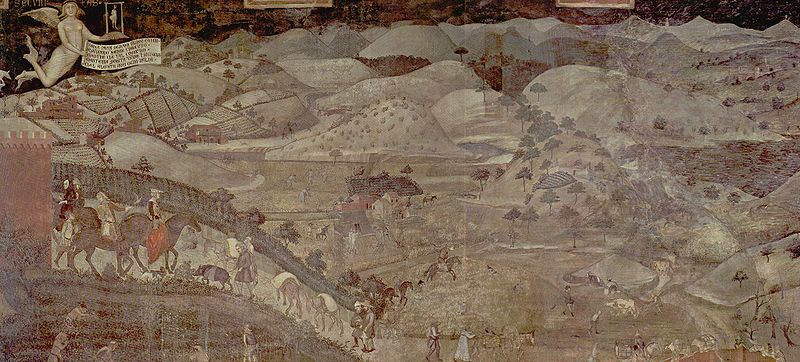 Fabio keeps the female for up to 8 years during which she can have up to 3 pregnancies over a period of 2 years producing an average of 6 piglets. (Compared to and average of 14 piglets for pigs in captivity). Once the piglets are born, a member of the Provincial Administration of Siena calls to inspect them and decide whether the piglets are a good example of Cinta Senese and whether they  will be used for reproduction or for meat. For example, if a piglet has that perfect pinkish/white belt, whereas its snout and hooves are black, he will tag the piglet's ear with a complete or whole 'ear-ring'. The other piglets will have a half or broken 'ear-ring' and will be reared for meat.
At around twenty months in age, they reach around 130K in weight (pink pigs at around 7 months weigh in at around 180K) and therefore between now and December around ten to fifteen of his Cinta Senese are due to be taken to an organic slaughter house not far away in Viterbo, Lazio. The slaughter is dealt with quickly by electric shock.
Pleasingly, in these recent years, there is no shortage of Cinta Senese products, which can be purchased from delicatessens within Tuscany's provinces of Siena, Grosseto and Florence. The authentic products will have a label "Suino Cinto Toscano D.O.P attached. The pork meat is rich and of high quality, the Salami being very popular as well as the lard, pancetta, bacon, other cured meats, sausages, capocollo, and shoulder and thigh ham.
It was time to leave the happy free-range pigs and return to our awaiting mini-bus, transporting us back to the natural reserve's headquarters. Once we'd overcome the laughter of washing muddy feet, we made our way to the reserve's rustic dining area where delicious aromas were drifting from the kitchens. Here was our opportunity to sample Cinta Senese in its finest form. We started with a bruschetta with lard (bacon fat) and pancetta as well as cured slices of ham (prosciutto crudo). This was followed with a glorious, piping hot dish of pork cooked in a tomato and bean sauce. Of course this was accompanied with red wine and/or water, finishing with crostata (tart) and coffee.