The isle of Ischia
Ischia is one of the most renowned holiday spots located in the Bay of Naples across Southern Italy and is less costly to stay as compared to its neighbor Capri. There are plenty of health spas and hot springs that makes it a favored destination among lot of tourists. This place has lot of tourists coming from Germany and Scandinavian countries along with many European people making a trip to this island resort. Ischia has a Mediterranean climate with hot summers and mild winters and the best time to visit this island is from May to October. Temperatures can be fairly high during the months of July and August.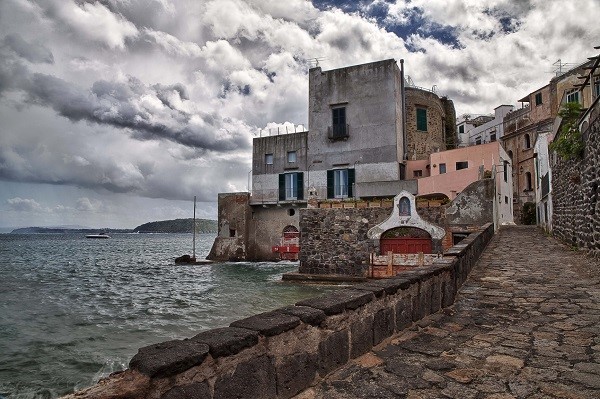 Sight Seeing Attractions of Ischia
Citara Beach
This is one of the popular beaches of Ischia and is known for its crystal clear waters that blend with the thermal water spas at different points. It offers a good opportunity for bathing and enjoying the waters of the thermal water spring at the same time. Most of the part of this beach is owned privately and a small area is available for the public. Poseidon thermal Gardens is one of the attractions of this place found across the bay of islands.
The Castle
This monument is also one of the tourist attractions, which is located on a small island close to Ischia Ponte and stands at about 113 meters. You can either take an old mule track or elevator available here to see the castle. This castle was built in the year 1441 by Alfonso D'Aragona over the ruins of an old fort and was meant to protect the local population from the attacks of the pirates.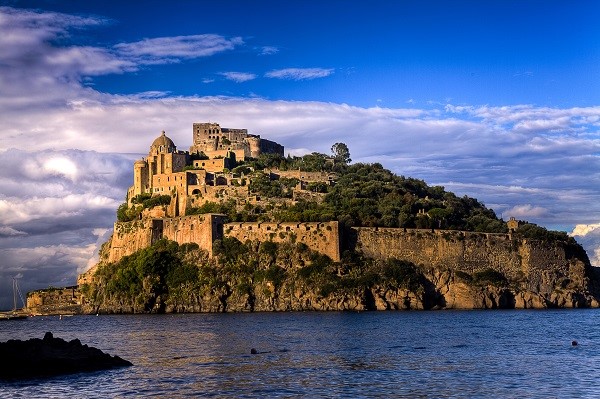 Guevara tower
This tower is one of the prominent landmarks of this island and is known as Michelangelo's Tower situated just in front of the castle. This tower was built over the ruins of an ancient fortress and was used as defense tower for protection against the enemies; it is named after the Dukes of Guevara. Nowadays, this tower is used as an arts exhibition center.
Villa La Mortella
Earlier this park property was owned by the English composer, William Walton who stayed in the villa with his wife. He planted numerous Mediterranean plants of tropical nature some of which have reached greater proportions today.
Villa La Colombaia
The villa is surrounded by a lovely park and it used to be a residence of the movie director, Luchino Visconti. Now it is regarded as a cultural institution dedicated to this director that is engaged in the promotion of music, art, theatre, movies; various workshops are conducted here regularly. It also hosts a museum dedicated to Luchino Visconti. Both the park and the villa are open for public viewing.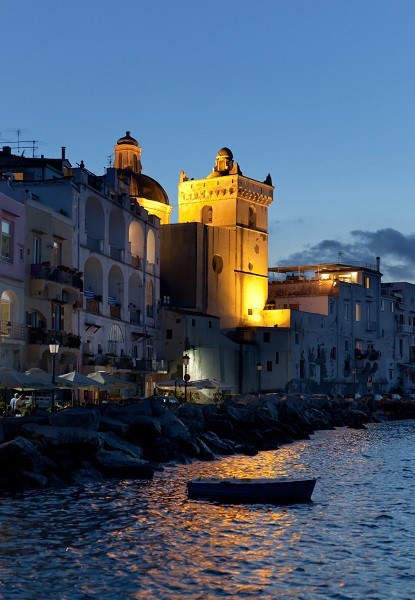 Fumarole Beach
This is one of the best beaches on Ischia and it is quite long with clean and neat surroundings. It is often less crowded than other beaches and it is dark in color due to the volcanic influence. You can reach this place in half an hour walking from Sant'Angelo or in shorter time by using a taxi or a boat. There are fumaroles found here which are mainly used for cooking while having dinner on the beach. Lots of people come to this beach during the nighttime to have fun and relax.
Thermal Springs
There are many thermal springs and thermal gardens in Ischia and they can be seen along the beaches in the form of small springs where the hot water gushes into the sea.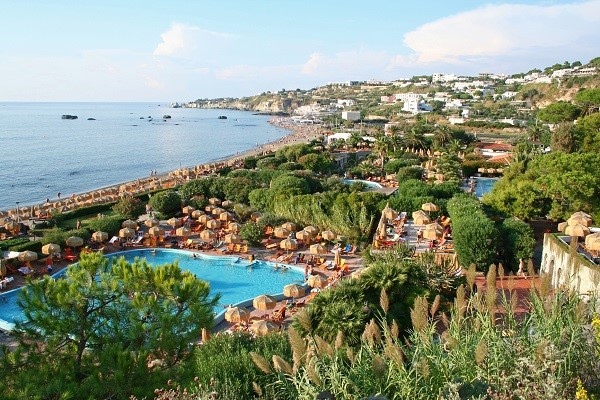 Getting to Ischia
You can get to Ischia only on a ferry from Naples, Pozzuoli or Amalfi. You can get to Naples by plane or train. You can take a taxi, bus or a tram and reach Mergellina harbor. Alternatively, you can also take a ferry from the harbor of Pozzuoli and reach Ischia from there.
Moving Around Ischia
There are public bus services found along this island that help you to travel to the urban centers of the city located close to the harbor. Tickets for the journey can be purchased in advance or on board from the driver. There are also sightseeing tours offering half-day trips, where you can have a look at some of the lovely communities of Ischia islands. Taxis are also available but one needs to be careful as sometimes, they do overcharge the customer. Therefore, it makes sense to confirm the prices before getting into the taxi.
Hotels and Accommodation
There are plenty of good options for staying in Ischia ranging from the budget hostels to the mid priced and luxury hotels available for the tourists. In addition, you also have the choice of staying in rented apartments and villas in Ischia, which offer all the required facilities to make your stay very peaceful and comfortable.

Welcome to Ischia
Eating in Ischia
You can come across many restaurants and wine bars in Ischia that serve some of the best local cuisine using the finest quality of fresh ingredients. There is lot of variety with seafood dishes served along with freshly baked pizzas. Fresh pasta, spiced risotto, stewed rabbit, grilled swordfish are some of the local delicacies served in various restaurants. Most of the ingredients are grown locally in the home gardens and the prices are also quite reasonable in most of the hotels.
Shopping in Ischia
In Ischia, you can come across many street shops and boutiques offering a variety in branded clothes and also artisans selling their handicrafts. Ceramics and terracotta items are quite popular and many craftsmen have an exhibition, where they display such products to the customers. Serrara Fontana, Barano, Casamicciola, Forio, Via Roma are some good places where you can find some nice items.
By Irene Tischenko