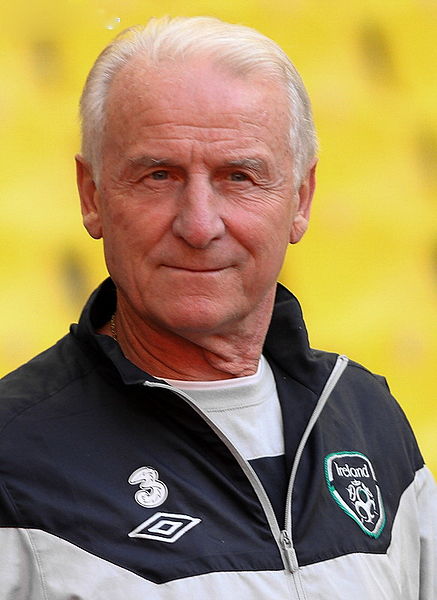 Giovanni Trapattoni is a legend. He is the most successful club coach in history, once the coach of the Italian national team and later, at over 70 years of age, coaching the blossoming Irish National team, which he led to the Euro 2012 finals.
Trapattoni's career began as a player; he was a great defensive midfielder who grew up playing for A.C. Milan. Trap played with Milan for the majority of his career and also played for the Italian national team. Trapattoni gained widespread respect after a historic Italy-Brazil match when he was able to neutralize the soccer legend himself, Edson Arantes do Nascimento "Pele".
After retiring from playing, Trapattoni was called on to coach AC Milan. He did so only briefly as, in 1976, the doors to legend opened to him when he was offered the helm of FC Juventus. After a lifetime spent with AC Milan, Trapattoni headed to its most dreaded rival, the team which would make him an icon.
As a coach for FC Juventus, he won six Italian Serie A Scudetti in 10 years, as well as two Italian Cups and most of the European competitions plus the Intercontinental Cup. In other words Trapattoni won all the trophies available to any Italian soccer team.
His Juventus didn't change much during those 10 years, keeping a great style and a fantastic squad: Scirea, Zoff, Platini, Tardelli, Rossi, and so many others who shared their victories with him.
After the great experience at Juventus the coach decided to move on to Inter Milan, much to the disappointment of many supporters. Trapattoni wanted a fresh start, trying his luck with another rival team. While "Il Trap" as he is known, couldn't replicate his Juventus success he did win an amazing championship title, the first Inter Milan got in years. That year, the milanese team also broke another record, that of the higher number of points ever achieved in Serie A history.
Once his adventure with Inter Milan was over, Trapattoni returned to the "Old Lady," but while his results at Juventus were decent they were far from the phenomenal results they once were.
In 1996 another big shift occurred when Trapattoni decided to go to Germany and coach Bayern Munich. It was a triumph when Trap won the Bundesliga, and a true new beginning. He later returned to Italy, coaching Cagliari, only to leave the team mid season. He successively coached Benfica in Portugal and later Salzburg, in Austria, becoming the only Italian to have won a league title in four different countries (Italy, Germany, Portugal and Austria). This achievement made Trap a living legend and assured his spot in the history books.
Trapattoni has always had a colorful personality. Quick with a joke, he has a lively, straightforward way of expressing himself. The image of Trap standing on the sidelines, fingers in mouth as he whistles to his players, is one few soccer fans will ever forget. The coach has become a personality, loved for himself more than just for the team he represents and the wins he has racked up.
In Trapattoni's long career his one true disappointment was his experience as the coach of Italy. Trap was the coach during the 2002 World Cup and 2004 European Championship: the national squad's performances in both occasions led the press to criticize his style, considered too defensive.
In more recent year, Ireland offered Trapattoni the coaching position with their national team. Trapattoni accepted and brought along Marco Tardelli as his assistant. Trapattoni brought to Ireland all his temper and energy and he got along very well with the Irish, who like him a lot. Unfortunately, Ireland failed to qualify for the 2010 World Cup due to a very bad episode that wrongly qualified France instead, an injustice that made the bond between Trap and the Irish even stronger. His team managed to qualify for Euro 2012, the first time the Boys in Green qualified for this Championship.
In 2012, Trapattoni was listed in the Hall of Fame of Italian Football.