Carolina Kostner – Italy's Ice Princess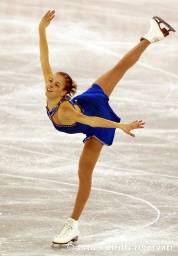 Carolina Kostner was born in Bolzano, Italy on February 8, 1987. Her
mother, Patrizia, was a nationally-ranked figure skater during the 70s
and her father, Erwin, played hockey in the 1984 Olympics and was captain
of the Italian national team. Carolina is the cousin and god child of
one of Isolde Kostner, winner of 3 Olympic gold medals in alpine skiing.
Carolina has two brothers, Martin and Simon. As a youngster, Carolina
lived in the town of Ortisei, a tiny village in the Tyrol region of
northern Italy. At the age of 14, Carolina, who carried the Italian
flag during the 2006 opening ceremonies of the Torino Olympics, moved
to Oberstdorf, Germany so she could attend a boarding school that was
specially geared towards athletes.
Carolina, who goes by the nickname "Caro", left home because the
rink she trained at in her hometown had been destroyed by a landslide.
Oberstdorf is only four hours away from her family home. While in school,
Carolina studies languages in the morning. She speaks five: Italian,
German, English, French and Ladinic. Ladinic is a dialect that's linguistically
similar to French and local to the region where she grew up. In the
afternoon, Carolina practices her art, figure skating.
At 5-foot-6, Carolina, who was once the paramour of reigning men's
world champion skater, Stephane Lambiel of Switzerland, is taller than
many of her competitors. She is known for her speed on the ice and her
ability to land difficult jump combinations. Interestingly enough, the
double axle, which should be easy for an expert jumper like Carolina,
is the one jump that she can't seem to master.
Carolina is coached in Germany by Michael Huth but heads over to
Alberta, Canada for a few weeks every summer to work on choreography
with Megan Smith and former world champion, Kurt Browning. Carolina
blasted onto the international scene in 2005 when she turned in a bronze
medal finish at the World Championships in Moscow, beating out Michelle
Kwan. Unfortunately, she was unable to medal in the European Championships
that year. She has said that "the public were concentrating on me and
my emotions won over."
In Torino 2006, Carolina had a great deal of pressure on her. She
was deemed Italy's great hope for an Olympic skating medal. At the end
of the lady's short program, Carolina found herself out of the hunt
for the medals – in a disappointing – 11th place after a nasty fall
on a difficult jumping sequence. She did skate a clean program in the
long and moved up to finish in a respectable 9th place.
Who knows? At 19, Carolina is still young enough to bring home Italy's
first Olympic singles figure skating gold in Vancouver (2010). Regardless,
she's a delight to watch and, you can rest assured that the whole world
will be doing just that for years to come.
By Deanna Couras Goodson