Enrico Fabris – Italy's Great Golden Hope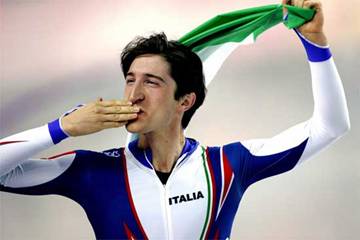 If you had never heard of Enrico Fabris before the 2006 Winter Games in Torino, you probably have now. In his native Italy, the 24 year old speed skater has been hailed as the "Man of the Games" by the press.
His two gold medals in the games – an individual gold in the 1,500 meter and another in the Team Pursuit event – as well as a bronze in the 5000 meter race have certainly earned him the right to that title. He is the most decorated Italian athlete of the Turin games, which, of course, are very special to the Italian people (for obvious reasons). Enrico, who taught himself to play the electric guitar and is currently studying science and the environment – he takes courses via the internet, is only the second Italian to win three medals in one Olympic games. Only Manuela Di Centa, a cross-country skier, has exceeded that feat. She won two golds, two silvers and a bronze in Lillehammer. Enrico has earned one more medal in an Olympics than even Italy's favorite alpine skier, Alberto Tomba. (Tomba earned two golds in the Toronto games in 1988.)(Ansa News, 22-Feb-06).
Turin is only the second Olympics for Enrico, a native of Asiago, Italy who now makes his home in Roana. In 2002, he came in 16th in the 5000 meter and 26th in the 1500 in Salt Lake City. The brown-eyed guy with the wide smile and birth date of October 5, 1981, started competing in short track speed skating events at the tender age of 6. Enrico, who stands 6-feet-2, has also won three World Cup races as well as three Italian National Championships and is the first European Speed Skating champion Italy has ever had.
By Deanna Couras Goodson