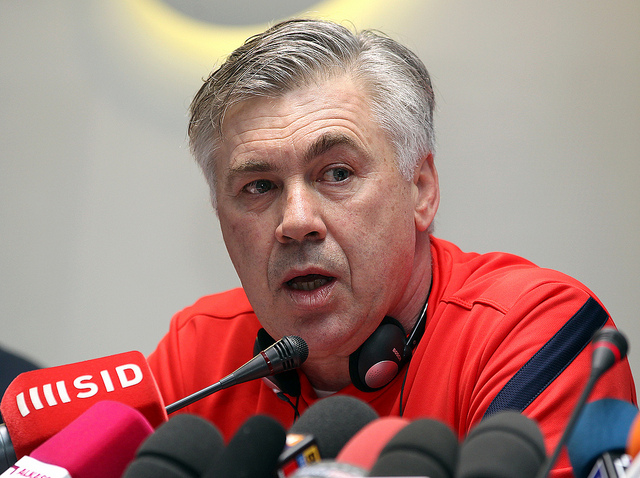 Carlo Ancelotti is one of the most gallant figures in Italian soccer. Born in Parma, he became a professional soccer player and exploded into the limelight while playing for Rome. After two major injuries Ancelotti was able to recover his full physical capabilities and turn into a fantastic midfielder. With Rome, he won an Italian championship, and then moved on to A.C. Milan where he was part of one of the best teams ever assembled. Most soccer fans can still recall one of his greatest goals, in the historic game that A.C. Milan won 5-0 over Real Madrid.
After retiring from a brilliant career as a player–his only regret being not having won any title with the national team–Ancelotti opted for a coaching career. Ancelotti was named assistant coach to the national team for the 1994 World Cup, where Italy lost in the final to Brazil, in an unprecedented penalty kick duel. After that experience, Carlo started to coach clubs, Reggiana at first and then Parma, with great results, which made him one of the most appreciated coaches in Italy.
Not long after this, one of Italy's major teams, Juventus, wanted his services and when Marcello Lippi resigned his position, Ancelotti took over a lost team and tried to recover a disastrous season. The magic could have happened in the Champions League semifinal against Manchester United, when Filippo Inzaghi put Juventus ahead with two goals, but unfortunately the Brits turned the game around winning 3-2. Ancelotti spent two more seasons with Juventus, always coming in second and essentially having the championship stolen from them at the last minute. Juventus, in an inelegant move, removed Ancelotti. Ancelotti didn't coach for a full year and then Milan, the team that gave so much to his career, called on him.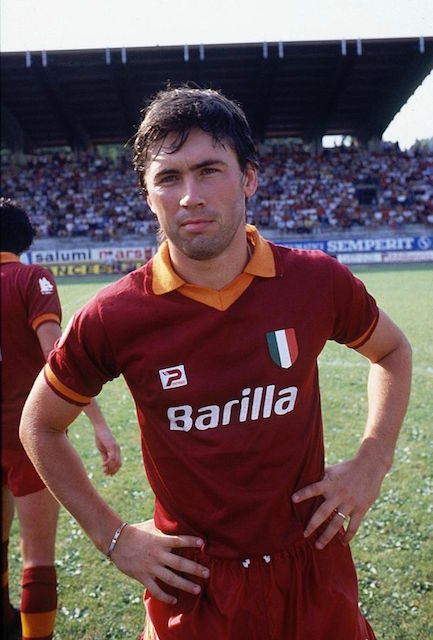 As coach of A.C. Milan, Carlo Ancelotti won one Italian league and two Champions Leagues. Of course, one also can't forget the Champions League final that was Ancelotti's Milan against Liverpool. At halftime Milan was winning 3-0, but in the second half Liverpool evened things up, in one of the most incredible comebacks in soccer history. The first Champions League that Ancelotti won for Milan as a coach was particularly important for his pride, for two main reasons. Firstly, Ancelotti's Milan beat his former team Juventus in an all-Italian final. Secondly, it made him an important figure in A.C. Milan's history, having won a Champions League final as a player first and then a coach.
After many season with A.C. Milan, Ancelotti left the team to become the coach of London's Chelsea. In his first season in England Ancelotti won the Premiere League, but lost the Champions League against Inter Milan. Inter, of course is A.C. Milan's biggest rival, and at the time was coached by former Chelsea boss Jose Mourinho, who is still extremely well-loved by British supporters. That was a very emotional game for Ancelotti, but the defeat was taken with grace, as he has always conducted himself like a true gentleman.
After two years in Chelsea and 6 months without coaching, in 2011-12 he moves to Paris Saint-Germain, and becomes the best paid coach in the world. With PSG he wins his third national championship in three different countries. Seasons 2013-15 he's at Real Madrid and since 2016 he coaches Bayern Monaco. On February 25, 2017, he celebrated his 1,000th match as a coach, beating Hamburg 8-0.
Above: Real Madrid supporters thank Carlo Ancelotti. 
In addition to his outstanding soccer skills Carlo Ancelotti has also shown himself to be an honest and classy man during his long and distinguished career. Ancelotti always seems to respect opposing teams and wears a smile even when things are going badly. A true sportsman and a brilliant manager, Ancelotti represents a true spirit of sportsmanship, so badly needed at every level and especially in the professional sporting arena; it is indeed a source of pride to see him as the head of major european teams.