New to classic Italian music? Here are a few suggestions on where to start!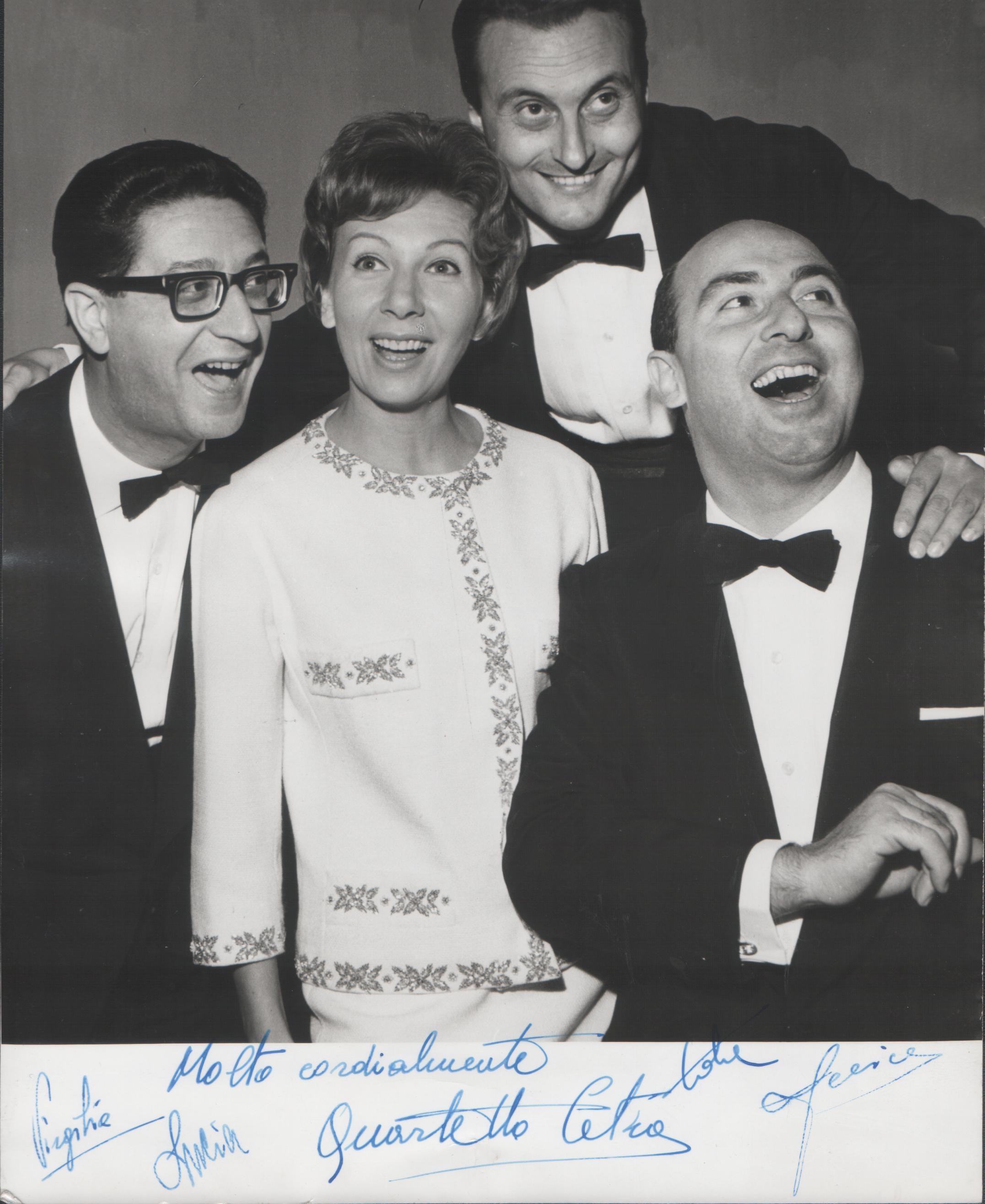 I Classici
Aka, the classics. These artists are the backbone of Italian classic music.
Claudio Villa
His fans know him as "Il Reuccio," the little king. Claudio Villa was indeed the king of Italian melodic music. His full and powerful voice reminiscent of that of operetta tenors, enchanted generations of Italians. His name has been always associated to the Festival di Sanremo, and to the Bel Canto. Villa, almost 30 years after his death, still remains an icon of classic Italian music.
Must listen: Granada, Chitarra Romana, Un'Amore così Grande, Tutte le Mamme, Manuela.
Nilla Pizzi
If Claudio Villa was the unconstrasted king of classic Italian music, Nilla Pizzi was rightly its queen. Class 1919, Nilla was the first winner of the Festival di Sanremo, when the musical kermesse was only a radio show. Her career started before the Second World War and lasted until Nilla's death in 2011.
Her powerful, rich voice remained unchanged in spite of time passing, as her last appearance at the Festival di Sanremo, in 2010, demonstrated. She was the guest of honor and she sang the refrain of Vola Colomba, one of her best known successes. The public went crazy.
Must listen: Vola Colomba, Grazie dei Fior, Papaveri e Papere, Eternamente.
Il Quartetto Cetra
Friends formed this Quartetto, whose career started in the 1940s. Felice Chiusano, Giovanni "Tata" Giacobetti, Antonio Virgilio Savona, and Lucia were the Quartetto Cetra. They were known for their catchy andcarefree songs, which helped to keep the mood high. Especially after the tragedies and horrors of the Second World War. When Lucia, who was also Savona's wife, joined in 1947, the band reached popularity.
Must listen: Nella Vecchia Fattoria, Un Palco alla Scala, Vecchia America, Baciami Piccina.
I Cantautori of classic Italian music
They are the singers and songwriters. They write their lyrics as well as the melody. True artists, right?
Fabrizio de André
Born in Genoa in 1940, Fabrizio de André is one of the most significative Italian artists. He was a musician and a poet. De Andrè embodied the ideal of songwriting, bringing it to a whole new level. A lover of French art, he translated it into Italian. Even after his death, in 1999, De André is a pillar of classic Italian music. His lyrics are often like poetry.
Must listen: La Guerra di Piero, Via del Campo, Don Raffaé, Bocca di Rosa, La Stagione del tuo Amore.
Luigi Tenco
Not many, today, are familiar with Luigi Tenco. Born near Acqui, in Piemonte, in 1938, he was one of the main representatives of the Scuola di Genova. He had dark looks and a damned air, like James Dean. Tenco loved jazz. His voice was perfect to sing about human feelings and loneliness. In fact, he did not dislike to delve into social topics. Linked romantically to another icon of French and Italian music, Dalida, their destiny remained intertwined in the tragedy surrounding their death. Tenco killed himself in 1967, while Dalida took her own life 20 years later, in 1987.
Must listen: Lontano Lontano, Ciao Amore Ciao, Vedrai Vedrai, Mi sono Innamorato di te, Cara Maestra.
Franco Battiato
Battiato is Italy's music philosopher. Thanks to his collaboration with the Italian philosopher Mario Sgalambro. Sicilian, Battiato mirrors often in his music the beauty and contraddictions of his land. His lyrics are hermetic and his sound often groundbreaking. In the 1990s, when his album L'Imboscata came out, in many asked him about the love song La Cura. People wanted to know who he had dedicated to. Battiato answered that La Cura was the love song of God to Man.
Must listen: Centro di Gravità Permanente, Bandiera Bianca, E ti Vengo a Cercare, La Cura, Cucuruccucù, Shock in my Town.
Renato Zero
Renato Zero holds a record. In fact, he's the only Italian artist who had number one album in each decade. This is since the 1970s.  And he is as big today as he was at the beginning of his flamboyant career. Born in Rome in 1950, Zero embodied transgression. He advocated for sexual freedom with his over-the-top costumes and plateau shoes. Renato Zero has always called his fans sorcini, little rats.
Must listen: Mi Vendo, Il Triangolo, I migliori Anni della Nostra Vita, Il Cielo, Il Carrozzone, La Favola Mia.
I grandi interpreti
The best interpreters of classic Italian music. Artists who gave their voice to some of the most beloved songs ever.
Mina
Talking about Mina means talking about the Italian diva. Many have defined her voice as the voice of a dramatic soprano. Although she never had formal singing training. She reached her peak in the 60s and 70s. In those decades, she also became a TV star and a presenter. She decided to stop appearing in public in 1978. And she kept her word. She keeps singing but not performing.
In this case, her collaboration with Adriano Celentano is worth mentioning. Interesting fact: the music of one of her best known successes, Se Telefonando, is the work of famed international composer Ennio Morricone.
Must listem: Se Telefonando, Le Mille Bolle Blu, Parole Parole, E se Domani, L' Importante è Finire.
Lucio Battisti
Lucio Battisti was a talented lyricist, as well as a musician. Born in 1943, Battisti's work represents the essence of what classic Italian music. His collaboration with lyricist Mogol brought him the final success. His voice was recognizable among thousands. So was his profound interpretative sensibility. Everyone considers him one best Italian artists. Even after his death in 1998.
Must listen: Emozioni, I Giardini di Marzo, Con il Nastro Rosa, Il Tempo di Morire, Fiori Rosa Fiori di Pesco.
Still curious about Italian music?
Check out our article, the part II of this series, here.