Travel Diary
Rome 2011, July
They say that there are certain sense memories we carry with us throughout our lives. I always thought that was a beautiful idea, however, it had never happened to me.
At least, not until I returned to Italy.
We were on the train, looking through the watercolors of the countryside at 300 km/hour. I could feel the warmth of the sunflowers through the window. We arrived at Termini and I was immediately struck. I was home. Again. I am an American. I am proud to call myself such. Yet my heart, and probably my soul, are made of Italy.
Termini is now also called Giovanni Paolo II, since the passing of the Great John Paul. I felt as if this added a special welcome to travelers, returning to Il Papa.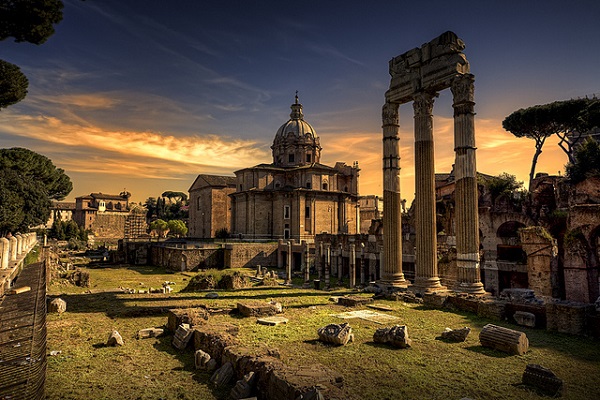 The heat of La Città Eterna in July is like a hug. It encapsulates you, makes you drowsy and aroused all at once. We walked from the station to the Hotel IQ, on via Firenze 8, right on the square of the beautiful Opera House. Italy is a balance of contradictions. Ancient melds with modern. Sacred with sacrilege. The same was for the hotel. New. Clean. Modern. Sparse. Beautiful. We stepped out into the streets and it was crowded. Gritty. Centuries old. A cornucopia of sights. Beautiful. How can this be? In Rome, anything is possible.
We had dinner in the "theater district" at Trattoria Antica Bohème,  on via Napoli 4. The waiter was a doll. Fussing over us like an old uncle. We wanted to eat a "tipico piatto romano". Fried baccalà (cod), carciofi (artichokes) and spaghetti alla carbonara. Outstanding. We waited to have dessert later after we walked the streets.
There is a special color of the sunset of Rome. You never forget it, and all the while, when you are home, you think you have recreated it. You may try with paint, or flowers or stencils, but it is only when you return, and watch the sun hide down behind the river again, that you realize there is no other place on Earth you can see it. It makes the buildings glow. A special terra-cotta color that is way beyond an orange or a siena.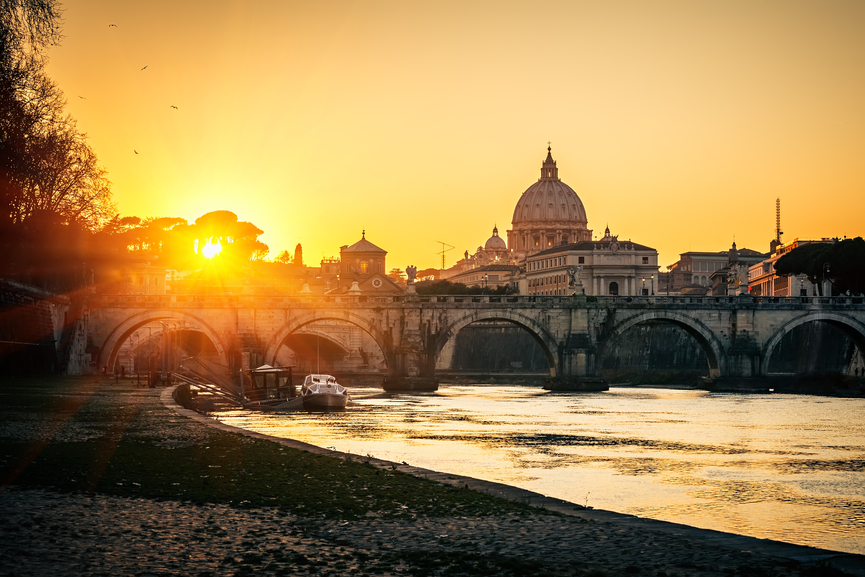 If you start at the top of the hill from via Veneto, you can wind around to the Parliament and see the Piazza there. The stairs beckon you from there to go deeper into Roma's secrets.
They wind down elegantly, like a woman, slow and meandering. From here, you can wander through to the Trevi Fountain. Be sure to throw a coin in and make a wish to return to Roma. There are so many people there, and yet somehow, every one manages to take a turn and stand center stage in front of the statues. There is a tiny gelateria to the right of the fountain that is divine.
The first gelato in Italy, to Americans at least, is too small. Yet –yet– it is the perfect amount. Its small size is decadent and eradicates all guilt of eating one (or two) a day. I Caruso, on via Collina 13-15,  is fantastic. It is true though, you cannot have bad gelato in Italy. Be sure to look for signs that say artigianale, which means homemade. The smaller the place, the better, that means they make it there.
The Pantheon, Piazza Navona and the Colosseum are to be seen both during the day and at night, they are like women with different moods. We wandered through Piazza Navona towards the Pantheon. They are majestic and regal, posed in the twilight, accepting visitors. The Great Grand Dame, the Colosseum, is visible from corners and hills. She is like a small child as you are searching for her, and suddenly, she pops into your line of vision. You are startled and amazed at once. If you are feeling ambitious, walk from the Vittorio Emanuele palace up the road through the ruins to the Colosseum. If you need to, stop and have another gelato, or a Negroni. Equal parts sweet vermouth, gin and Campari, they will change your evenings forever. This Apertivo from Florence has made herself at home here in Rome as well. The colors are like the sunrise. To me, they are Italy in a glass. Little bits of sweetness, slight bite, beautiful color, and orange at the heart of it all.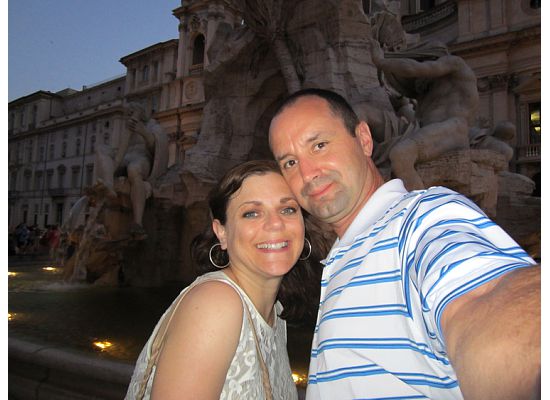 Follow the Colosseum from the front of it and head to the left. There are two options. You can go far, far left and head to the Church of San Giovanni in Laterano, or the first left and peek into the Roman Forum and ruins. If you follow that walk to the end, turn right and you are at the Circus Maximus. Follow it down all the way to the end. Imagine the races and faces that breathed through there. When you reach the end of the road, look for the Mouth of Truth. It's located in Santa Maria in Cosmedin. You can't actually put your hands into it anymore. Gregory Peck and Audrey Hepburn were lucky.
The expression that all roads lead to Rome is poignant here because it's true. Just when you think you are lost, the city beckons you into another magical corner.
Ristorante Dante Taberna de' Gracchi is the restaurant you dream of when you pretend you have Italian relatives to feed you. The side dishes come to you in carts, on dishes so beautiful the food almost takes a back seat. Dizzying arrays of vegetables, grappas and limoncello await you.
Spanish Steps ( Piazza di Spagna ) are possibly the most famous little family room in Europe. Start at the top of them, kiss the one you love, and descend the steps to the fountain below and continue past it to via Condotti: the. World's. Most. Famous. Shopping. Street. Manila Grace is a little shop on the left as you wander down along. They have beautiful things, all made in Italy. I bought a scarf there that I treasure to this minute. I paid about 50 Euros. (Cheap for the street). Here's a travel diary tip… when you shop, it's so different. I was blessed to be going with my beautiful, shop savvy cousin. When you enter the store, DO NOT touch anything. You must greet them, it's rude otherwise. It's so intimate and personal. They have mannequins dressed with outfits. Each outfit has more options. If you see something you like, say, "mi piace." They are so gracious and helpful. Point if you need to, and they open up drawers that you never noticed to show you the color options. Buy something if for no other reason then they wrap everything like a present for you and give you a beautiful reusable tote bag.
Ora di un caffè. Caffè Greco, on via Condotti 86,  is the oldest and most famous coffee bar in Rome. It's the second oldest in Italy. It was 54 Euros for three espresso and a frappe. Bragging rights are worth the cost. Another fabulous coffee place is Sant'Eustachio,  near the Pantheon.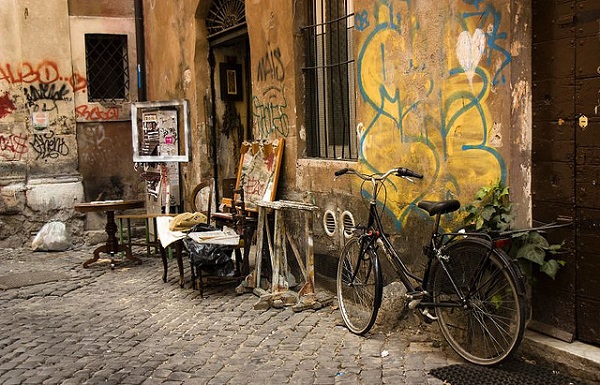 Bartuga, near Piazza Mattei, is an eclectic and lovely living room that allows total strangers to come in and buy drinks. Seriously. It's a cocktail lounge, but it's like a home. The doors open up to the piazza and you can sit and have a drink. To blend into the locals, get a drink (apertivo) and a snack at the 6:00 hour. Dinner will be much later. For now, just drink. Antico Caffè Dora in Largo Argentina lets you have an apertivo and see the Sacred Cat Sanctuary. The cats of Rome are everywhere… i gatti di Roma. They continue to perch and purr and prostrate themselves wherever they deem fit. They are considered national monuments and they are protected. And they know it.
Roma Sparita, on via della Stelletta 8, will let you peek into a quiet back street filled with two of my favorite things, pastries and purses. The crostate in the windows beckon you all the way down. At via della Stelletta 33 is the be all end all of bags, Sirni Pelletteria. Here, you can get an authentic Italian souvenir. Tell them Cindy sent you.
The sights and the sounds of the city seep their ways into your soul. You will never be the same.
By Cynthia Dite Sirni Rome, NY