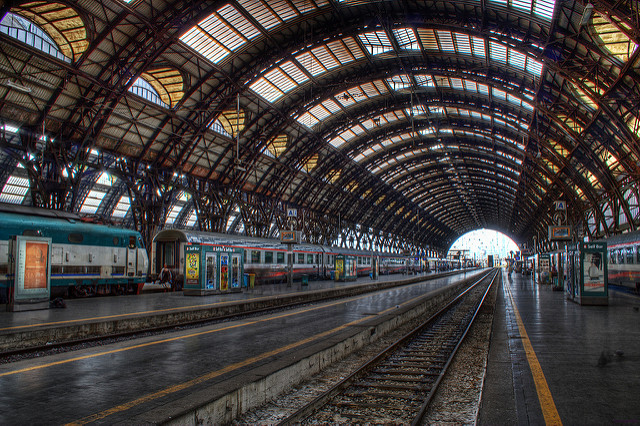 Italy by train is an excellent way to see the country whether you have two weeks or two months to travel. It is a great way to see some of the Italian countryside without the hectic traffic or crowded buses. Service ranges from the "classic" state room trains whose speeds vary to ultra-modern high speed EuroStar Italia trains with world class amenities. To get the most out of your Traveling time and to see places off your main itinerary, night trains with sleeper cabins can save you money and time, especially if you have a rail pass. The night trains allow a whole days worth of travel while you sleep, so you could include a distant location like Palermo or Lecce to your visit. The Italian rail service offers numerous passes and packages to travelers as well as accepting international rail passes like Eurail. Single tickets are also cheap enough to add unplanned daytrips to your vacation.
Northern Italy by Train: Milan, Venice, Florence and Rome in 2 weeks
Day 1 and 2: Milan is the ideal spot to start your trip since it is a shopper's Mecca, has a must-see cathedral and is a major transportation hub. Two days in Milan should be plenty to see the Duomo, do some shopping – including a visit to the Galleria, see a museum (Sforza castle or the Last Supper) and some of the best people watching in Europe. From Milan's often hectic Central Station you can board a train for Venice.
Day 3: Travel to Venice with a stop at Verona (about 3hrs). By taking an early train and getting out at Verona (1½ hr), you can see the city of Romeo and Juliet before heading toward Venice. If you prefer, both Padua and Vicenza are also close by and make for good stopovers on the way to Venice.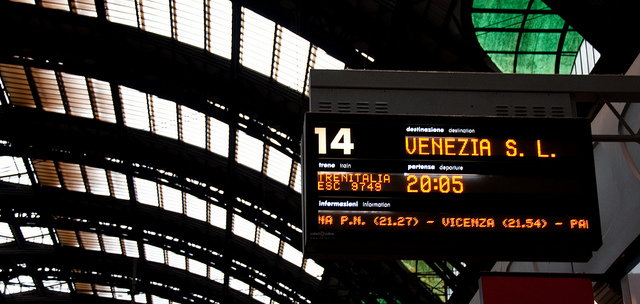 Day 4 and 5: Get lost in Venice and have a great time doing it. Besides Piazza San Marco the best thing to see in Venice is its neighborhoods. Take a vaporetto along the Grand Canal and get a water-view of the famous Venetian Palazzi.
Day 6: Explore the Venice lagoon with visits to Glass making Murano, the quaint fishing island of Burano and the oldest of the Venetian settlements on Torcello.
Day 7: Take an early train to Florence with a stop in Bologna for lunch and some sightseeing. Make sure you contact your hotel in Florence if you are running late!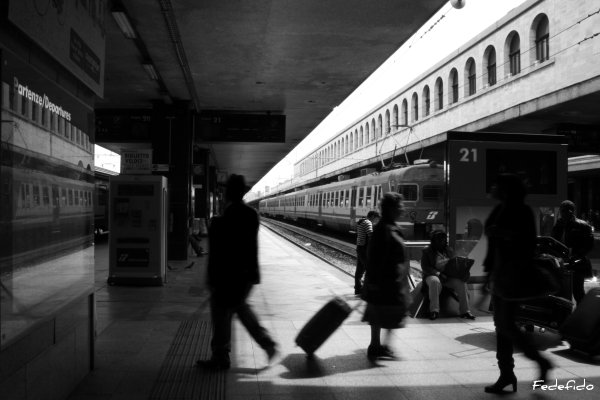 Day 8 and 9: Two days in Florence should be enough to see the major sights: Uffizi Gallery, Duomo and Baptistery, Medici Chapel and Michelangelo's David at the Academia. If time allows also consider the church of Santa Maria Novella and the Monastery of San Marco. Make sure to take a break from the sightseeing by doing some shopping (especially leather) in the San Lorenzo area. Cross the river via the Ponte Vecchio for dinner in the Oltrarno district.
Day 10: Travel from Florence to Rome keeping in mind to leave early enough for a stop in one of the hill towns Orvieto (2hr) or Siena (1½hr). There are no high speed trains from Siena to Rome (3hr). Make sure you leave Siena in plenty of time to arrive in Rome at your hotel check in.
Day 11, 12 and 13: Rome and its surroundings could take months to fully examine, but in three days the major sights could be covered since the best ancient monuments are all grouped near the Coliseum and Forum. The first day in Rome could be spent exploring Ancient Rome. Day two focus on the other famous sights: Spanish Steps, Trevi Fountain (and a gelato at Giolitti), Piazza Navona and the other neighborhoods. Day three starts at the Vatican with a visit to St. Peters, the Vatican museums and Sistine chapel. Head south to the colorful neighborhood of Trastevere before crossing the Tiber at the Isola and into the old Jewish Ghetto. All the while looking out for shops, cafes and restaurants to take in the layers of history that surround you.
Day 14: on the return to Milan (4hr) take a side trip to Pisa to see the infamous tower. After seeing Italy's most famous landmark visit the beautiful Duomo and have lunch in one of Pisa's forgotten squares before finishing your journey.
Italy by Train in 3 weeks including Sicily and Naples
There are numerous options available to make this two week journey into a three week adventure. One way is simply to add more days in the major sights like Venice, Florence Rome to get a real feel for these remarkable places. A whole week spent in Rome alone would not be a waste. Or by using these cities as bases, you can make daytrips to other sights within the area. From Venice you can visit Padua, Vicenza, or Ravenna. Florence or Siena can be used to visit the hill towns such as San Gimignano or Assisi. Besides making a daytrip to the Ancient Roman port of Ostia, Rome allows for travel to the south of Italy. From Rome, Naples is within easy reach (2½ hr), as are the famous ruins of Pompeii and Herculaneum and the Amalfi Coast and Capri.
However for a real adventure, take advantage of the night trains to visit far away places in the deep south. One suggestion is to take a night train (make sure to reserve a sleeper cabin) to Palermo. A stay of three days would cover this vibrant city, the cathedral of Monreale and a trip to the Greek temples at Agrigento before taking another night train to Naples. Three days spent in the bay of Naples would allow for visiting the city, one of the ancient cities and a visit to the resort town of Sorrento.
The key to successful train travel is flexibility; there are countless options while traveling through Italy and you cannot see everything the first time. However this itinerary does give the traveler well-rounded balance of the best of Italy, especially if a trip to Naples or even Palermo is included. Sometimes the best destinations are the ones you didn't plan on and gives what would be an ordinary vacation into an adventure. If time allows, don't be afraid to take the train to some unheard of village – that is what separates travelers from tourists.
By Justin Demetri
See Also Italy By train: Southern Italy
For information about Traveling by Train:
www.trenitalia.com
www.italiarail.com
www.eurail.com