The Bedroom: Design and Functionality for easy living
In Italian interior decorating, antique pieces are always valued, either in an atmosphere that is completely devoted to tradition or as an accent note combined with contemporary design. With regard to beds, it is still possible to find antique head boards, generally dating from the 1800s. These pieces are normally quite imposing, made of oak or mahogany, and need to be placed in spacious rooms with relatively high ceilings in order to be properly housed. It is also possible to find antique brass or iron beds, dating from about the same period, and some provide very attractive notes in nostalgic style of home decorating.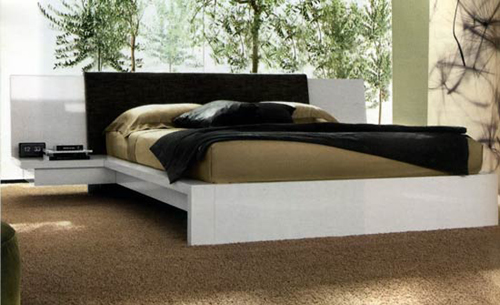 The quest for personal well-being along with individuality of design is the hallmark of Cardini Home Design (cardini.it). Their Poliform beds (www.poliform.it) combine comfort and quality, and a wide choice of mattresses is available to meet the most exigent requirements and to ensure the utmost sleeping experience. The design of these beds and bedroom furniture is linear and restful, with a prevalence of natural colors and fabrics. Also available are coordinated bed covers, throws, pillows and comforters to accentuate the distinctive look associated with this line of bedroom furniture.
Increasingly, however, Italian decorating of bedrooms tends to rely on the use of contemporary beds that are generally low-slung, with linear and restful design. For example, the company Bontempi (bontempi.it ) has created a line called Shanti that combines austere and linear design in restful colors. Aside from the bed, the furnishings line includes spacious night tables and chests of drawers.
The company DOC (docmobili.com ) also offers linear bedroom furniture, ranging from beds and chests, to large closets designed to contain clothing and linens. The look of these rooms is restful, relying on natural tones of brown, beige, cream and white to create an atmosphere that is both distinctive and sophisticated.
Similarly, Maggioni (maggioni.net ) relies on style and design in its bedroom furnishing solutions. For example the line "Pier" is reminiscent of essentialism of oriental or Scandinavian inspiration. Traditional design for bedroom furniture, with the added advantage of being made out of 100 % wood, is offered by the company Stilema (stilema.it ).
An interesting initiative in bedroom and other furniture is offered by Mazzali (mazzaliarmadi.it) "exclusively for green living". For example, the company produces a bed with a rounded wood base that looks like a rocker. The woods are light colored and the design is airy and bright. Aside from the attractive design, the company guarantees that the wood used comes from areas of programmed reforestation, any paints used do not contain dangerous solvents, and in addition the company donates at least 0.75% of its annual sales to humanitarian and environmental projects.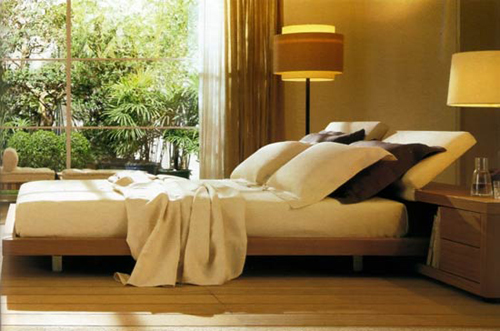 The company provides a general catalogue of its products free of charge by writing to the address stilema@stilema.it Traditional designs are also available for iron beds that offer a romantic touch to bedroom design. The company Cosatto (cosattoletti.it ) has a large range of middle priced wrought iron beds that meet many decorating needs. Romantic iron beds are also offered by the company Ciacci (ciacci.com ) The designs can be quite ornate, but they can offer an attractive complement to otherwise austere rooms furnished with lacquer or wood contemporary chests and night stands.
Italian bedrooms are today designed according to modern parameters, to get the modern Italian look for your bedroom, you need to get beds and furniture that have clean lines, and an uncluttered style.