Italian Comics and Cartoons
Comics are usually associated with the US or, if you're more into big-eyed, funky-hair-colors characters, Japan. However, Italy has, throughout the year, produced a seried of memorable characters. They may not be as popular around the world as Mickey Mouse and Sailor Moon, but they do have a pretty hefty cult following and they are themselves just another representation of Italy's own creativity.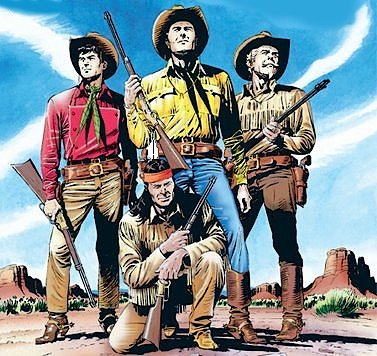 The most famous Italian comic strips is probably Tex Willer. Created in 1948 by Gian Luigi Bonelli and Aurelio Galoppini, is still published today by Sergio Bonelli, Editor. Tex Willer is a Texas Ranger who fights, with his three friends, against all sorts of evil… the classic good guy! Little like the Lone Ranger.
Diabolik (the name says everything), was created in 1962 by the Giussani sisters, who have taken the idea from the book 'Fantomas' (1911 by M. Allain and P. Souvestre). Diabolik is the king of thieves, but a very refined one.
He, and his companion, Eva Kant, use rubber masks and lots of tricks to disguise themselves or to take someone else's place in order to carry out their criminal acts. Kant is a gorgeous blonde with aristocratic blood, while police inspector Ginko is Diabolik's eternal rival. Diabolik also rides around in an E-Type Jaguar which has as many gadgets as 007's Aston Martin. A movie was made starring John Phillip Law in 1968 directed by Mario Bava.
Lupo Alberto was created in 1974 by the hand of Silver (aka Guido Silvestri). Everything spins around the McKenzie farm, where Alberto has a girlfriend, a chicken named Marta. His primary antagonist, a bobtail dog called Moses, stands a perennial guard to the farm. Sometimes they need each other's help, sometimes they clobber each other to death.
All other  characters, are of course, farm animals: Krug the bull, Alcide the pig, Lodovico the horse, just to mention a few. However, there is also 'Henry the Mole'- a slimy character always looking for a fast buck, and trying to find the best way to cheat on his wife Cesira. Lupo Alberto is now printed in the States with the United Features Syndicate.
Valentina, created by architect Guido Crepax in 1965, is considered to be a very erotic strip. The photographer, Valentina Rosselli, whose face was inspired by the American actress Louise Brooks, is engaged to an art critic, Philip Rembrant (who really is a superhero named Neutron). She is faced with real everyday life problems: anorexia in her youth that made her look like Twiggy, her nightmares, her monsters and her psychoanalysis séances. She is often portrayed nude. Sometimes sexy but always fetishists. In the TV series that ran from 1988 to 1989, Valentina's role was played by Demetra Hampton.
Sturmtruppen, by Bonvi (Gianfranco Bonvicini) is one of the most hilarious comic strips, movies (1976, sequel in 1982) and TV Cartoons (1981), ever created in Italy. A transposition of WWII through the eyes of little German soldiers, expressing themselves in a very Italianised German.
In the strips, grotesque situations happen continuously: an army doctor obsessed with vampires, the 'Frankenstein Mess' created by a cook experimenting with God-knows-what ingredients. We also have the perfidious sergeant, the young lieutenant (who wants to die heroically in a cornfield, kissed by the sun). Of course, there is the brave Fascist-Italian ally, Galeazzo Musoleci. A pilot who has a tremendous fear of flying, then again, he's scared of practically everything. His only expertise is to cheat the Germans and get away with it. Also there is a recurring Japanese pilot character, to confirm the Berlin – Rome – Tokyo axis.
Dylan Dog,  created in 1986 by Tiziano Sclavi for the Sergio Bonelli Publishing House. Even though authors and illustrators have changed throughout the years, Dylan Dog has maintained its gothic-grunge allure intact: the main character, the eponymous paranormal investigator, lives and operates in London and faces regularly blood curdling adventures with his associates. The Dylan Dog figure was aesthetically inspired by actor Rupert Everett, who played the main character in the 1994 movie Cemetery Man (Dellamorte Dellamore), which was loosely based on the comic strip. In 2011, a movie directly inspired by handsome Dylan was released.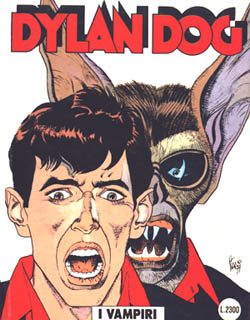 As you can see, Italy is very prolific in the world of comic strips. These are very popular even outside of Italy and have been translated in quite a few foreign languages, Chinese included.
One last note: the Italian division of Walt Disney Productions is considered one of the best in the world (was also the first to operate outside the USA). Here, quite a few of the contemporary Walt Disney characters were created, to the great satisfaction of Walt Disney USA.
– Michael A. McCain –