Last Updated on March 17, 2021 by Helga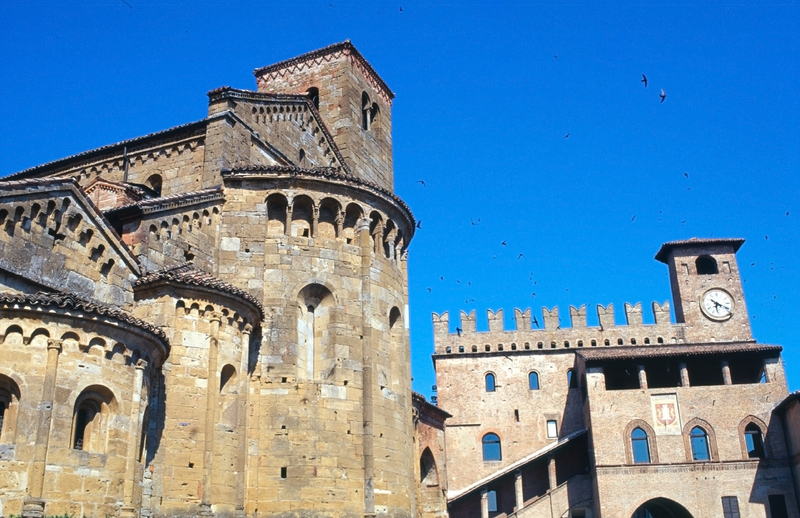 Castell'Arquato is a town located in the Emilia-Romagna region of Italy, in the province of Piacenza. The town lies on the hills of the Val D'Arda and is close to the cities of Parma and Piacenza. Castell'Arquato has retained its original medieval appearance which, scholars say, is still what it was like in the 10th century. The older section of the town is located at a higher altitude, on top of a rock and is now surrounded by the newer sections that have been built in the past years.
Castell'Arquato's location had made it strategically important in medieval times and very popular in recent years, when the town appeared in many movies. Famous opera librettist Luigi Illica was born in Castell'Arquato in 1857. The town is also famous for wine production, as it is located in the Piacenza hills area known for producing some of the best wines in Italy.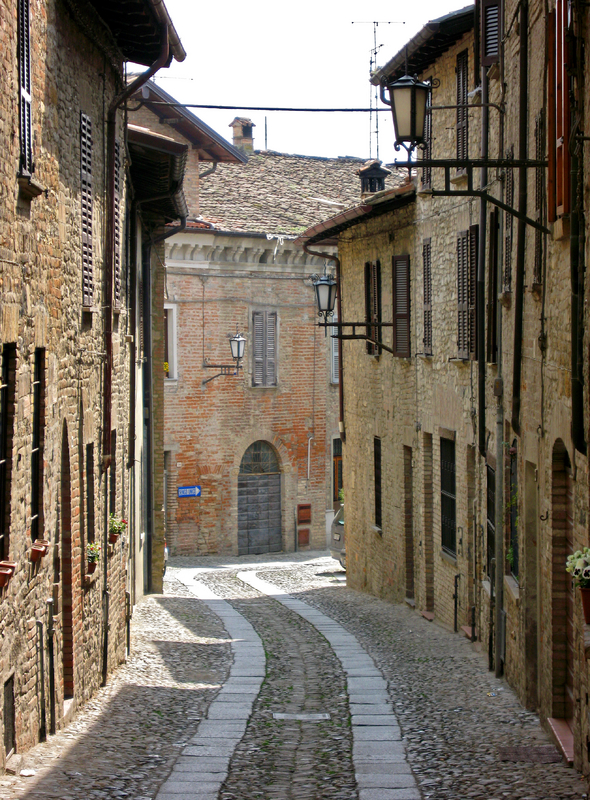 Attractions in Castell'Arquato
Rocca Viscontea
Rocca Viscontea or the Visconti castle is one of the most visited locations in town. This castle was built over the remains of an already existing one and was the seat of the Visconti garrison. The quadrangular building has four tall towers located at each angle, a keep and two separate entrances. The castle is now home to the Medieval Museum of Castell'Arquato and much of the castle is still in its original conditions.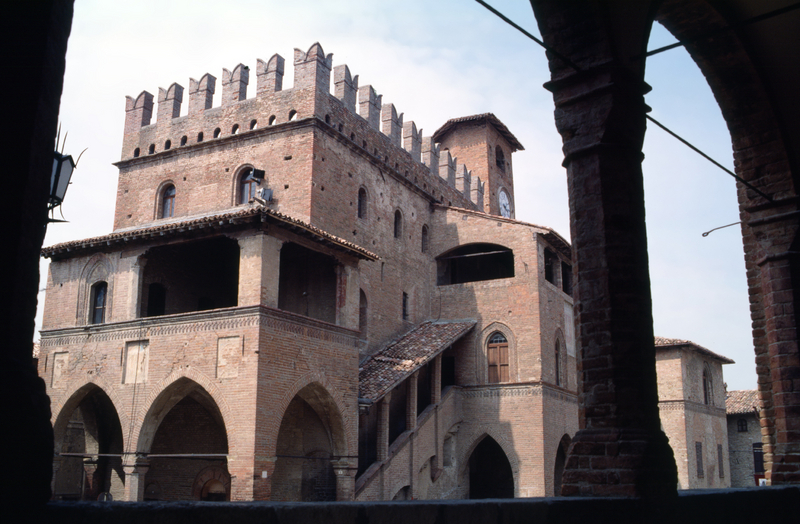 Collegiata Church of Saint Mary – Castell'Arquato
The collegiate church of Saint Mary was first built in the 8th century. However, after a massive earthquake it had to be completely rebuilt in the 12th . The most noteworthy aspect of the church is its Romanesque paradise portico, dating back to the 14th century. The church's four apses and its 13th century cloister are also quite beautiful. Within the church are several sculptures from the 12th century and beautiful frescoes.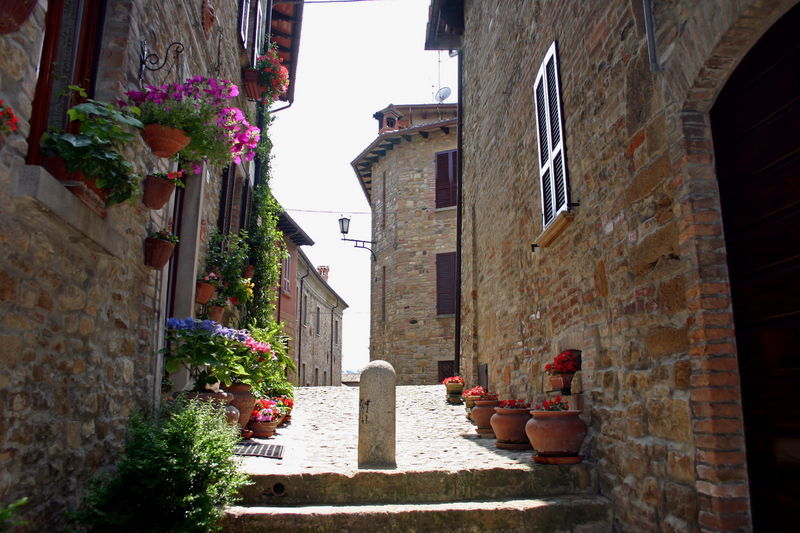 Palazzo del Podestà
The ancient monument of Palazzo del Podestà was first built in 1292 and has been altered several times since then. Several additions were made to the existing building later on, including a wing overlooking the square. The outer staircase was built at the same time as the main structure and is quite noteworthy.
Palazzo del Duca in Castell'Arquato
Palazzo Del Duca, or Ducal palace, was built in 1292 by Alberto Scoto. The palace had been used as a residence in the past centuries and several alterations have been made to the main building in recent times. An underground tunnel connects the palace to the Farnese Tower.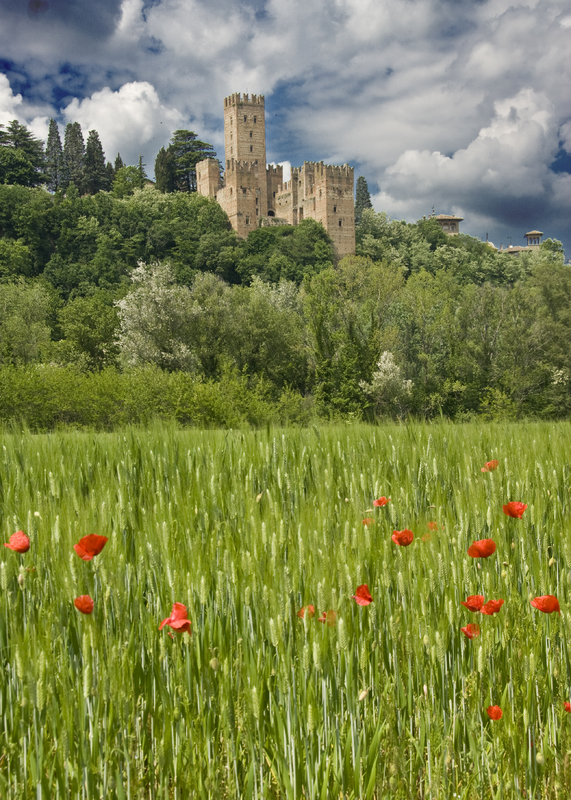 Torrione Farnese
Torrione Farnese is the Farnese tower in Castell'Arquato. It is a typical medieval military structure: although it is unclear when the tower was originally built, it is believed that it was earlier than the 16th century. The large tower stands dominating the town and is connected by a tunnel to the Ducal palace.
Getting to Castell'Arquato
There is no train station in town; the nearest stations are in Fiorenzuola d'Arda and Piacenza. Visitors coming from other parts of Italy can reach Fiorenzuola or Piacenza by train and then get to town by bus or taxis. Buses frequently depart from Fiorenzuola and Piacenza to Castell'Arquato. There are state buses, as well as private buses, available from these locations several times a day. Visitors coming from Milan can take the A1 motorway towards Bologna, exit in Fiorenzuola and then continue to Castell'Arquato. Visitors coming from the North West (Turin) can take the A21 motorway in the direction of Bologna to reach the town.
Moving Around the Town
Castell'Arquato is quite a small town, with an area of just 52 sq km. Its older section can only be visited on foot since it has very narrow lanes and streets, not comfortable for driving. However, this does not represent a problem, as all sites of cultural and artistic relevance are within the boundaries of the old city. Visitors who have their own cars can drive to explore the newer sections of Castell'Arquato, as well as the surrounding countryside. The town has a village-like atmosphere, with almost no traffic and plenty of picturesque streets which makes it enjoyable to stroll on afternoons.
Stay and accommodation
Castell'Arquato attracts quite a lot of tourists, visiting to enjoy its medieval allure and its natural beauty. Also, since it is located in a famous wine producing region, many come to town to visit the nearby vineyards and wineries. For these reasons, finding good accomodation is not an issue: hotels and bed and breakfasts can be booked in the city centre and farm houses and villas, usually beautifully set in the countryside around, are ideal for those planning on staying for a longer period. Some of the best hotels in town are Golf Club Castell'Arquato, Locanda Sidoli, Leon D'Oro, Locanda Delle Rosse and Borgo Di Castell' Arquato.
Eating in Castell'Arquato
There are plenty of options in terms of restaurants and pizzerias in Castell'Arquato. The town has quite a lot of good places to eat where visitors can try simple regional specialties made from fresh produce grown in the area. Good wines are available almost everywhere and there are also a few cafés and bars in Castell'Arquato. Some of the best restaurants in Castell'Arquato are Ristorante da Franco, Ristorante Primavera, Ristorante Del Voltone, pizzeria La Sosta, ristorante Stradivarius, Ristorante Taverna del Falconiere and pizzeria trattoria Del Dighino.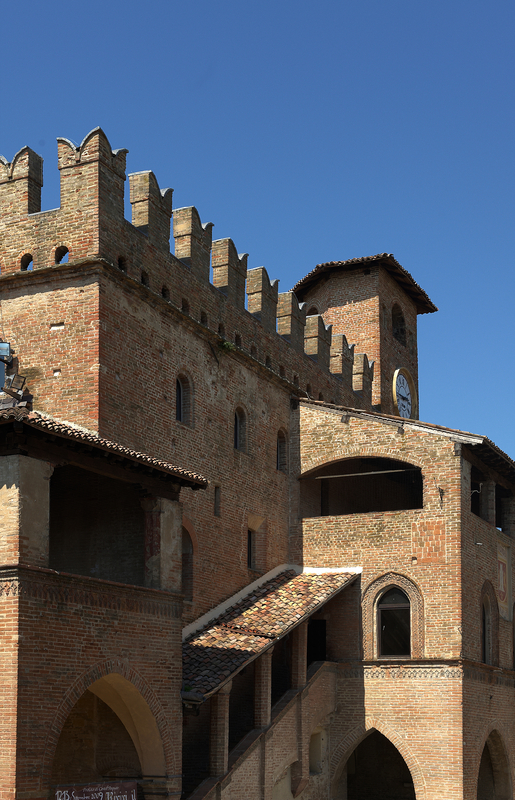 Shopping in Castell'Arquato
There are plenty of things that visitors can purchase in town. The town is known for its handicrafts so there are quite a lot of small shops that sell antiques, pottery, and textiles which can be found in the older section of the town. However, Castell'Arquato is mostly known for its wines so the best thing to purchase would be a bottle of local wine. The most famous wines produced in the region are Gutturnio, Ortugo, Bonarda, and Malvasia.