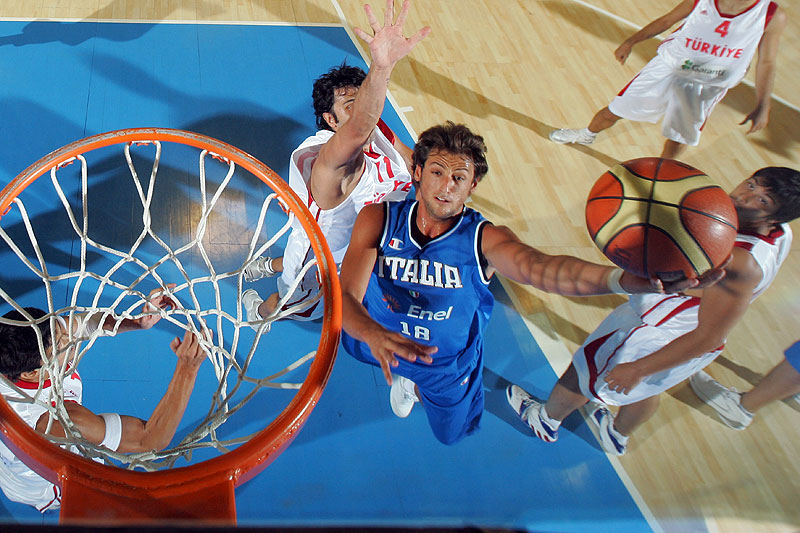 Many sports fans are surprised to find that basketball is very popular in Italy. Known as Pallacanestro, Italian basketball is constantly growing and has a history of attracting some of the best players in the world. In fact, not only has basketball been played in Italy for over a century but has had a professional league decades before the formation of the NBA.
It seems that it did not take long for the game of basketball to cross the Atlantic after being invented in 1891. Only a few years after James Naismith first tossed a soccer ball into a peach basket at a Springfield Massachusetts YMCA, the first recorded games were being played in Europe. The Mens Sana athletic club of Siena is credited with first playing basketball in Italy in the late 1890's. The game quickly caught on across the country on an amateur level, especially with the arrival of American troops stationed in Europe during World War I.
Italy seems to have been involved in the spread of international basketball almost from the start. In 1919, Italy participated in the first international basketball tournament known as the Inter-Allied Games against France and the United States. Italy was also one of the charter members of FIBA, the International Basketball Federation, founded in 1932. When basketball was introduced as an Olympic sport at the Berlin Games of 1936, Italy was one of twenty-three nations represented and finished seventh. However by this time, basketball was firmly established in Italy and had already seen the organization of professional teams.
Basketball in Italy: Professional Leagues
1920 was the year that Italian professional basketball began. Today the top league in Italy is known as Lega Basket Serie A, considered the world's third most elite basketball league behind the NBA and the Spanish league ACB. Serie A is comprised of eighteen teams from various Italian cities whose teams are known to change sponsorships on a regular basis. Because of this, Italian basketball teams will have a sponsorship name and an official name. The two most dominant teams in league history have been Olimpia Milano (officially Pallacanestro Milano) and more recently Benetton Basket Treviso (officially Pallacanestro Treviso). Serie A is known for its high level of play and for both attracting and producing some of the world's marquee basketball players.
Basketball in Italy: Famous Players
The Serie A league has had its share of both Italian and international star players from the rest of Europe and the United States. Milan's player/coach Cesare Rubini is considered the father of Italian basketball, holding a staggering winning percentage close to 80 percent. The legendary Dino Meneghin was the best player to ever come out of Italy and arguably the best player never to play a game in the NBA. Both men have been honored by being the only Italian players inducted into the Basketball Hall of Fame. Pier Luigi Marzorati had a storied career that included two championships for his Pallacanestro Cantù as well as a silver medal with the 1980 Italian Olympic team. Former Euroleague and NBA star Toni Kukoc( also once played for Benetton Treviso, while NBA Hall of Famers Bob McAdoo and Bill Bradley (later a US Senator) once played for Milan. Current NBA stars with ties to Italian basketball include former star of Benetton Treviso Andrea "Il Mago" Bargnani now with the Toronto Raptors, and 2001 Euroleague MVP Manu Ginobili of the San Antonio Spurs.
Basketball in Italy: Popularity
Basketball may have been played in Italy since the beginning, but has always had much less exposure than the national pastime of soccer. However, Italian basketball has always had its fans and is gaining in popularity, currently it is the number two spectator sport. In some Italian cities such as Bologna, basketball rivals soccer in devotion and even the prestigious NBA teams have started playing exhibition games against some of the top Italian teams. Italian born players like Andrea Bargnani and Serie A stars like Ginobili (who is an Argentinean of Italian ancestry) have helped boost the exposure of the Italian teams both in and outside of the country. In the case of Bargnani, the first pick in the 2006 NBA draft, if his NBA career mirrors his Italian one, more fans will be looking at Italian basketball for the next big star.
Italian Basketball Resources:
Federazione Italiana Pallacanestro: www.fip.it
Serie A Basketball: http://www.legabasket.it/
International Basketball Federation: www.fiba.com
By Justin Demetri