Italian Decorative Accessories: Tuscany
Although Tuscany occupies a large geographic area in Italy with many different environments, and although it comprises a wide range of housing solutions (ranging from simple farmhouses to magnificent castles and luxurious country manors), there are certain underlying themes and decorating solutions that are generally recognized as being characteristic of interior decorating "Tuscan style". In an earlier article, we discussed the use of natural color schemes and materials. In the present article, we are going to begin looking at some of the specific details of Tuscan style decoration, and we will start with what might be called the kitchen.
We will deal with Tuscan style kitchens as they exist in the typical stone houses, both inside historic centers and in the adjoining country-side. Many of these homes have been purchased by urban professionals or by foreigners who have fallen in love with Tuscan style and gracious living.
In Tuscany, the kitchen is one of the most important parts of the home. In fact, the area is much more than just a place for preparing savory meals. Actually, it may be better described as a "family room" or a place for welcoming close friends and sharing simple, but significant, moments.
In the very center of the room one will usually find as focal point a large solid wood table, usually oak, but also of other types of wood with the absolute exclusion of mahogany. These tables are rectangular with four corner legs. Some have extendable eves, while others rotate on an axis to unfold into much larger rectangular tables for entertaining. The finish on the tables is never shiny, but instead dull, at most finished with a clear wax buff. Cuts and scratches on the wood are not a sign of neglect, but rather the testimony of many enjoyable meals and gatherings of families and close friends.
Arranged around the table are the chairs. The typical traditional Tuscan country or kitchen chairs are made of wood with woven straw seating. Obviously, those that are authentic antiques have become hard to find and valuable, but there are plenty of similar chairs (either produced in Italy or imported on the basis of Italian design) that can be purchased at reasonable prices.
All of the necessary appliances and equipment are normally arranged along one or more than one of the walls of the kitchen. In Tuscany, manufacturers have become very experienced in masking modern appliances with wood. Refrigerators, dishwashers, sinks and all other necessary equipment are covered with wooden sheathing that can be selected from a wide range of colors, including antique oak and cherry wood. Although contemporary design for kitchens in Italy has a pronounced penchant for austere, linear steel furniture with vast amounts of storage space to conceal all signs of human activity, traditional Tuscan-style kitchens continue to be very popular even outside of Tuscany because of their warmth and reminder of historic and family values.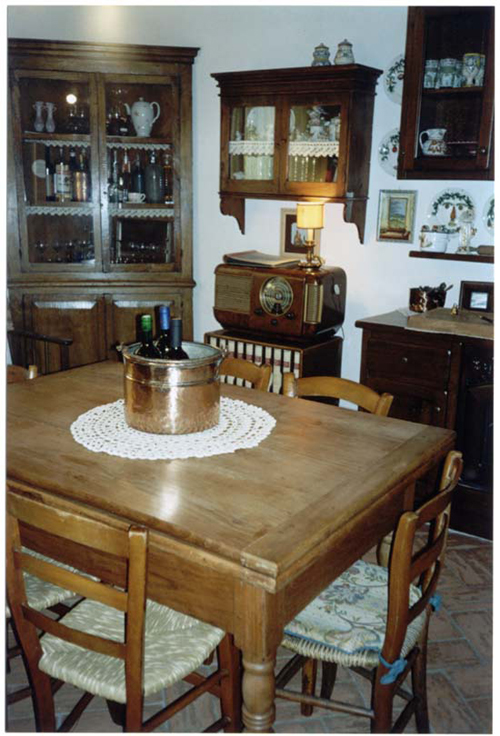 Another widely accepted decorating solution for counter tops and for encasing kitchen appliances is the use of brick structures, constructed by able craftsmen. These structures and the overlaying counter space are generally covered with stone or with ceramic tiles. Such tiles are preferably in warm natural colors or antique white. They are also small in size, not like the large tiles used for flooring. Master craftsmen often also repeat the decorative themes, lining the wall space above stove, sink, and various counters up to the level of overhanging kitchen cabinets. While this lining adds to the expense of decorating the kitchen, in the long run it offers a durable and easy to clean solution that allows one to erase the signs of intensive cooking and meal preparation that can in time give a worn out look to the nicest of kitchens.
In tribute to the needs of modern communication, a television is often placed prominently on a counter or side table where it can be viewed by all those present. No specific taboo exists with respect to watching the TV while dining. If a program is of particular interest (like a world cup soccer match) then it may get some attention. Otherwise, it merely serves as background noise while the family and guests devote most of their attention to their meal and to animated conversation.
First of all, in many of the traditional stone houses that dot the rolling Tuscan country side, the kitchen is not a room set off to the side. In fact, the ancient Tuscan home builders can be credited with making full use, early on, of the concept of open spaces! As one passes over the stone threshold, stepping on to the often worn terracotta floors of warm leather hues, one usually enters into an open beamed space that combines both kitchen and hospitality functions.
One corner of the kitchen usually houses a cupboard that has a top half with glass enclosed shelves to exhibit glasses, special porcelain table ware or various ornaments and decorations. The bottom half of the furniture has wooden drawers or doors to enclose less attractive but useful pieces, or table linen. Until recently, one could find such antique cupboards fairly inexpensively in Tuscany. They have now become rarer because most younger generations now treasure the vestiges of the past and are proud to possess a piece of furniture that belonged to their grandparents. However, well manufactured and finished modern pieces are available that still recall the traditions of the past.
These gregarious Tuscan kitchen/hospitality areas usually also include some comfortable armchairs. In the older buildings that have the good fortune of hosting fireplaces, the arm chairs are knowingly placed at the sides of the fireplace.
Shelving and cabinets are very important additions, both for decorative and practical reasons. Wood is the preferred material in Tuscan kitchens. However, wrought iron is a complement for fixing wooden shelves to the walls, or for coat stands or coat wracks. Both of the latter are visible prominently because guests must be made to feel that they are welcome and not creating disorder by invading the private apartments or spaces of their hosts.
And how does a hostess handle in a single environment the situation of guests and dirty dishes as a round of pasta is followed by the so-called "second" or main dishes and later by lashings of desserts? Basically, she handles it in a very down-to-earth manner, piling up the used dishes on the top of the counter, or in the sink, or on a side table. The underlying philosophy that allows all of this to be acceptable is that guests have been welcomed into the home like one of the family, and therefore they participate in the preparation of the meal, in its consumption and in the inescapable consequences.
Only family members or trusted friends are allowed to enter this magic and intimate space! All others are either greeted at the cafe for an aperitif or else hosted at a local restaurant.
By Paola