Town of Torgiano, Umbria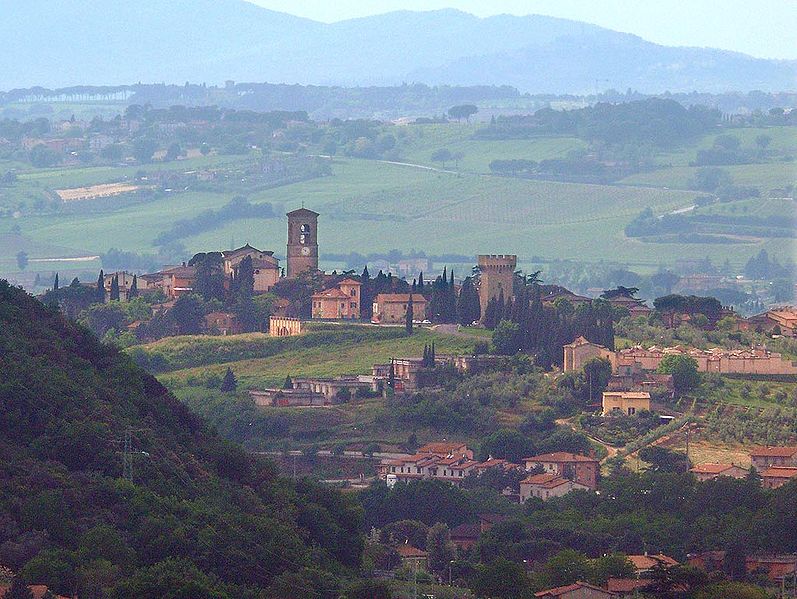 Torgiano stands on the road to Perugia (it is distant 6 km from Bettona and 14 km from the chief town). It is a little medieval town as the rests of its old walls and the imposing tower that is detached from the urban agglomerate show.
Above all, Torgiano is known for its wine production. In fact, a museum has been dedicated to it. The most famous and appreciated wines are Rubesco and Torre di Giano, the first red and the second white. They go back to a very ancient tradition. Other high-quality agricultural products like olive-oil, grain, honey and pecorino-cheese are at the base of the typical Umbrian recipes: the "torta al testo", the "schiacciata", S. Joseph's rice pancakes and the "strufoli". The traditional and cultural performances are numerous. On April 25, the very old propitiatory fires for a good harvest come with the ecological walking by bike. In summer, the streets are adorned with flowers for the religious feast called "Corpus Domini", which goes with the various village feasts in Torgiano and in the outskirts. In November, it is also possible to taste the best Italian wines and the wonderful wine national products.
Not so far from Torgiano on the E45 highway, we find Deruta, capital of the ceramic. From many centuries, this town has been well-known for its production of fantastic artistic majolica, hand-decorated by experienced artisans. I also recommend you to see the different artisan work-shops besides the interesting collection of the regional ceramic museum in Deruta, situated in San Francesco's monastery (in this church, some important works are preserved: amongst these, there's a painting by Fiorenzo di Lorenzo).
From an artistic point of view, it is also interesting to visit the church called "Madonna dei Bagni" that contains more than 700 votive tiles made with ceramic, from the end of the XVII century to today. Higher than Deruta and very close to Torreburchio, the singular town Castelleone and the more higher old Perugia (a very ancient Etruscan site) offer unequalled panoramas on the hills and valleys below. The close places Ripabianca and Pontenuovo are also very interesting. They have very old buildings and an excellent craftsmanship.
In Deruta and in the outskirts, the cuisine is simple and genuine: "tagliatelle" with goose tomato-sauce, beans with pork meat, spicy rabbit, gnocchi, "torciglione" and "ciaramicola" (two special sweet cakes) are the typical dishes. Above all, we cannot forget the wonderful Lungarotti wine!