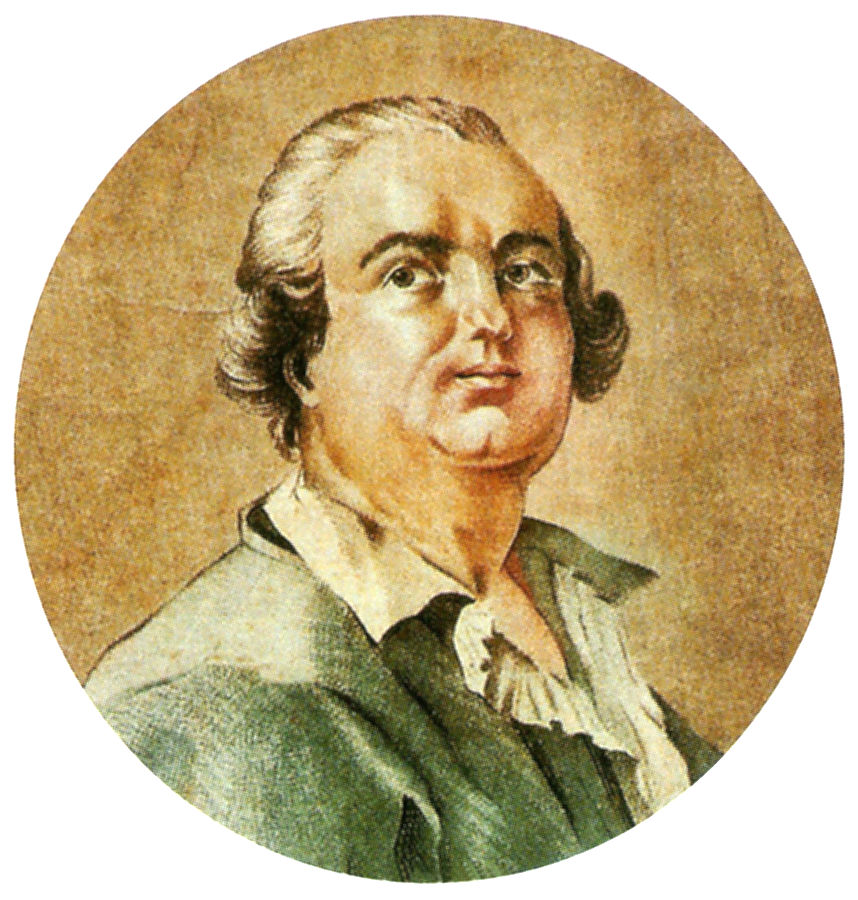 Sitting on top of a stupendous crag, few people can fail to notice the mighty Rocca hanging precariously above the village of San Leo in northern Marche. According to popular belief San Leo was once the mightiest and most powerful stronghold in Europe; perched on rocky outcrops all fortifications in the Montefeltro were virtually unassailable. But not only is the Rocca di San Leo the most impressive looking, it is inextricably linked to the fate of one of the most enigmatic and talked about figures in Italian culture, Giuseppe Balsamo, aka count Alessandro Cagliostro.
King of Liars
But who was this man Thomas Carlyle called the "King of Liars"? Why was he so persecuted? Why did people try to discredit him? And why did he end up in solitary confinement to eventually die inside the Rocca di San Leo, a medieval version of Alcatraz? The background, or stage setting, against which his life is applied to its denouement, forms the basis of one of the most daring adventures of the 18th century.
Apprenticeship
Cagliostro was born in Palermo, Sicily, in 1743. His early life was fraught with adversity. His father died shortly after his birth and he grew up in one of the poorest quarters of Palermo. When his mother was unable to cope with him, he was sent to live with his uncle who tried to give the boy a good education. But young Giuseppe planned a different destiny for himself: he had a restless ambition and dreamed of fame and fortune, so one night he slipped silently away into the busy streets to see the world as he intended. It wasn't long before he was caught, however, and subsequently despatched to the monastery of the Fatebenefratelli at Caltagirone to undergo training as a novice monk. Things were good at Caltagirone for the bright, imaginative and energetic student. He soon discovered the secrets of alchemy and learned about the illusive Philosopher's Stone. Although the monastery laboratories provided interesting work for the young trainee, he was still a mascalzone (rascal) at heart, a trait that eventually got him expelled from the religious institution.
The Adventure Begins
If there was ever an extraordinary adventure in the making, it truly began here.
Giuseppe developed a flair for forgery and also discovered he could accurately foretell future events. Wily, cunning and always one step ahead of everyone else, he had at last discovered the means with which to pave the way to greatness. Constantly pursued by the police Giuseppe eventually left Palermo for Messina where he had a wealthy aunt, only to find disappointment awaiting him there. His aunt had died and left her wealth to the church so the only thing he did inherit was her surname of Cagliostro. This, he thought, had a noble, yet mysterious ring to it: this was the name he would later adopt to create a new identity for himself.
In Messina he apparently met an enigmatic stranger called Althotas (who became his mentor) and together they visited Egypt, Tunisia and Malta studying occultism along the way. These journeys of discovery had a profound effect upon Giuseppe, who eventually returned to Italy in 1768 following the death of Althotas. Back in Naples, he teamed up with a priest called Rinelli and the two men opened up a gaming house. But the Neapolitan authorities, swooping down on their gambling operation, discovered a plot to cheat wealthy foreigners and forced them to leave. Giuseppe then went to Rome where he met and married the beautiful Lorenza Feliciani.
The couple lived a low-key existence in Rome for a while, but then embarked on a series of incredible adventures around Europe. Armed with their new identities the Cagliostros set off to start a new life for themselves. Their fortunes fluctuated at first but the highest pinnacle of their wealth and fame came after they established an Egyptian Freemasonry movement in England, Germany and France. Cagliostro concocted medicines and elixirs and began to hold séances. He also became a faith healer, but took no payment from the poor, the main source of wealth coming from his Masonic activities.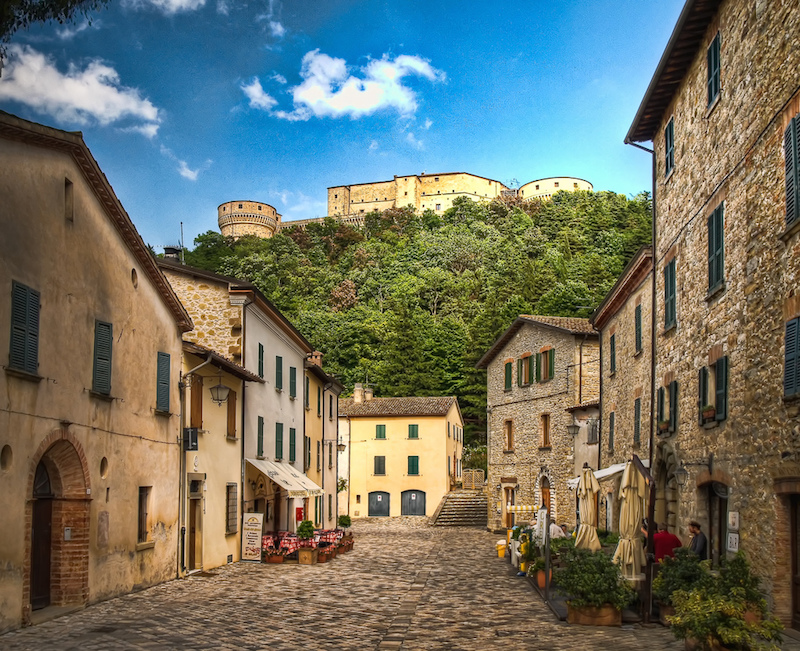 The Affair of the Necklace
After a series of misadventures in England, Russia and Poland, the Cagliostros returned to France. The count performed mysterious ceremonies at Versailles, where he was a favourite of the French court. But he was later implicated in the Affair of the Diamond Necklace in which Cardinal Rohan was tricked into financing a necklace for Marie Antoinette. Cagliostro was accused of a crime he didn't commit and spent nine months in the Bastille before being acquitted.
But the hero doesn't always live happily ever after. This event marked the turning point for the worse in the life of Cagliostro. Banished from France, the Cagliostros returned to England and then travelled to Switzerland only to face further persecution. When attempts were made to discredit them Lorenza insisted they return to Italy. They eventually went back to Rome and, when Cagliostro secretly attempted to establish his Egyptian Freemasonry movement, he was arrested after Lorenza betrayed him to the Holy Roman Inquisition. He was found guilty of heresy and sedition (Freemasonry was considered to be an anathema to the Church) and imprisoned in Castel Sant'Angelo in Rome. After a lengthy trial he was sentenced to death, but Pope Pius VI later commuted this to life imprisonment, to be served inside the maximum-security prison at San Leo in the Montefeltro, where he died in August 1795.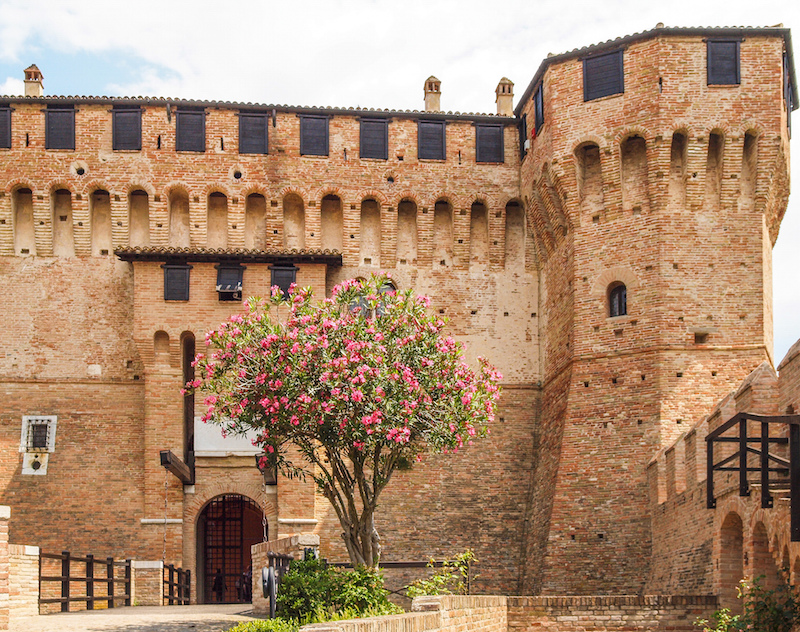 A Legend or Controversy
Cagliostro was a legend during his lifetime and still remains one today. He is arguably one of the greatest and most controversial figures in occultism, although according to many he was a charlatan, rouge, a vagabond and a swindler. Many wild and divergent stories have developed around him, most biased against his figure, tending to obscure the facts surrounding his life discrediting him.
It is ironic, perhaps, that Cagliostro should himself fall prey to some dubious characters and even end up in prison because of their shady machinations
In truth, the real mystery lies in the contrasting nature of his character: he was gifted and generous, his genius as an illusionist was without parallel. He healed the sick, fed the poor and gained a worldwide reputation as a philanthropist and benefactor. Yet he was also vain, arrogant and scheming. Cagliostro was not a good man, but nor was he half as bad as his enemies claimed. He rose from obscurity to achieve celebrity status only to become the victim of his own undoing. T.S. Eliot said it best – "In the life of one man, never the same time returns, sever the cord, shed the scale, only a fool, fixed in his folly, thinks that he can turn the wheel whereon he turns."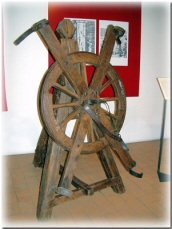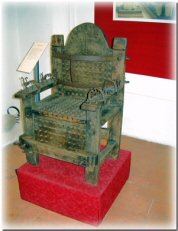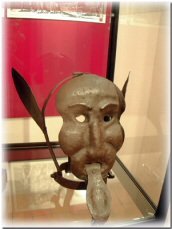 Various instruments of torture used in the Rocca prison
Information
How to get to San Leo:
Ryanair have regular flights to from London Stansted to Forlì (which is convenient for northern Marche) or Ancona.
By road: Autostrada A14 and exit at Rimini. Take the SS258 Marecchiese to Novafeltria. San Leo overlooks the Marecchia valley where you can see the distinctive Rocca on your left hand side as you approach the village of Pietracuta.
According to local legend, whenever there is a full moon in San Leo, Cagliostro's ghost can apparently be seen standing by the road that leads up to the fortress. There is also a small liquorificio in Via Rosa that makes and sells Antico Balsamo Cagliostro, a delicate liqueur made from aromatic herbs. The producers claim, tongue in cheek, that their elixir has the same thaumaturgical properties as the original produced by Cagliostro himself.
By Charles L. Joseph