La Cucina Romana
When I think about Roman cuisine, what instantly materializes in front of my eyes is that old movie by Steno, Un Americano a Roma (An American in Rome). The main actor was, of course, Alberto Sordi (as Nando Morriconi) playing an Italian man obsessed with the American dream, constantly regretting his Roman roots.
One night his mother made some spaghetti, but he, tired of the Italian ways and completely enamoured with all that was made in the US of A, opts for a quintessential American meal: sandwiches with jam and mustard. One bite is enough to bring the good old Roman in Nando, who may adore the US, but cannot live without a plate of maccheroni. So he picks up the cofana (roman dialect for salad bowl or a very large serving dish) full of maccheroni and utters one of the most famous, iconic sentences of Italian cinema: "Maccheroni you've provoked me and I'll destroy you!".
Within this phrase, or even more rightly, within the whole sequence of the "maccheroni," we find a full synthesis of the relationship Romans have with food: nevermind the trends, nevermind the diets, food is pleasure.
From "lucullian" banquets of Imperial times, organized by Lucullo, a very rich Roman citizen, to the tables of the poor, who made strange, yet delicious dishes with leftovers, offal and god-knows-what-else (and how famous are these recipes today!), the Romans have always been a popolo mangereccio and always enjoyed the pleasure of good cuisine. Roman cuisine, which is mainly popular and casareccia (home made), kept its tradition throughout the centuries.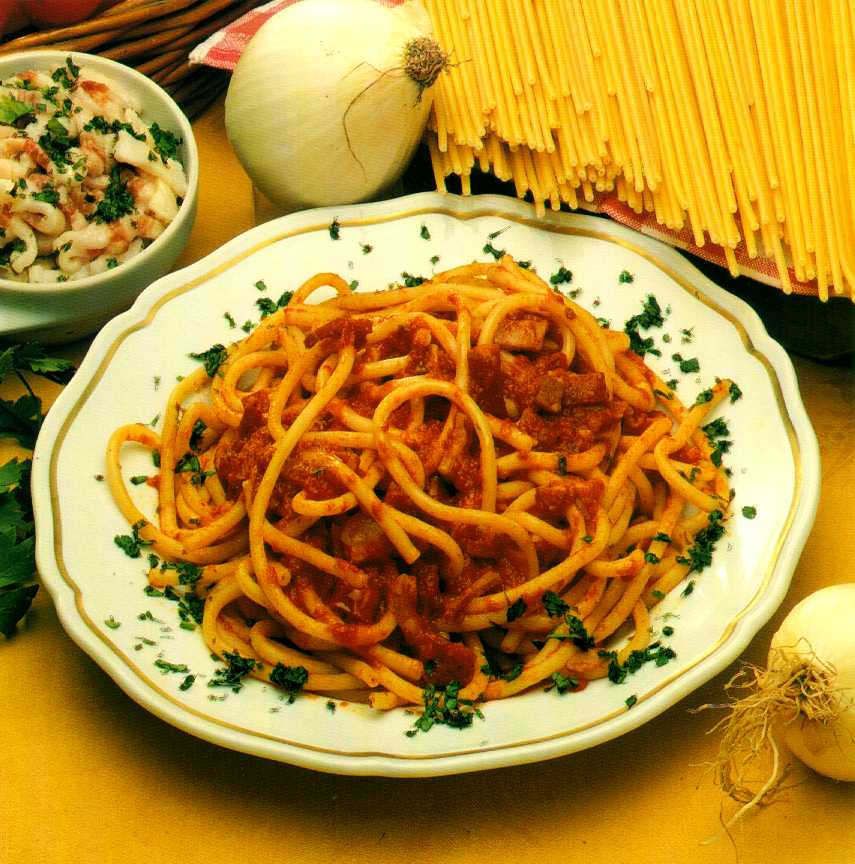 Essentially, traditional Roman food is based on dried pasta such as rigatoni, Bucatini (hollow spaghetti) and regular spaghetti, a great start for every meal. Among the better known dishes are the bucatini all'Amatriciana, a dish that takes its name from the town of Amatrice (in the Rieti province ). Bucatini, a kind of spaghetti resembling  small straws, are dressed with tomato sauces with lightly fried bacon (or guanciale), oil and hot pepper, served with a good sprinkle of grated roman pecorino cheese. Spaghetti alla carbonara, or simply known as carbonara, are spaghetti dressed with a mix of raw eggs, pancetta (or guanciale), pepper, parmesan and/or pecorino cheese. Penne all'Arrabbiata are so called because of their particularly spicy sauce, made with chilli pepper. Spaghetti cacio e pepe is a very simple dish, made with pecorino cheese and black pepper. More typical are the rigatoni with Pajata, dressed with tomato sauce, oil, garlic, and veal's intestines.
When it comes to primi piatti, however, Roman cuisine has more than pasta to offer. Gnocchi alla Romana are a traditional dish of the city, where semolina is used instead of potatoes and the gnocchi are layered with butter and parmesan, then baked. They are traditionally eaten on Thursday.
I secondi (meat or fish dishes) of Rome are as rich and earthy as its pasta dishes. Lamb is a favorite, and it is usually cooked in the oven or fried scotta dito style (scorched finger-style). Coda alla Vaccinara is also quintessentially Roman: its main ingredient is oxtail, flavored with celery and, often, sultanas. There's also the trippa alla Trasteverina (tripes "trasteverina style", Trastevere being an area in downtown Rome) which is cooked in a clay pan, and the most popular saltimbocca alla Romana, sautéd slices of veal covered with a slice of "prosciutto" ham and a salvia leaf. Coda alla vaccinara and trippa are somehow "weird" dishes, not commonly eaten in the rest of Italy. Fish also holds an important place in the roman cuisine. Typical is codfish, usually eaten on Fridays. Then mullets, sea crayfish, and prawns. Carciofi alla Romana (artichokes Roman style) is the king of the vegetables courses and are prepared by mixing the artichoke's stem with garlic, parsley, salt, pepper and oil.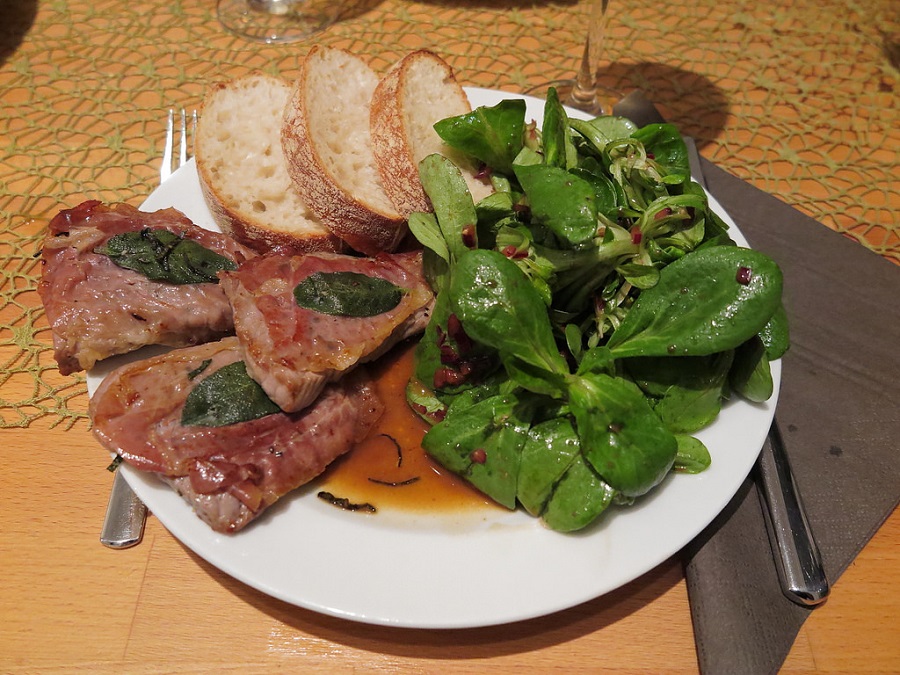 Also famous are puntarelle a kind of salad served with oil, salt, vinegar and pieces of anchovy.
Of course good wine cannot miss on your traditional Roman table. Just take a ride in the Castelli Romani (Roman Castles) for an amazing eno-gastronomic tour you surely won't forget.
Typical of this area are fraschette, old home-style wine shops, where you can enjoy a couple of glasses of the local wine directly from the barrel, along with some homemade bread, better if toasted with oil, salt and garlic (the so called bruschetta). You may also go for some porchetta di Ariccia (named after the town of origin), piglet cleaned of its intestines and flavored with lard, salt, pepper, garlic, various aromatic herbs rigorously cooked over a slow, open coal fire.
Sweets and cakes are not missing, either. Crostata with ricotta (tart with ricotta), the famous maritozzi (cream puffs) and the ciambelle al vino (doughnuts made with wine).
This is obviously just a short trip in world of Roman cuisine, but I'm sure that it was enough to make your mouth water.
So, if you'll have the luck to be in the area sooner or later, don't miss an evening in a typical Roman tavern (Trattoria or Osteria). In case you want some suggestions, here are some Best Restaurants in Rome and, along with fantastic wine and delicious cuisine, you'll certainly find that warm, friendly atmosphere that'll transform your trip in the most unforgettable of the experiences.
Buon Appetito!
By Rita Peters