The historic city of Assisi is dominated by two large medieval castles. The larger castle is known as Rocca Maggiore which is an imposing bastion that looms over the hill town, intimidating potential invaders. The castle as seen today is mainly the work of Cardinal Albornoz, with several later additions by Popes Pius II and Paul III.
Assisi's Rocca Maggiore dominates the entire skyline with its impressive battlements and it is quite popular with visiting tourists. Spectacular views of the Spoleto valley and Assisi itself can be found at the piazza located in front of the castle and can make for impressive photographs at sunset. Assisi's other castle had been built much earlier than the Rocca Maggiore, during the Roman era. However, today only a small portion of this castle remains which can be viewed by tourists.
History of Rocca Maggiore
The have been fortifications above Assisi even in pre-Roman times, it's location above the town is a natural defensive position. The earliest records of the current castle date back to the year 1174 when a German feudal castle had been erected in the town. The future Emperor Frederick II (Federico II) of Swabia had spent several years during his childhood here under the care of the Conrad of Urslingen. He had been baptized in Assisi's cathedral in the year 1197, not too long after Saints Francis and Claire were baptized from the same font.
In 1198, the people of Assisi had rebelled and reduced the Rocca Maggiore to ruins in Conrad's absence. In 1367, Cardinal Albornoz took the initiative to rebuild the castle using the western part of the outer walls and some of the inner fortifications of the original structure. By 1458, the Lord of Assisi erected the twelve sided tower and the curtain wall that connects the castle to Assisi.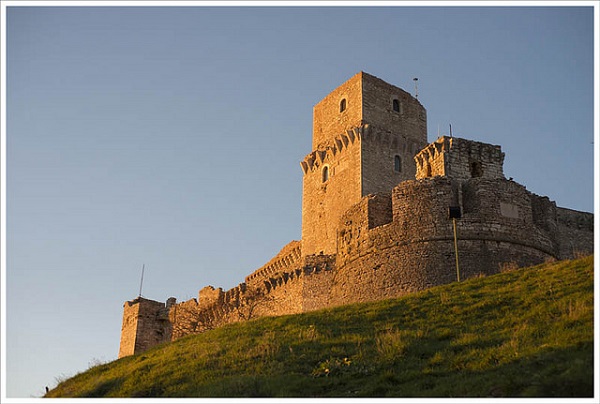 The castle's keep was finally restored by Pope Sixtus IV in 1478. From 1535 to 1538 restoration work continued and Pope Paul III built the castle's round tower near its main gate.
The Castle Today
Today, Rocca Maggiore still retains the impressive stateliness from it's former military life. The castle has been restored recently and today its impressive and elegant rooms can be visited by tourists. However the modern function of the castle is still undecided and so until Assisi can decide what to do with the Rocca Maggiore, it is used as an art and exhibit location.
​
Assisi is known worldwide as the birth place of Saint Francis however, visitors to this charming hill town may want to explore attractions not associated with the Saint. The Rocca Maggiore is a nice way to avoid the often crowded lanes close to the Basilica. The castle can be reached from the center of town by series of well-marked steps, leading up to the top of the hill. Visitors can explore the Rocca Maggiore six days a week (closed Mondays) from 10am until sundown.