What do you mean, one hundred years? It is common knowledge that panettone was likely created back in the Renaissance, possibly at the Milanese court of Ludovico Sforza: that's much more than 100 years! However, let's see the famous Italian bakery brand Motta, and Christmas cake, Panettone Motta's story.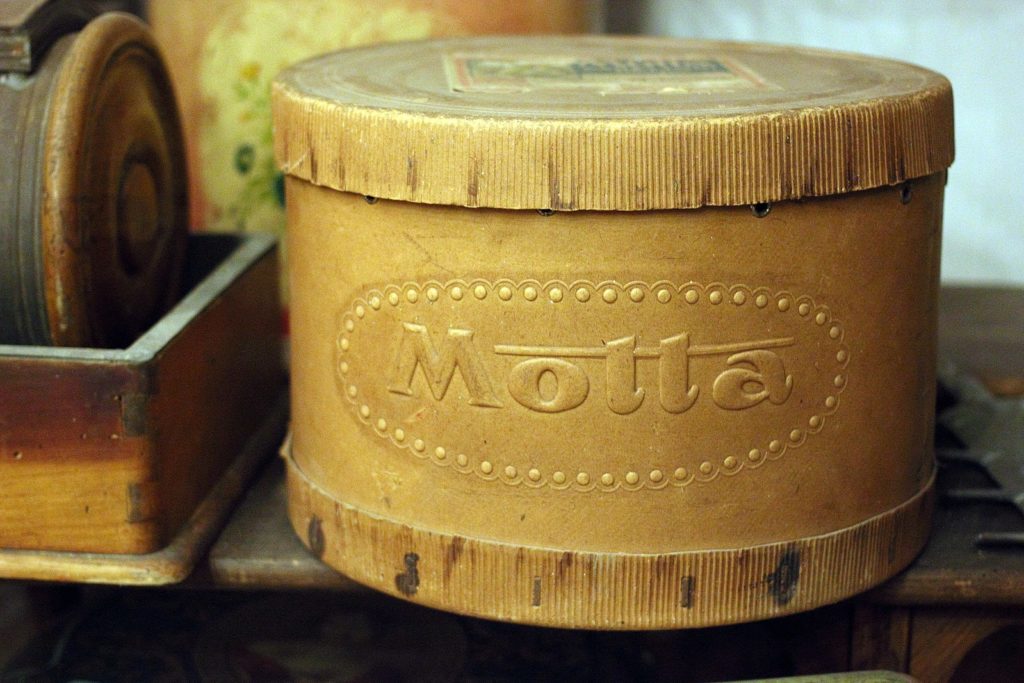 Well, it's true: our delicious, beloved panettone cake, a symbol of Christmas festivities, soft, buttery goodness of our holidays does come from the Renaissance. It's not, in fact, panettone as a cake to celebrate 100 years of age, but rather its most famous, iconic version: the Panettone Motta.
Panettone Motta, a name synonym with the "Made in Italy" tradition
Panettone is, still today, Motta's most archetypal product: panettone Motta, in its blue box and with its simple recipe, has been the companion of Italian Christmases since 1919, the year Angelo Motta founded his company and opened a bakery in Via della Chiusa, in Milan.
Panettone was, without a doubt, Motta's most popular product, also in name of its traditional association with Christmas and the city of Milan. Soon, all those panettoni paid off and Motta extended its activities, opening more laboratories and stores in Corso Buenos Aires, Piazzale Baracca, Viale Corsica, Corso Garibaldi, Largo Carrobbio and, finally, Piazza del Duomo.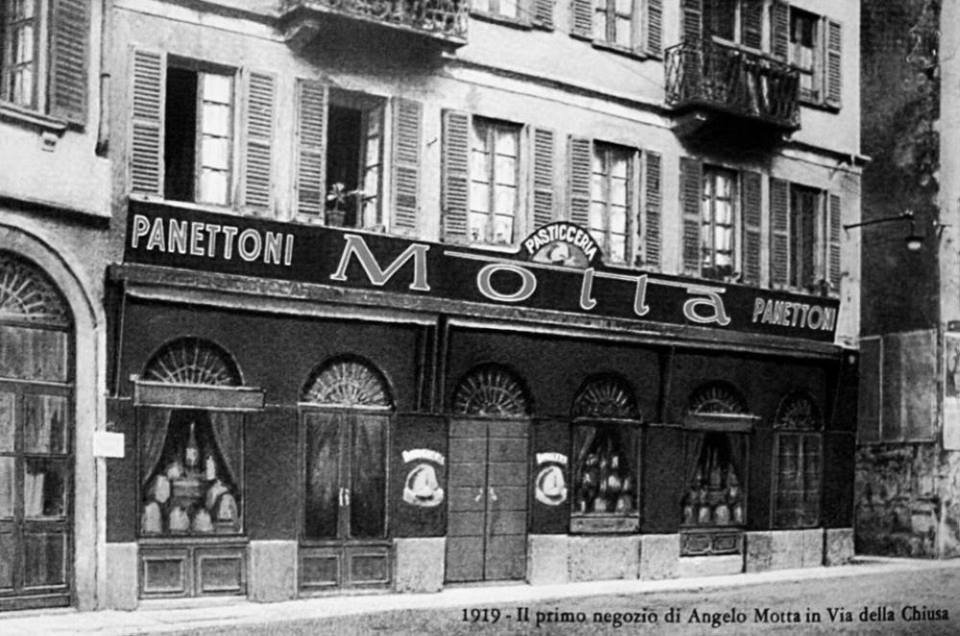 Production was extended to other baked goods and desserts in 1937 when the famous ice cream Mottarello hit the market: vanilla ice cream covered in a thin layer of crunchy dark chocolate, just like a Klondike bar.
In 1953, Motta, Milan introduced to the Italian market the first pre-packed baked snack (we call them merendine), Buondì, a soft brioche covered in sugar still popular today and, one year later, it signed an agreement with American Nabisco for the production of salted snacks.
After Angelo Motta's death, the company went through some managerial changes until its fusion in 1976 with Alemagna, another famous Italian baking company.
In 1990, the company was dismembered, with its various section being sold to different firms, although all products kept being sold under the Motta brand name. Today, Motta is part of the Bauli Group, another famous Italian baked goods name, and remains a symbol of old-fashioned, trustworthy Made in Italy.
Panettone becomes a household fixture with Motta
While panettone has been a traditional Christmas cake in Milan for centuries, it really wasn't that known around the country until Angelo Motta's made it his own.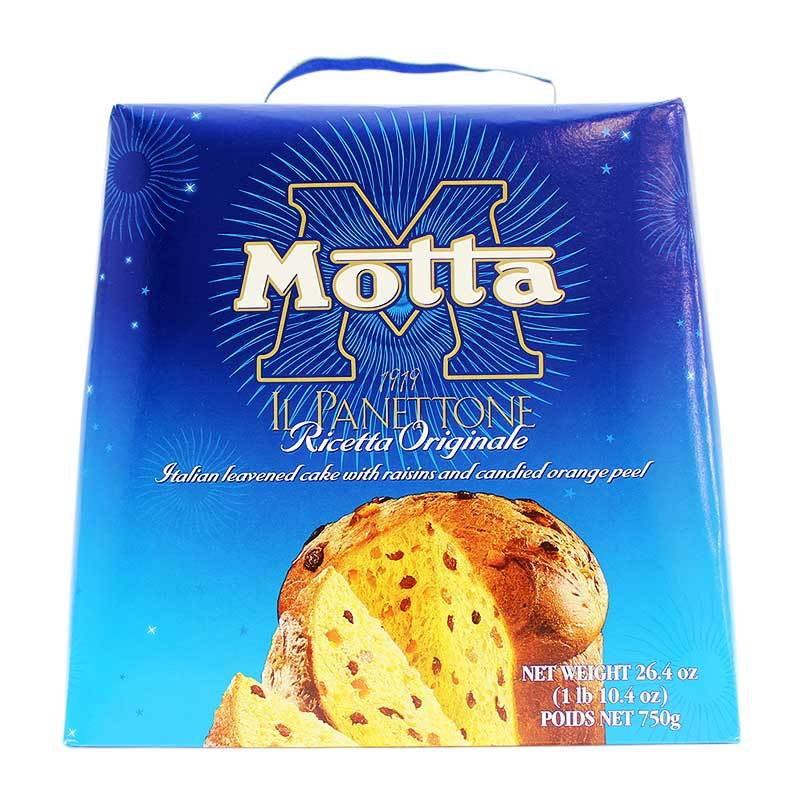 Generation after generation, Christmas wouldn't be Christmas if you didn't have a panettone Motta on the table. Mind, people would buy others, including fancier, artisanal ones, but if that cubic blue box didn't make it in the house by December 24, Christmas was just not the same.
Childhood memories bring back images of that simple, no-frills cake, free from all the fancy hazelnut glaze and almonds or chocolate toppings that had started to get more and more popular. It was your grandparents' favorite, because it was simple and, very likely because it was the panettone they would see on the table when they were young.
Panettone Motta is an icon, a real symbol of Italian Christmases, there is no denying it. And so, it's not surprising that the company decided to honor its 100th birthday with a series of special events and releases: a book, a special edition of the panettone itself, which this year will be packaged in a box inspired by that used in 1919 and, for the first time in years, a TV commercial campaign.
C'era Una Volta Angelo Motta, presented on the 30th of October in Milan and published by UTET, traces the history of the Motta family and of its brand. In the volume, beautiful pictures hold hands with stories and anecdotes about the people who made Motta a household name. A true collector's item, C'era Una Volta Angelo Motta is available on the Motta website and on Amazon.
The TV commercial campaign is still under development and will certainly be a pleasant surprise: we expect something quirky, filled with humor, that honors the company's glorious past, in typical Motta style.
Panettone and Italy's Christmas Habits
In occasion of the centenary, Motta commissioned research to Doxa, Italy's most important market research company, to find out some more about the country's "panettone habits."
So, we discover that panettone enters the homes of 83% of Italians at Christmas and that almost 40% start buying and eating it well before the 25th of December: as soon as panettone is on sale, we Italians buy them. And we don't only eat panettone after lunch and dinner, as an appropriate conclusion to a festive feast, but also in other moments of the day, especially at breakfast, with our caffelatte and as a mid-afternoon snack (per merenda).
But there is more…
For instance, Doxa tells us also that Christmas is Italy's favorite holiday and that the best things about it are spending time with family (75%), decorations and lights (66%), presents (55%) and, you guessed it, panettone (39%). It also comes out that 26% of the budget Italians allocate to Christmas goes in food.
And how could you carry out a Christmas poll without asking about the ultimate Italian controversy, the timeless competition between panettone and pandoro? And it is a competition where everyone wins if it's true that 80% of Italians buy and 70% eat both.
Motta, Milan and Panettone
Motta and panettone, each on their own and as a coupling, are also strongly associated with the city of Milan. Angelo Motta wanted the large, red "M" he chose as a symbol for his company to stand for both his surname and his city. This is why the "M" of Motta and Milan, on panettone's boxes, is set against a stylized outline of the Duomo, the quintessential soul of the city, close to the heart of all Milanese.
This year, so, there are even more reasons to enjoy panettone at home for Christmas. And, even just for memories' sake, you should really make it a Motta one: it speaks of Milan, of tradition, and of the way old-fashioned Made in Italy used to work.