This classic crisp cookie studded with toasted hazelnuts departs from tradition with its chocolatey richness. The haunting fragrance of anise is very Venetian, as is the crisp, dry texture, which makes the biscotti perfect for dipping into a glass of grappa or sweet wine after dinner.
"It is a cookie for dipping," Francesco says, "not a buttery cookie for eating plain."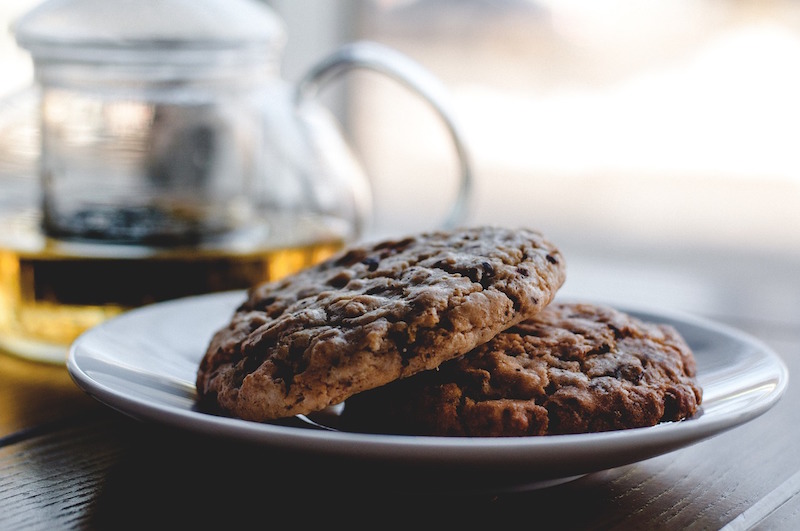 Hazelnut Chocolate Cookies
Ingredients
1

cup

(90 g) whole hazelnuts (filberts), preferably blanched

2

cups

(310 g) flour, plus extra for work surface

1

cup

(60 g) Dutch-style cocoa powder

1

pinch

of salt

1

teaspoon

baking soda

bicarbonate of soda

1

tablespoon

baking powder

4

large eggs

1

cup

(310 g) sugar

1

tablespoon

anise seeds
Instructions
Preheat the oven to 350°F (180°C). Spread the hazelnuts on a baking sheet and toast about 10 minutes, until lightly browned. If the hazelnuts are not blanched, toast them until the skins begin to crack, then remove them from the oven and wrap them in a clean linen or cotton towel (not terry cloth). Rub the hot nuts to remove most of the skins. Set the toasted nuts aside.

Sift the flour, cocoa powder, salt, and baking powder together and set aside.

Beat the eggs just until they are blended in a mixing bowl with a whisk or electric mixer.

Remove 2 tablespoons (30 ml) of the egg mixture to a small dish and set aside.

Beat the sugar into the remaining eggs until blended. Stir in the anise seeds, then stir in the flour to form a soft dough.

Divide the dough in half and place one portion on a well-floured work surface. With floured hands, pat it into a 6-inch (15-cm) square.

Scatter half the hazelnuts on the dough and press them into the surface.

Roll the dough into a cylinder about 2 inches (5 cm) in diameter and 12 to 15 inches (30 to 38 cm) long.

Line the baking sheet with parchment paper and place the roll of dough on it.

Repeat with the remaining dough.

Brush the tops of both rolls with the reserved egg.

Place in the oven and bake about 15 minutes, until firm to the touch.

Transfer to a cutting board and cut on an angle into slices ½ inch (1/3 cm) thick.

Return the slices to the baking sheet, standing them on edge, and return them to the oven. Bake another 20 minutes, until they are crisp and dry.

Allow to cool completely before storing or serving.