Authentic magic. Where large forests breathe, pearly lakes repose and impressive rock walls jut out. The perfect environment for all outdoor sports. An environment warmed by its people and by its villages nestled in enchanting atmospheres. And animated by thousands of colorful festivals. Let's see the mountain destinations in Friuli, Italy!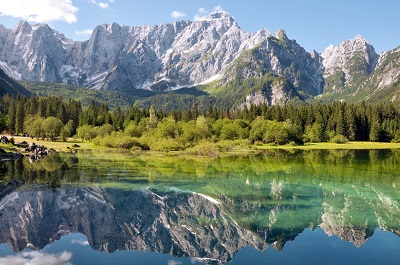 Mountain destinations in Friuli Venezia Giulia, Italy
A more natural and direct approach that's rewarding in every way: from nature to sports, to close contact with the local people, who are deeply tied to their traditions and extraordinarily hospitable. Our discovery starts with the land itself, varied and surprising because of the historical events that have marked it, and the point of encounter for Latin, Germanic and Slavic populations. Everything is close together and, above all, easy to reach.
The motorway and railway take you into the very heart of the Alps. And our journey into wonderland begins. You'll discover forests, some of the largest in Europe, as well as numerous parks and nature reserves populated by chamois, rock goats, and birds of prey.
The last griffon vultures still live here undisturbed, majestically soaring the skies.
Mountain pastures, protected areas, small mountain lakes, rock walls, and wild forests are just a few of the wonders of the Friulian mountains. Those who love sports and outdoor activities will enjoy unforgettable experiences, without any limits in terms of age or athletic aptitude: rock climbing; mountaineering; hang gliding, gliding and paragliding; golfing and fishing; canoeing and windsurfing on streams and crystal-clear lakes. The area offers a concentration of activities against a backdrop that mountain bikers, trekkers, and horseback riders consider heaven on earth.
Up in the mountains, picturesque barns and enchanting shepherds' huts are connected by hiking trails that vary in difficulty. Surrounded by the lush flora of the Alps, they forge a link with neighboring Carinthia.
You'll feel completely at home among the genuine and unique people who live in towns that have been built around churches marked by simple charm and are surrounded by verdant meadows.
The only thing interrupting this peaceful tableau is the extravaganza of the area's array of traditional festivals and folklore events that will fascinate you with their boisterous cheer. A different way to experience mountain destinations in Friuli!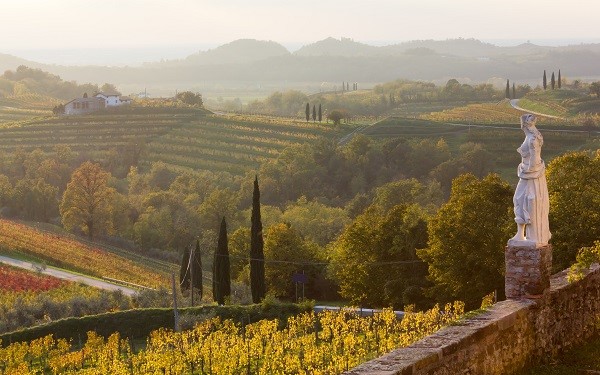 UNMISSABLE: mountain destinations in Friuli
The Parks
The Parco Naturale delle Dolomiti Friulane, with broad valleys surrounded by the ridges and towers of the Dolomites, is ideal for nature excursions and trekking. The Parco delle Prealpi Giulie, to the west, will thrill you with its roes, deer, woodchucks, and foxes. The Visitors' Centres of Forni di Sopra, Cimolais, and Resia offer fascinating excursions in complete safety, accompanied by expert guides in order to discover this untamed world. The Parco Intercomunale delle Colline Carniche, characterized by sunny rolling hills and open vistas, is ideal for horseback trekking.
Wood and stone, in the houses of the authentic villages. Hands following the gestures of traditional cheese-making in the malghe. Eyes buried in a book or absorbed in a surreal sunset in refuges. Footsteps in timeless footprints, along ancient trails, perfect for trekking today.
The enchanted world of the Friulian Alps is full of magic. Wherever you look, there are unexpected panoramas, trails to follow, and discoveries great and small that will surprise you.
From the 2251-meter vantage point of Mount Cavallo you can see the Dolomites, but off in the distance, you can also glimpse the cobalt sea. The forests, filled with fossils and trees that are thousands of years old, are veritable historical monuments. The finest wood used by the Venetian Republic to build its fleets came from the woods of Carnia. And Venzone, in the Alpine foothills, is not only a charming town but also a town boasting an ideal microclimate for balsamic lavender.
The myriad of hamlets dotting the gentle hills or perched on green slopes is the pride of the mountains of Friuli Venezia Giulia.
On Mount Lussari, the village that is home to the sanctuary – which can be reached via the Pilgrim's Trail – is an oasis of peacefulness with a spectacular view of the Julian Alps.
Sauris with its typical dwellings in wood and stone, Sutrio with its picturesque courtyards and woodworking shops, Raveo with the grassy plain of Valdie and the stavoli (shepherds' huts) of the Pani basin: in these enchanting secluded hamlets, you can stay in charming traditional homes that are examples of spontaneous local architecture.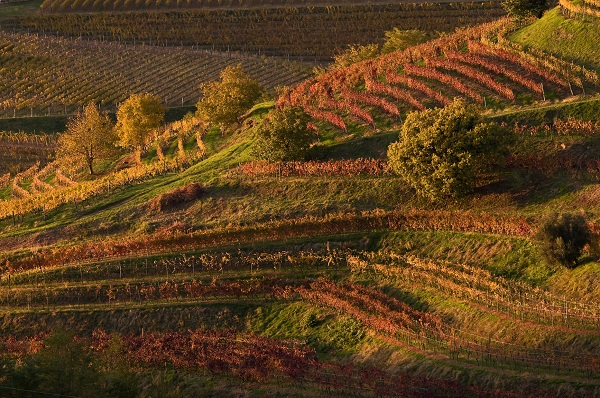 You'll enjoy a warm welcome wherever you go, but the area's proverbial hospitality is simply superb at refuges, often located high up in the mountains. They are the perfect place for reading or listening to a concert in the "Note in Rifugio" series.
After you have enjoyed the pleasures of culture and food, banter and rest, other adventures await you: on well-preserved hiking trails or the high roads of the herdsmen, to taste delicious cheeses that are still produced using the very same methods that have been handed down for centuries.
Well-being and unique flavors
An oasis dedicated to the mind and body in the Arta spas, with treatments based on water rich in sulfur and pampering in the beauty centers. And genuine dishes to pamper the palate are the main attractions at the ancient festivals, alongside farming rituals and crafts.
The mountains of Friuli Venezia Giulia also mean health and wellness. Surrounded by a relaxing Alpine landscape, guests at Arta Terme enjoy the therapeutic effects of the mineral water of Fonte Pudia, springs that have been known and used since ancient times. The spa at Arta boasts large and relaxing areas for the most modern treatments. The array treatments with water rich in sulfur and in calcium and magnesium sulfates, as well as services offered by the kinesitherapy department, go hand in hand with facial/body and wellness packages. At the AquaDea beauty and wellness center, Ayurvedic techniques and Oriental philosophies are combined with innovative spa products, allowing guests to achieve a complete harmony of mind and body during their pampered and relaxing stay.
At Arta Terme, with its splendid mountain vistas, you'll feel as if you're poised between past and present along the ancient Via Julia Augusta, following in the footsteps left by the Romans, barbarians, and adventurers of all eras. This itinerary merges millenary traditions with pristine mountain landscapes that are just waiting to be discovered.
In the Friulian Alps, agritourism and inns offer delights and surprises that will appeal to even the most demanding palates. Different traditions and populations have helped created a cuisine that alternates hearty rural flavors with exquisite dishes worthy of the greatest gourmets.
The local delicacies alone map out a fascinating itinerary: prosciutto from Sauris, Carnia pork shank, and cjalzons: these mouth-watering ravioli, filled with wild herbs, dried fruit, and chocolate, were the delicious lunch of the Cramars, the peddlers who would cross the Alps on foot to sell their spices. Definitely unmissable for mountain destinations in Friuli!
Folklore and festivals in Friuli Venezia Giulia
Folklore is yet another chapter introducing a unique facet of Friuli Venezia Giulia: festivals. The traditional celebrations that mark the passing of the seasons are celebrated everywhere: in the meadows during the hay season and when it's time to migrate to mountain pastures, in quaint hamlets with historical and medieval commemorations, and in the courtyards of mountain villages during the numerous events dedicated to typical local products.
In turn, these celebrations are tied to fine wines and spirits. For those who love a good glass of wine – or tajut, as they say in the Friulian language – Friuli Venezia Giulia offers Ramandolo, Merlot, and Cabernet.
And for those who love more potent flavors, there are excellent distillates, made by family-run companies that jealously guard their recipes and processes.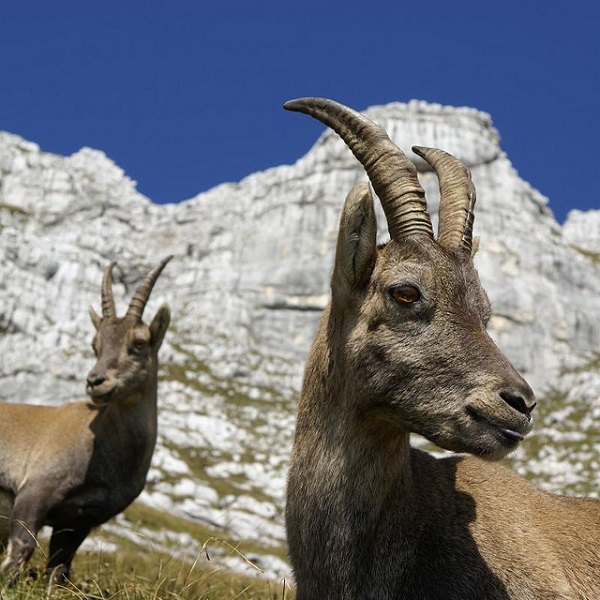 UNMISSABLE: 2nd part of mountain destinations in Friuli
Personality in the kitchen
After a day spent outdoors along trails and mule tracks, why not give in to temptation with a steaming plate of polenta, accompanied by classic frico, the traditional dish served at local festivals? It is a potato-cheese torte with a crisp golden crust and luscious soft center.
Dog trekking and Nordic walking
The spectacular scenario of the Tarvisio forests is the backdrop for exhilarating guided trekking excursions in the company of playful sledge dogs. The vast mountain territory of the Julian Alps is also the perfect place for Nordic walking, an innovative hiking activity using poles and organized along breathtaking trails that are suitable for all ages and all levels of training.
The Tarvisio area: boundless emotions
A melting pot of Italian, Slovene, and Austrian culture. A real natural paradise with endless opportunities for excursions, horse riding, via ferratas, and climbing. Plus a fun adventure park and a beautifully kept golf course.
The best way to discover the most distinctive and unspoiled areas around Tarvisio is to follow in the footsteps of Julius Kugy, the mountaineer, poet, spelunker, and botanist who discovered the beauty of the Julian Alps, Valsaisera, and Valbruna in the early 1900s and sang the praises of these peaceful mountains and valleys.
This natural paradise offers countless opportunities for excursions on foot or horseback, as well as "vie ferrate" and free climbing. Friulian climbers honed their skills in these extraordinary practice grounds. For example, Nives Meroi, one of the world's top female climbers, trains here.
Top-quality offerings are also available for golf lovers, who can enjoy a few rounds on broad greens and amidst treacherous bunkers in the magnificent Julian Alps, and then head off to savor the pleasures of traditional mountain cuisine.
The Tarzaning adventure park at Sella Nevea has plenty of exciting activities in store for youngsters, in complete safety along routes suspended from trees. An unmissable place for mountain destinations in Friuli!
A land that brings together three languages and three peoples – Italian, Austrian and Slovenian – naturally reflects a complex culture. Stay at some of the area's small family-run hotels. Their unique and simple approach – turning guests into friends – will draw you into the lifestyle, customs, and language of small communities untouched by modernity.
Continue to Part II of this article on Friuli's Attractions
Agenzia Turismo Friuli Venezia Giulia