Guaranteed Skiing, Snowboarding, and Memories
Be sure to check out Part I of snow activities in Friuli Venezia Giulia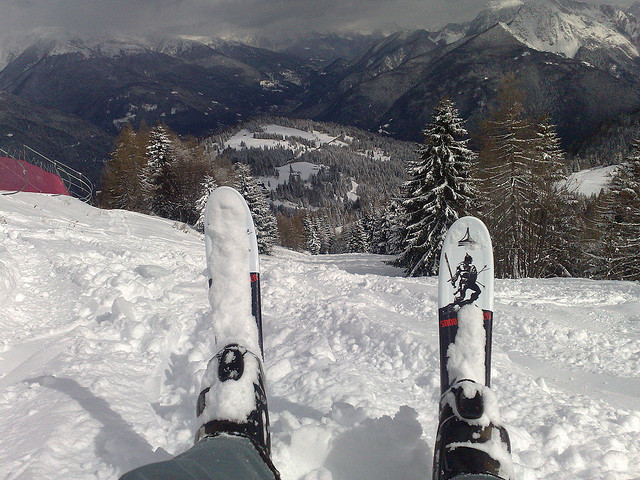 High Above
Friuli Venezia-Giulia's mountains charm thanks to their unspoiled beauty. If you like high altitude skiing, Friuli offers perfect locations to do it immersed in the beauty of the Eastern Alps. Seasoned skiers will certainly enjoy the Monte Canin skiing area.
The Pellegrino skiing area, which runs through the woods leading to the summit of Monte Lussari, offers a most suggestive atmosphere. From here, the most majestic peaks of the region can be admired. This is also a lively, multicultural area, characterized by the mixing of Austrian, Italian and Slovenian traditions: if you want a taste of Mitteleuropean history and heritage, you will find it here.
The slopes on the Monte Coglians (2780 metres above sea level), in the Carnia area of Friuli, are considered by many the best skiing slopes in the region. These south-facing slopes are of great beauty and difficult enough to give you a great sense of achievement and satisfaction once you complete them. Between Forni di Sopra and the Sauris basin, you can take on the itinerary leading to the 2475m high Monte Bivera.
Of course, Friuli Venezia Giulia offers loads of skiing opportunities also for the less adventurous among us. Simpler slopes unravel along the Via delle Malghe Carniche, a series of pathways closed during the Winter, whose area maintains nevertheless the charms of high altitude alpine life.
Flying over snow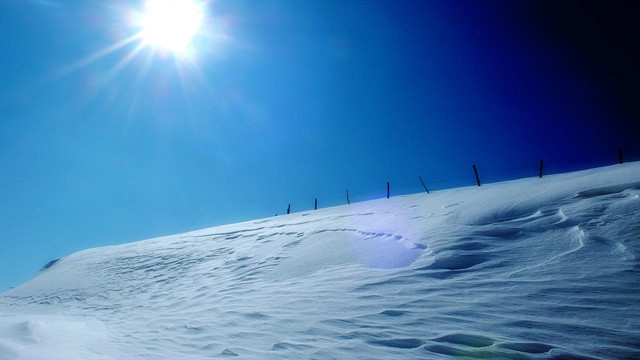 Friuli Venezia-Giulia offers plenty of beautiful locations for all snowboarders out there, too, including custom built amazing half pipes for all enthusiasts, set on breathtaking backdrops. Pure adrenaline on the Friuli Venezia-Giulia snow!
In the region, you can also enjoy the thrill of 2 arenas, entirely devoted to snowboarders.
In the Monte Zoncolan's very modern Snow Park Arena Freestyle you can try out all your best snowboarding and skiing tricks. In the park's other area, which is exclusively reserved for aerial evolutions, enjoyment is guaranteed through rails and kickers of every kind.
Anyone can come to the Arena: whatever sport they practice or whatever their technical level, but be careful – make sure your helmet is well strapped on.
Piancavallo's Snowpark is also thrilling: you can spin and jump in the half pipe and enjoy fast, high-adrenaline descents, then go back up on specially made ski-lifts. Instructors are on hand for beginners and are available for anyone who would like to perfect their skills. Besides this, in the Collalto area, an entire slope has been assigned to freestyle, where both snowboarders and skiers can practice and perform.
Play
Ski schools and Snowparks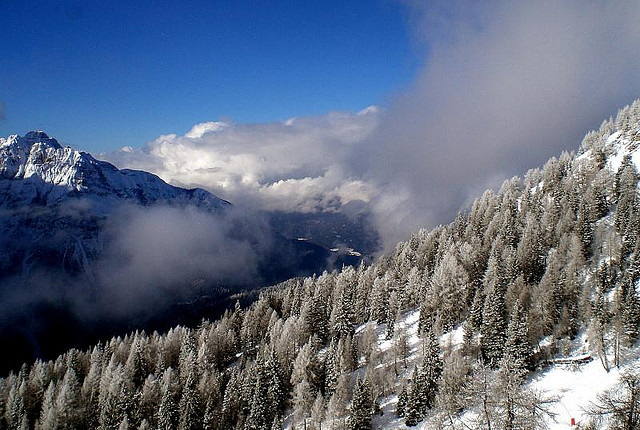 Naturally, Friuli Venezia-Giulia's mountains take the world of children greatly into account: children ski schools offer specific skiing learning programs for the younger, where kids are supervised at all times and can practice in the safest of the environments.
Children can also take their first steps in the magical snowy world of Forni di Sopra's Snow Park, as well as in the park in Ravascletto and the Collalto Fun in the Piancavallo Game Park: three brand-new structures equipped with play areas with obstacles, tunnels, moving carpets, bouncy blow-up shapes and enriched with simple slopes for sledges and tubing, making your child's stay even more pleasant.
Snow fun
Sleddog, horse drawn sledges and showshoes outings
Sleddog is a great activity to do in the Tarvisiano and the Piancavallo areas. Enjoy a splendid, snowy backdrop while at the International Mushing-Sleddog School in Tarvisio. The school offers the chance to both children and adults to live the emotion of riding on sledges drawn by able mushers, who guide their blue-eyed dogs to perfection.
The Italian Survival School in Piancavallo proposes fantastic excursions on dog-drawn sledges, as well as 3-day survival courses and base camps for mushers, during which they can train or spend a holiday with their team.
More common, yet not less original are snow-shoe excursions on traditional ciaspole, which, when attached to your ski-boots, allow you to cross snowy slopes, even when steep, without the need of any particular training or athletic preparation. Itineraries for ciaspolate (so we call in Italian excursions on ciaspole) are well within the reach of anyone attracted to dynamic walks and with an interest in the beauty of nature.
For the more romantic among you, there is nothing better than enjoying a ride on a horse-drawn sledge, just as those available in the Tarvisiano or in the Sauris valley.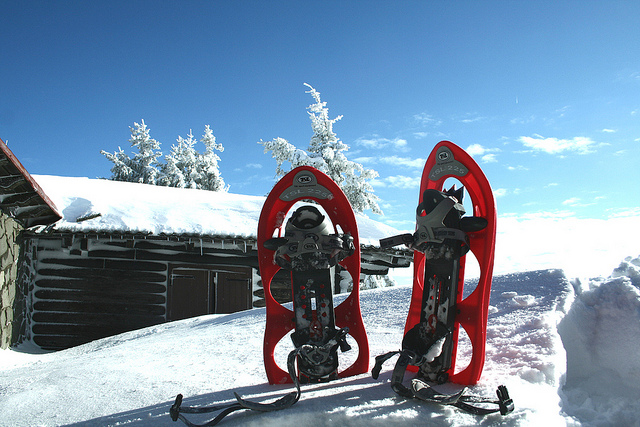 Fantasy on ice
Climbing glaciers, visiting ice palaces and having fun ice skating and staying in≠ igloo villages
Friuli Venezia Giulia's mountains also offer an ample choice of activities for less sporty types, who do not want to miss out on the beauty and charm of Friuli's snowy mountains.
For ice-skating lovers, there is the ice palace in Pontebba, home to large sporting exhibitions linked to ice hockey (in particular it is the training head quarters for the famous Aquile team). Another popular ice palace is in Piancavallo. Both are ideal places to have great fun on your blades!
The suggestive surroundings of the Friulan Dolomites and Giulian Alps Park are the perfect backdrop for magnificent climbs on majestic ice-walls and ice waterfalls. The region's alpine school guides are ready to prepare the more motivated amongst you for this magical ice world, through courses and on-the-field training.
More than skiing
Spas, gastronomy and on-the-snow fun
Arta Terma is just a few kilometers away from the Monte Zoncolan area, and allows you to enjoy the thrills of an amazing skiing holiday with the relaxation of a spa holiday. In the Fonte Pudia spa you can regenerate body and mind through baths, saunas, massage sessions and thermal baths.
After a long day on the slopes, having a luscious dinner is a pleasure not to be missed. Friuli Venezia-Giulia's cuisine is typically Alpine: tasty hors d'oeuvres of local salame, classic sweet or herb "cjarsons," heart-warming polenta and frico, homemade desserts served with a selection of grappe, all offered with the cordiality and kindness of this region's people.
Cultural and enogastronomic events, but also loads and sports. Professional skiing events are common in Friuli Venezia-Giulia's resorts.
The Monte Canin slopes, which are also used for the Skiing World Cup competitions, host the Duca d'Aosta Cup, one of the best Men's European cup competitions in the whole circuit.
Monte Lussari in Tarivisio is home ot the Lussarissimo parallel slalom competition, a 4 km of 4 km has become a well loved tradition.
Don't forget to read Part I of snow activities in Friuli Venezia Giulia
Agenzia Turismo Friuli Venezia Giulia