(You will find legal requirements at the bottom of the article)
Italy, a land of seemingly timeless beauty and charm, is quickly becoming one of the most popular locations for retirement. Stepping into Italy for the first time is like stepping into a fairytale. A captivating countryside coupled with excellent weather sets the stage for a dream come true.
Everyone has their own idea for a dream home and a dream location for their retirement home. The ideal place to retire depends on the individual and the individual's dreams; however, Italy creates a steady demand for retirement homes.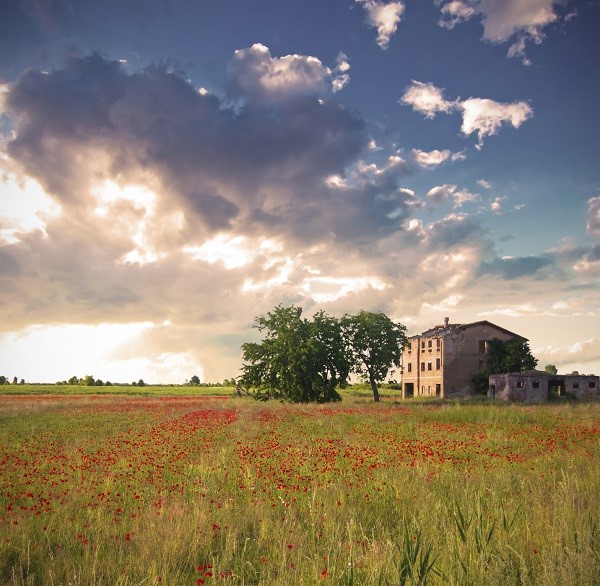 Although Italy may not be offering gated retirement communities, such as those found in the United States, numerous properties offering a wide array of styles, features, and locations are available. Typical homes in Italy may not even exist because each home is unique in character, structure, and aesthetic aura. Many Italians favor more modern homes in the cities, whereas foreigners prefer farmhouses and village homes from the seventeenth to the nineteenth centuries dotting the rural landscape.
Italian real estate provides an eclectic array of homes ranging from modestly priced to exhorbitantly priced. Small rural cottages and terraced village homes tempt individuals who prefer the rustic countryside and steep-sided wooded valleys. Chestnut and European Oak trees provide constant companionship. Quaint villages and towns resting in the shadows of mountain crags and ruined fortresses suit the tastes of those individuals who don't need every modern amenity that life has to offer.
On the other side, with the rich and well to do, Italy also offers an enticing bevy of luxurious properties, including large country homes, estates with swimming pools, splendid villas situated on the Riviera, and luxury apartments in the heart of it all, Rome. Homes are relatively few and far between in the cities of Italy and the people living there content themselves with apartments ranging from the modest to the extravagant.
While modern homes are generally quite luxurious inside, the exterior often leaves a lot to be desired. Perhaps if the architectural beauty and impressiveness of earlier homes were not so apparent, the difference would not be so noticeable. While older homes offer a great deal more on the aesthetic level, with attractive features from earlier century construction, they may be lacking in modern amenities. Country homes quite often bring a bit of atmosphere to living, with fireplaces and thick stone walls.
However, real estate in Italy offers higher standards than many other European countries. Italians take a great deal of pride in their homes and transform ordinary features into beautiful components that offer comfort as well as functionality.
Italian homes are generally built with the sturdiest of materials, such as stone and brick. White stucco plaster is popular for interior walls that are often painted in pastel colors. Entrance halls, corridors, and living rooms are often paved with marble.

Beautiful ceramic tiles, as only Italy provides, often adorn bathrooms and kitchens. Retirement in Italy may rekindle the romance in any relationship. No matter which area of Italy retirees decide to settle and retire, Italy's countryside offers something more than just a place to retire.
The pristine beauty of crystal blue lakes offer a serenity and peace like an oasis in the desert. The regal splendor of snow-capped mountains presents an awe-inspiring visage that transcends the ordinary. A blanket of olive groves, date palms, and lemon trees covering Italian hillsides suggest a peaceful repose. The aromatic scents of azaleas, camellias, rhododendrons, and colorful wildflowers invigorate the soul to new heights.
Italy captivates Italians and non-Italians alike with its exquisite beauty. The liveliness of the country permeates every aspect of life. Every Italian home is unique in character and architecture, just as every individual is unique in character and personality. Selecting a retirement home is an important occasion and it calls for a bit of research on the part of the individual making the decision.
Invest in a few simple purchases and discover everything there is to know about the area in which you are thinking about purchasing a retirement home. If possible, rent a home or apartment in the area for a few weeks to get a feel for the true flavor of the area. Read any and all local brochures, magazines, and newspapers to discover what life in that particular section of Italy is like. Many people look forward to retirement and their retirement home. Everything possible should be done to insure that the retirement home purchased is the perfect home.
By Susan M. Keenan
Advice:
If you're interested to move to Italy there are many agencies that can facilitate the acquisition of property. The Italian and American consulates can also advise on the proper legal procedures to obtain visas and long term permits. Such official procedures might not always be fast, but usually they shouldn't be too complicated. While many Western countries often seem much the same its always important to remember it is a foreign nation and some laws and rules may be different from what you're used to.
If you have enough cash, it is advisable to open an account in Italy and keep some money there, so as to avoid any long-term surprises with the Euro/dollar exchange. You should also look into getting a local credit card, which will also dispense with the problem of international fees. Another important thing to consider is whether your health insurance will cover you in Italy or if you're eligible for Italy's public health system.
If you become a permanent resident of Italy you must obtain a local drivers license, although for the time being you can use an international one, but not a foreign issued driver license as only the standard international license will work.
Legal requirements
If you decide to retire to Italy, it means that you are staying for more than 90 days. Therefore, if you are a non-EU citizen you need an Elective Residence Visa.
To apply for a visa, before you enter Italy you need to go to the nearest Italian Embassy with:
– visa application form
– recent passport-style picture
– passport or other travel document valid for at least 3 months after visa expiry date
– documented and detailed guarantee of substantial and steady economic resources deriving from private income, properties, stable economic and commercial activities or other sources
– availability of adequate lodgings in Italy
For more updated, accurate and detailed information, check the Visa Section of the official website of the Ministry of Foreign Affairs.
Also, within 8 days from your arrival in Italy, you need to get a Residence Permit.
See also Senior living in Italy and Where to retire in Italy.