Il Teatro del Mondo
Third of August 1778: it is a warm evening in Milan, but a breeze of novelty makes the air sparkle with expectation.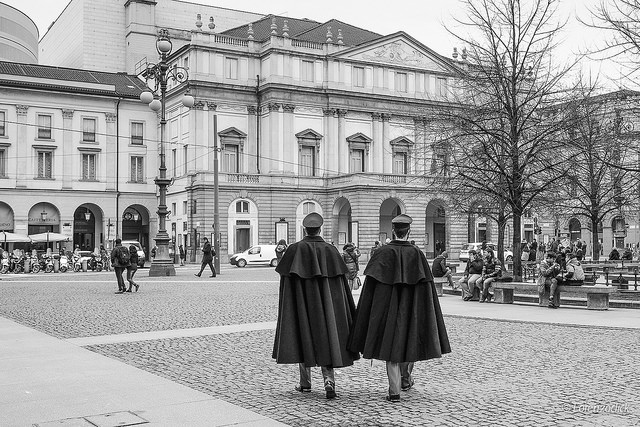 Young Antonio Salieri, already official composer of the imperial court in Vienna, stands alone in the middle of the stage, the fragrant scent of fresh wood parquet filling his nostrils while he breathes in the excitement for the hours to come. His shoulders to the backstage, he stares in owe at the luxurious sea of velvet and gold before his eyes: rich waves of crimson refulgent with gold, dazzling with crystal. "What a magnificent jewel" – he thought of the theatre.
A while earlier, Salieri had been asked to compose a piece to represent in occasion of the inauguration of Milan's newest opera house, the Nuovo Regio Ducal Teatro alla Scala: that night, his Europa Riconosciuta, a dramatic opera in two acts, gave a start to the eternal musical life of what was to become the most famous and recognisable of all theatres, La Scala di Milano. 
Two hundred and thirty eight years later, La Scala has lost none of its original beauty and its status as home of music, "bel canto" and ballet has never faltered. To celebrate its birthday, we will go on to a fascinating walk through its galleries and behind-the-scenes, discovering some of the curiosities, events and people that made it famous.
The Building
Up to 1776, the milanese world of music and "bel canto" would gather in the Regio Ducal Teatro, built in proximity of the city's Palazzo Reale. Famous composers, including Tomaso Albinoni, Giovanni Paisiello and – alas – Wolfgang Amadeus Mozart, had been commissioned works to represent on its stage: Milan was one of the Habsburg Empire's most important cities and it deserved the best.
When the Regio Ducal Teatro was destroyed by fire (1776), the Empress Maria Theresa of Austria ordered the construction of another theatre. The project was assigned to one of the best known names in architecture at the time, Giuseppe Piermarini. The location chosen was occupied by the collegiata regia of Santa Maria della Scala, a church which was demolished to make space for the theatre. Its memory, however, remained alive in the name of the theatre itself, whose La Scala and "della Scala" designations are indeed inspired by it. The nobility of Milan, eager to have in the city a theatre deign of those of Vienna and Salzburg, funded its construction.
The theatre's interior decoration was realised by Giuseppe Levati, Giuseppe Reina and Domenico Riccardi, who painted the stage curtain inspired, it is believed, by milanese poet and Italian Neoclassicism representative Giuseppe Parini.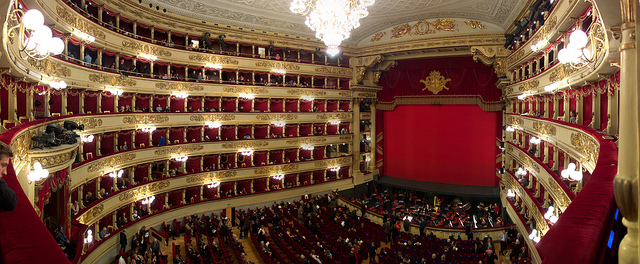 La Scala opened, as said, on the third of August 1778, with a grand representation of Antonio Salieri's Europa Riconosciuta, commissioned for the occasion. Just over 100 years later, on the night of the 26th of December 1883, it became the first theatre in the world to be lit with electricity: more than 2400 light bulbs were needed. Its history, however, was not all beautiful representations and temperamental artists: during the last war, La Scala was severely damaged by allied bombings. Reconstruction works lasted until 1946, when the theatre reopened: director that night was Arturo Toscanini. More on what happened then below.
The People
La Scala's stage has been like a home for some of the greatest names of music: from composers to performers, the theatre holds within its grandiose walls the history and the voice of almost two and a half centuries of art. Many are the famous operas represented for the first time on its stage: Norma by "the swan of Catania," Vincenzo Bellini, Madama Butterfly and Turandot by Giacomo Puccini, Nabucco, Otello, Falstaff and Giovanna d'Arco by Giuseppe Verdi, the composer probably tied more strongly with La Scala. He debuted there in November 1839 with Oberto, Conte di San Bonifacio. His most famous work, Nabucco, premiered on the same stage on the 9th of March 1842.
Another immense Italian composer, Giacomo Puccini, saw many of his works represented for the first time of La Scala's stage. Interesting is the story behind one of the most famous operas of all times, Madama Butterfly: composed in honor of the Queen of Italy, Elena of Montenegro, it debuted at La Scala on the 17th of February 1904. In spite of the dedication and care placed into its composition and staging, it was … a disaster. Puccini, sources of the time say, was gobsmacked, but he was soon to recover when Madama Butterfly proved to be a success in Brescia, only a handful of weeks later.
During the later years of the 19th century, La Scala was not only known for its music, but also for gambling: yes, you read it right, gambling. Apparently, it was customary to bet money and play cards while watching operas. Among the best kwown gamblers of the time, Alessandro Manzoni, poet extraordinaire and father of modern Italian.
Fast forward to the 1940s, to the already mentioned reconstruction of the theatre. Protagonist of that first evening was genial music director Arturo Toscanini who, in that specific occasion, gave to 24 years old soprano Renata Tebaldi – "voce d'angelo" he called her – the occasion to perform: it was the debut of one of history's best sopranos. Toscanini was director of La Scala for a number of years and this created some problems to another out-of-this-world soprano: "la divina," Maria Callas. Toscanini never liked Callas' voice, to which he preferred Tebaldi's softer nuances, creating no little difficulties for the greek-american singer to get her La Scala debut.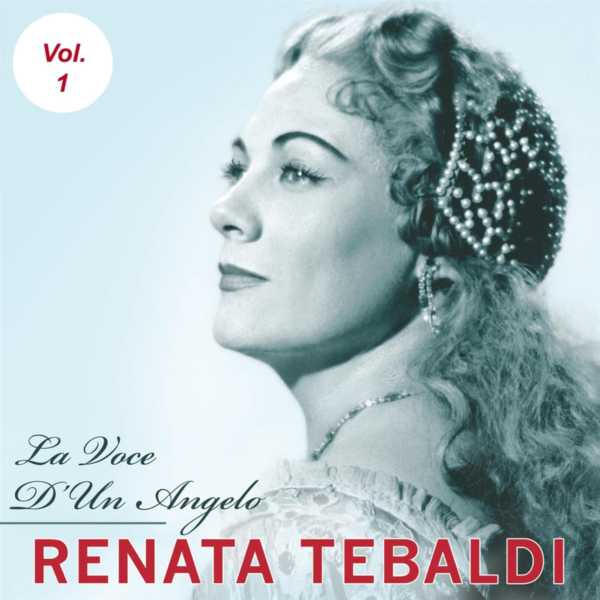 And one last curiosity about "la divina:" when enjoying other sopranos performing, she would always wear gloves. This allowed her to clap at their talent, without making too much noise, hence without showing … too much support. They really do not make divas like that anymore.
Music, history, art and a bit of drama: everything, among the walls of La Scala. If they only could speak, how many more memories of sounds and voices, fights and love declarations, cries of joy and desperation they could recollect. Perhaps, they even hold the words Antonio Salieri spoke when, alone for the first time on stage, contemplated the majesty of what was to become the most iconic theatre of all times.
Francesca Bezzone