Italy is the country of good wine, and everybody knows that. But more than a few foreigners are surprised when they learn that Italians drink respectable quantities of beer too.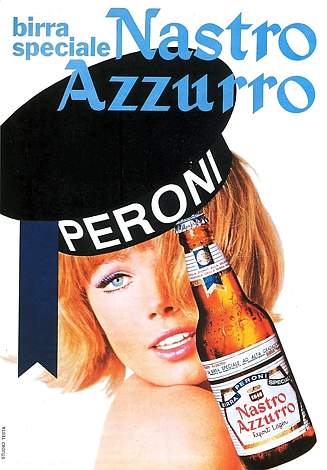 Beer is known and drank in Italy since ancient times: even if Etruscans, Greeks from the Magna Grecia cities and Romans favored wine, they brewed and consumed the blond drink. Roman Emperor Agricola became a fan of beer during his service as governor of Britannia. When he raised to the Imperial throne and came back to Italy in 83 AD, he took with him three master brewers from Glevum (ancient name of Gloucester) and opened the first "pub" in Italy.
Today beer is especially loved by young people, who see it as an informal drink, opposed to the much more formal wine. Aperitif and wine tasting have now gained back to wine many casual drinkers, but until a few years ago, young Italians actually drank more beer than wine.
British pub style bars are still going strong in Italy and they have spread the love for the more exotic brands of beer: many of them serve Japanese, German, Australian and East European beers along with the more known ones brewed in the UK and Belgium. At least one bottle of "birra cinese" (Chinese beer) is served on every table of every Chinese restaurant in the country.
Above: a well thought Ichnusa spot.
Even if known more widely for its wines, then, Italy is also a place for beer lovers and producers. Peroni Breweries produces the best known Italian beer: "la Peroni". Peroni also produces the premium beer Nastro Azzurro and the brands Wührer, and lesser known Raffo. Heineken Italy brews it's famous Heineken, but has also acquired the brands Moretti, Ichnusa, Birra Messina and Dreher. Carslberg owns a few brewerys in Northern and Central Italy. In Northern Italy, Forst brews its own branded beer as well as the famed Menabrea. In Friuli Venezia Giulia the latest brand of Italian beer Birra Castello, has been active since 1997.
Along with these big players, there are lots of microbreweries – small scale breweries that produce small quantities of beer, often of premium quality, much sought by beer connoisseur around the Globe.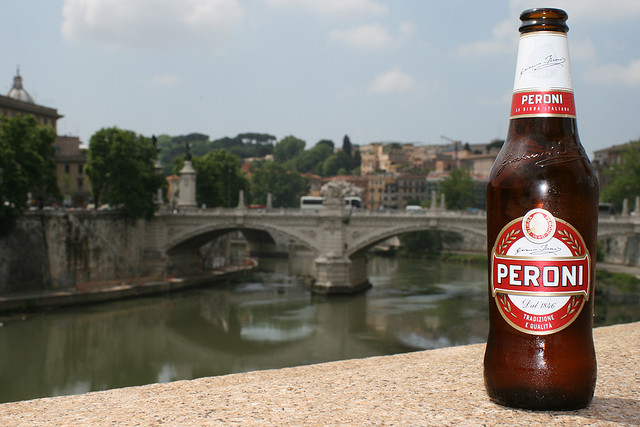 Ok. Now let's imagine you are going out on a hot Roman summer night and you want an ice cold beer. Where to go is not a problem: Rome is full of bars and pubs with wide selections of beer. Do you want to taste an Italian beer? Go for the classics: Peroni, Nastro Azzurro, Moretti. If you want a foreign beer, the most known and easier to find brands are Heineken, Becks, Guinness and Harp. According to waiters and bar owners, the most ordered Italian beers are Peroni and Moretti, while the foreign ones are Guinness, Harp, Kilkenny Strong, and Heineken. In bars, and restaurants, Italian and foreign patrons order mostly Italian beers, while in pubs Corona and the tap beers are preferred.bit
Beside well known brands and names, Italy has witnessed the rise of artisanally produced beer, especially in the past two decades. Micro breweries have become more and more popular and, if many remain a bit of a local treasure, known especially in their area, other have recently made the big jump and gained national and international recognition. It is the case, for instance, of the Baladin micro brewery. The Baladin started about 25 years ago as a small pub selling its own beer, produced in situ in the Langhe. The popularity of the pub rose, along with that of its beers and today Baladin opened up pubs in Turin, Rome and other smaller locations in Italy and its beer is sold at Eataly, also in NY.
Those are the most known brands, but if you want to taste something special, try to find Birra del Borgo – you won't be disappointed!

Nastro Azzurro beer tv spot