Trentino Alto-Adige is not the only region in Italy to embody the ideal Winter wonderland. Westward, enclosed within Piedmont, Switzerland and France, lays Valle d'Aosta, Italy's smallest region. An entirely Alpine region, Valle d'Aosta has a long and amazing history dating back to Roman times, of which its capital, Aosta, still holds beautiful vestiges.
Coming Winter, Valle d'Aosta turns into a paradise for snow sports lovers. And not only for them. If you are into Christmas spirit, this is the region to be. Christmas markets, history and art itineraries are only some of the reasons you should try Valle d'Aosta this Christmas.
Christmas Markets
Plenty of villages in the region hold pretty Christmas markets throughout the festivities. The most visited, however, remains the Marché Vert Nöel, in the region's capital.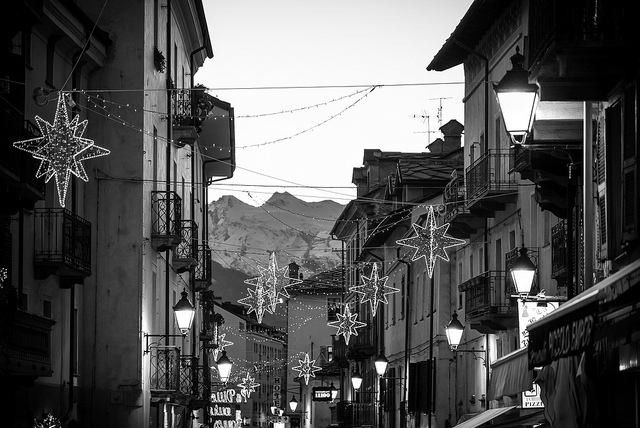 Marché Vert Nöel, Aosta
Aosta rules the list of the most beautiful Christmas markets in the region. The Marché Vert Nöel, open until the 6th of January, is a beautiful alpine village set in the town centre. Built on the amazing backdrop of Aosta's Roman theatre, this market has everything you would expect.
More than 50 traditional wooden chalets form this dream-like village, complete with squares, alleyways and benches to take a rest while shopping. In it, you can find anything and everything, from locally crafted gifts to traditional food products of the area to bring home or try on the spot.
The Marché Vert Nöel also offers live entertainment to its visitors throughout the holiday season: during the day, you can witness first hand how many of the objects and products for sale are made, thanks to live labs lead by artisans and craftsmen. The evening are dedicated to music and arts performances.
An interesting event on the history of the millenary Fiera di Sant'Orso will be also held within the market. Set along Aosta's Roman theatre, this "walk through history" event retraces the long life of Saint Orso's fair in the city. In case you would like to stay around for it, it will be held on the 30th and 31st of January.
The market is open until the 6th of January from 10 am to 8 pm, on the 25th  of December and the 1st of January from 4 pm to 8 pm.
For the Children
Christmas is kids' favorite time of the year: when December comes, I often find myself wishing I was 6 again…
If you would like to make a day very special for your children while in Valle d'Aosta, there are interesting options to choose from.
La Casetta di Babbo Natale, La Thuile
Santa's house is a delightful place to be for all children. Created every year in the lovely Alpine village and ski resort of La Thuile, Santa's house shows out favorite man busy with getting ready to deliver presents to the world. Or, better, it shows elves being busy and Santa's taking a rest before flying off on his sled on the night of the 24th. Children can post their own letter to Santa in his personal letter box. Entrance is free for all.
Ice Skating  and carousels, Saint Vincent
Saint Vincent is one of Valle d'Aosta's best known spots, as it is home to a famous casino. This should not make us all ignore the fact Saint Vincent is, in fact, a beautiful little village full of charm. This Christmas you could skip the gambling and head to the ice rink instead, to have some good, old fashioned winter fun with the kids (or anybody you want, for all that matters: ice skating is pretty fun at any age…). You can either bring you blades or rent them and, when you get tired, you can always go for a ride on the beautiful carousel nearby. Or… yes, yes of course… you could go to the casino…
The ice rink is open Monday to Friday 3 pm to 8 pm and weekends 9 am to 11 pm. On New Year's Eve, it will be open until 3 am. Full price is 8 euro, reductions (for children under 14, schools and multi tickets) are 5 euro. The Carousel is open daily from 10.30 am to 12 pm, from 3 pm to 7 pm and to 8.30 pm to 11 pm. On New Year's Eve it also open until 3 am. A ride costs 1.50 euro.
For Arts lovers
Valle D'Aosta has something for those refined tastes of yours, too. If you are into heritage, arts and culture, than here is a couple of interesting ideas to follow up…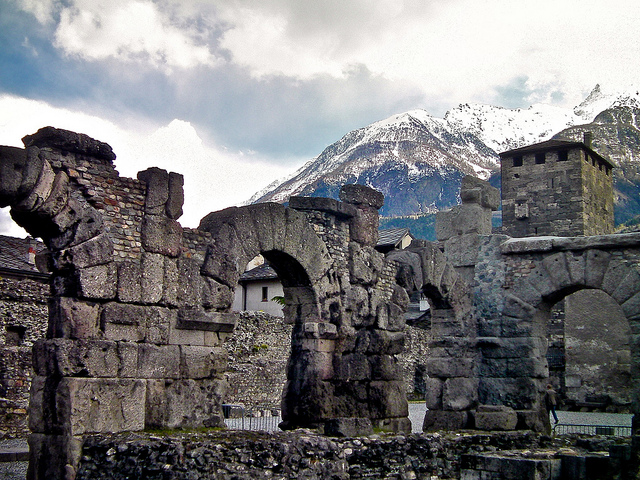 Sandro Chia's Xi'an Warriors  and Giovanni Thoux's "Dalla Bibbia all'Anno 2000," Aosta
The Centro Saint-Bénin in Aosta is home to a very interesting exhibition, dedicated to Sandro Chia, one of the most relevant Italian contemporary artists. Launched internationally at the 1980 Biennale di Venezia as a member of the Transavanguardia,  his works have found place in many internationally renowned museums since, including the Metropolitan Museum in New York.
Chia dedicates this collection to the famous terracotta warriors of Xi'an, a full army created more than 2000 years ago to protect Chinese emperor Qin Shi Huang during his trip in the afterlife. An interisting meta-artistic work, the exhibition has just opened on time to welcome Christmas travellers. Make sure to check it out if your in town.
Tickets are 8 euro full and 5 euro for under 18s. Opening times are the same every day: 10 am-1 pm and 2 pm-6 pm.
If you visit Sandro Chia's exhibition, you should also check out Giovanni Thoux's interesting work on Biblical iconography. The exhibit collects 30 scuptureal panels representing various scenes inspired by the Old and the New Testament, the figures of famous saints and the theme of popular religiosity in Valle d'Aosta. Set in the Archeological Museum of Aosta, this could be a good opportunity to take a look around the whole place and make it a full day of cultural fun.
You can get special discount tickets for  both Thoux and Chia's exhibitions for 10 euro (full price) and 6 (discounted).
Flemish and Dutch golden age painting, Bard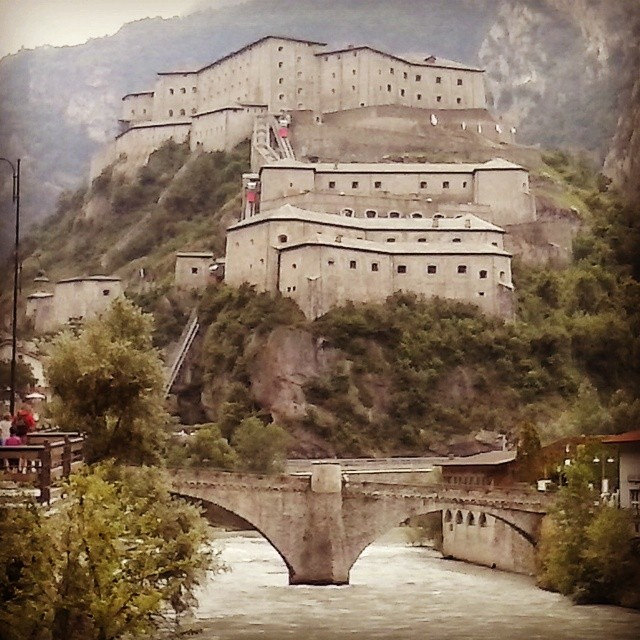 Bard is home to a famous military architectural marvel, the Forte di Bard, a magnificent architectural complex that finds its roots as far back as the 6th century and was almost entirely re-edified by the Savoia in the 19th. Beside visiting this amazing piece of history, which has been fully restored only about 10 years ago, this Christmas you can also enjoy a fascinating art exhibit dedicated to the Golden Age of Flemish and Dutch painting, the 17th and 18th centuries. Reubens, Brueghel, Van Dick and Jordaens are all represented in this impressive selection, in part coming from the prestigious Hohenbuchau Collection, held in Vienna, in part coming directly from the private collection of the Prince of Liechtenstein. A must for all art lovers!
Open Tuesdays to Fridays 10 am-6 pm. Satudays and Sundays: 10 am-7 pm. Closed on Mondays and on Christmas day. From the 26th of December to the 6th of January open every day 1 pm-7 pm. Prices are 9 euro for a full and 6 euro for a discounted ticket.
Russian Icons from the 17th to the 19th century, Cogne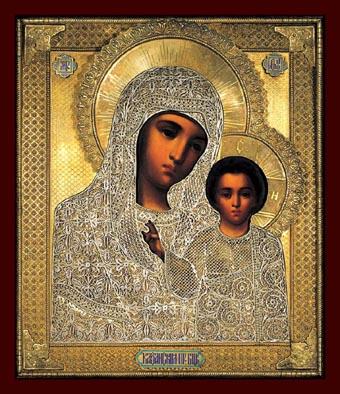 The Atelier des Arts et Métiers in Cogne is home to an interesting exhibition of Russian art this Christmas. Known for the wealth of their decoration and their opulence, Russian religious icons are also blessed with a delicate, elegant beauty. This is certainly an interesting collection to view, if you are around Cogne this Christmas.
Entrance is free. Open every day from 10 am to 12 pm, and 3 pm to 7 pm.