Horseradish, called "cren" in the Alto Adige, is often used in the region around Venice. It's one example of the influence of Austrian cooking in this multicultural region. But in Venice, the ferocious flavor and aroma of freshly grated horseradish is tamed with apple and vinegar- another application of seductive sweet and sour- before being served as a relish with a simple sauteed salmon.
As for the salmon itself, the care that a chef like Francesco takes in removing the tiny pin bones is worthwhile bit of extra effort that should become automatic in the home kitchen as it is in a fine restaurant.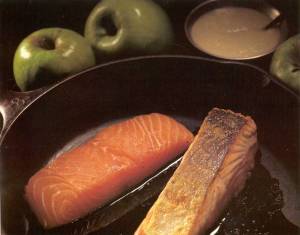 Salmon With Horseradish Sauce
Ingredients
1

whole salmon fillet, about 2½ pounds (1.25 kg), with the skin on

1/2

cup

(60 g) peeled diced fresh horseradish

1 1/2

cup

cup large green apples (such as Granny Smith), peeled, cored, and diced

Salt to taste

1

oz

(160 ml) extra virgin olive oil
Instructions
Run your hand lightly over the salmon, and if you feel any little pin bones sticking up, pull them out with tweezers or small pliers.

Cut the salmon into 6 equal portions.

Place the horseradish and apple in a food processor until finely grated. Pour in the vinegar through the feed tube, process briefly, then season with salt and set aside with the cover partly ajar to disperse the fumes until ready to serve.

Heat the oil in a heavy skillet. Place the salmon pieces in the skillet, skin side down, and saute 4 to 6 minutes, until the skin is very crisp but the top 1/2 inch (1.3 cm) of the fish still looks uncooked.

Cover the pan for a minute, uncover, and transfer the fish, skin side up, to 6 warm dinner plates.

Spoon some of the horseradish mixture alongside and serve.