Monica Billi, Francesco's cousin who lives near Mestre, the mainland lifeline to Venice, says that they serve monkfish to children because it has no bones. Her favorite preparation is to gloss it with olive oil and chopped herbs, cook it simply on the grill, and accompany it with grilled radicchio and squares of grilled white polenta for a lush panoply of textures, flavors and colors. This dish can be the centerpiece of an alfresco country lunch for family and friends. "Whole monkfish tails are good for grilling when they are not too large,"
Francesco says. "They are thick enough to become attractively brown without overcooking." In Italian monkfish is coda di rospo, or monkfish tail, the only part of this bottom fish that is eaten.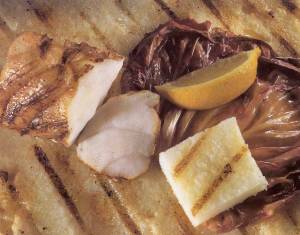 Grilled Monkfish
Ingredients
1

monkfish tail, about 2 pounds (1 kg)

Juice of 2 lemons

1/2

cup

(125 ml) extra virgin olive oil

4

tbsp

finely chopped mixed fresh herbs (rosemary, thyme, garlic)

2

cloves

garlic

large, finely minced

Salt and freshly ground black pepper to taste

4

cups

(1 L) water

1

cup

(250 g) white cornmeal for polenta

2

heads radicchio quartered

Lemon wedges for garnish
Instructions
Trim any gray membrane from the monkfish.

Place in a shallow dish and pour the lemon, ¼ cup (60 ml) of the olive oil, the chopped herbs, and garlic over it.

Season with salt and pepper and allow it to marinate for 1 hour.

Meanwhile, bring the water to a simmer and slowly stir in the polenta. Cook, stirring, about 15 minutes.

Stir in 2 tablespoons (30 ml) of the olive oil and season with salt and pepper.

Spread the polenta in an 8-inch (20-cm) square baking dish and allow it to cool.

Brush the radicchio with the remaining 2 tablespoons (30 ml) olive oil and season with salt and pepper.

Preheat a grill or broiler.

Grill the monkfish until it is nicely browned and cooked through, about 25 minutes, turning it to brown evenly.

About halfway through the cooking time, place the radicchio on the grill and cook it, turning it as it browns on each side.

A few minutes before the fish and radicchio have finished cooking cut the polenta into 4 squares and place them on the grill to reheat and brown, turning them once to cook on both sides.

Cut the monkfish into thick slices and serve with the radicchio and polenta, garnished with lemon wedges.