For those planning to travel Italy by train, there are many options available. From stand alone tickets purchased at the station,  to discount cards for frequent use, to rail passes with unlimited travel, there is something for every type of train rider. In order to determine what is right for you, first you should plan the length of your stay. Second, consider your itinerary and decide which mode of transportation makes the most sense for your party, keeping in mind that trains do not always connect small villages. Lastly, figure out how much travel you plan on actually doing during your trip, as some passes allow for unlimited trips in a number of days or even months.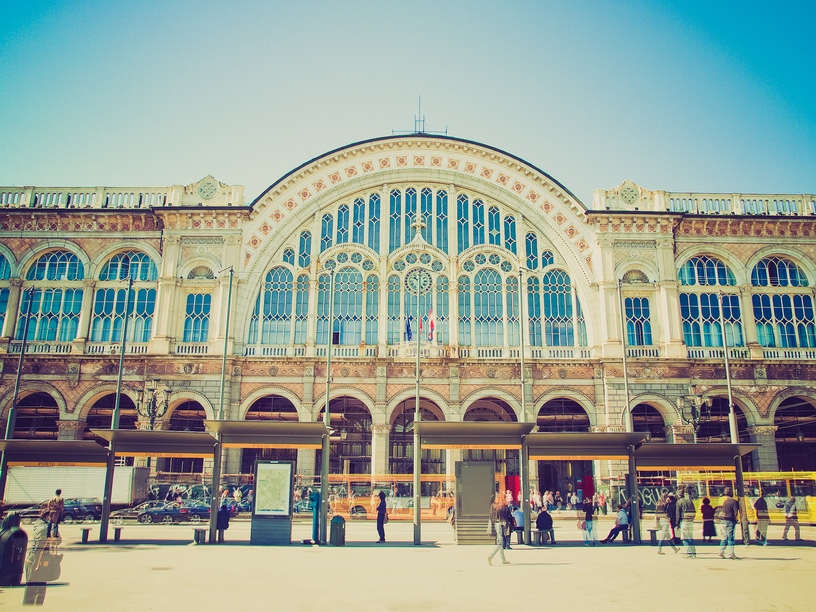 Depending upon this last part, you may want to buy a complete rail pass to have the most freedom. However, a single ticket or a discount card may be a better option if you plan to stay in one region, with few side trips. Here is a breakdown of the many options available for rail travelers in Italy.
Tips on Traveling in Italy by Train
The perfect place to plan your train trip is the national railway company's website, Trenitalia. The website is continuously updated with the latest news and offers and gives you also the possibility to book your ticket online. This is very important, especially if you are based in the countryside: many smaller stations' ticket offices only open a couple of hours a day and, even though automatic ticket machines are largely available in each and every station, the risk of finding a queue or the machine broken is very much a reality. As a consequence, unless you are jumping on a train on the spurt of the moment, you are better off reserve in advance and print your ticket at home. In some stations, you should also be able to buy tickets at the Cafeteria.
Buying a seat reservation is strongly suggested. Reservations on high speed trains and sleeper trains are mandatory but are usually only a few euros. Without a reservation, you may find yourself standing or running from car to car looking for an empty seat- especially on busy weekday mornings in Rome or Milan.
Make sure to ask conductors any questions about connections, stopovers or if your car is going to your destination. Even though most conductors do not speak English, they are very friendly and willing to help. Often trains will split, with one section heading to a different destination, make sure you are on the right part of the train. It is best to ask a conductor if it is your train before boarding, that is unless you feel adventurous.
Trains in Italy are usually on time, although some minor delays can be expected. This is mostly a matter of common sense, though: if you have an appointment at 5 pm, avoid the train that gets to destination at 4.45 pm and take the one before, so you will avoid unpleasant surprises. Major delays are usually caused by accidents, in which case there is really nothing one can do, or by strikes. Strikes, however, are usually planned in advance and it is easy enough to work around them. First of all, always make sure you check for any news either on the Trenitalia website, which is also available in English, or on Italiarail.com,  a rail travel portal powered by Trenitalia itself, particularly addressed to foreign visitors.
You may be happy to know that, even in case of a strike, certain commuter trains (usually those very early in the morning and those just before dinner time) are usually guaranteed.
All in all, if you want to avoid being delayed, the best way is to travel early in the morning. This often allows for a quick stopover in places that you would otherwise miss, keeping in mind that not all trains make all stops. Always check the detailed train schedules posted in every station.
Types of Trains in Italy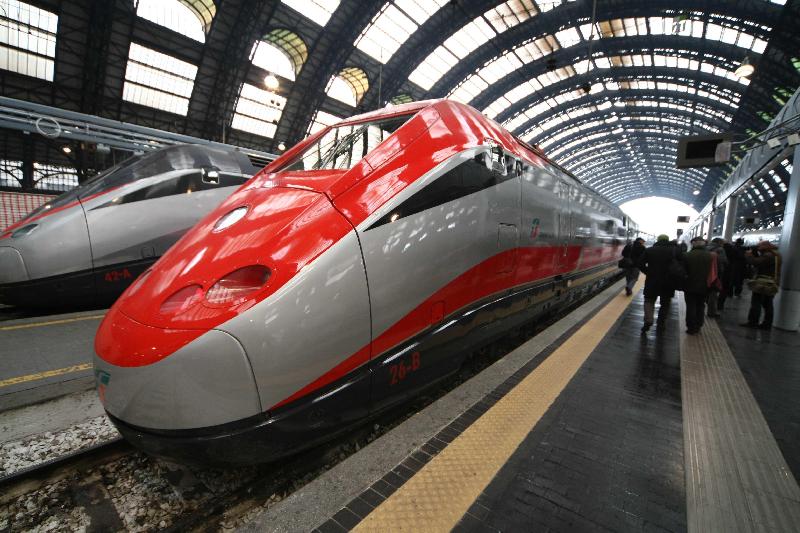 Regional Transport trains
Regional trains stop at nearly every station en route to  larger towns in any specific region. They usually provide only 2nd class seats and are not the best option if you are in a hurry or do not plan on making any stopovers. Tickets for treni regionali can be purchased online, at the train station, in all authorized sellers (such as cafeterias, tobacconists and newsagents) and also at travel agencies. They usually cover trips up to 600 Km.
Intercity Trains
These trains connect over 200 cities and towns in Italy. From north to south, they contributed to the creation of an efficient travelling system in association with regional and high-speed trains. Intercity trains have both 1st and 2nd class cars and usually include at least one car equipped for the transport of differently able people. If you happen to travel on an Intercity from Rome to Reggio Calabria, Taranto, Ancona and Perugia, you may end up on one of the new, entirely restyled IC trains. Intercity trains are usually more comfortable and faster than regionals, as they do not stop as often.
Intercity Notte
If you would like to travel by night and make the most of your days of vacation, you may like to choose the Intercity Night, which provides the same type of connection as an Intercity, but also offers the possibility to sleep on board. An Intercity Night has different types of sleeping arrangements, with different price tags: from the Vettura Letti Classica, if you travel by yourself and want maximum privacy, to the Vettura Comfort, perfect if you do not mind sleeping in a compartment with other people (a maximum of 4) or if you travel with friends, to simple Posti a Sedere, common sitting places, perfect if you have a lot of luggage, or need to save on your trip.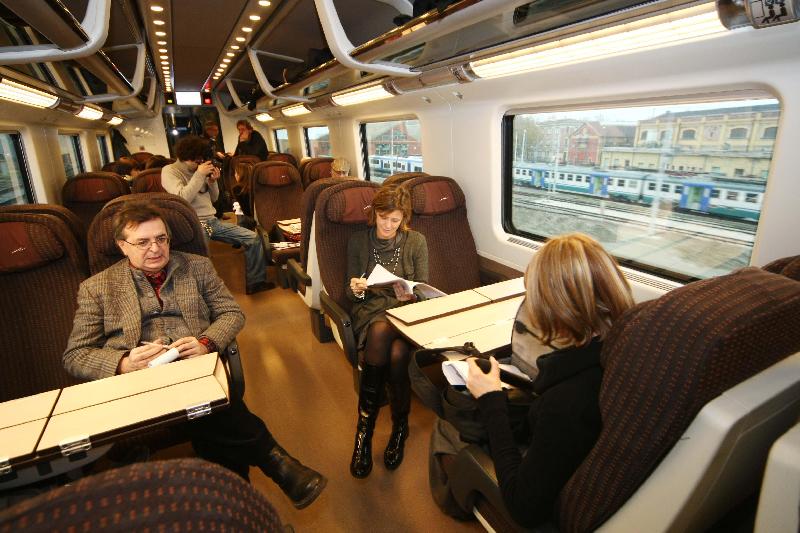 La Frecciarossa
Frecciarossa trains are the best known among Italian high speed trains. They run on the high speed lines between Turin and Salerno and touch on cities such as Milan, Bologna, Naples, and Florence. There are about 87 Frecciarossa train services every day, connecting the cities we mentioned. The segment Milan-Rome/Rome-Milan is served every hour, starting from 6 am to 8 pm.
Frecciarossa trains are very comfortable and offer four different types of tickets, depending on how much you would like to spend. The trains are usually composed by 11 cars, one Executive (for the Executive ticket holders), 3 Business (for the Business ticket holders), 1 premium car, 5 standard (these are the cheapest seats you can get) and of course there is also an on-board restaurant.
La Frecciargento
Frecciargento trains run on both high speed and regular rail lines and can reach a speed o 250 km/hr. Frecciargento connects the capital, Rome, with all major urban poles of the north and the south, including Venice, Verona, Udine, Lecce and Reggio Calabria. 58 Frecciargento services run daily. Just like Frecciarossa trains, the Frecciargento are new and extremely comfortable, clean and a pleasure to travel on. You can eat on board in the restaurant car, too.
La Frecciabianca
The third ttype of train in the Freccia fleet is the Frecciabianca. The Frecciabianca run on regular rail tracks and connect the main Italian city among them. There are 86 Frecciabianca services per day, running on the hour, or every 30 minutes during rush time. Frecciabianca are perfect if you are not in a rush, but would like to get truly enjoyable train ride, as they are clean and comfortable and have a bar car.
Italy by Train: Tickets and Offers
Italian Rail Point-to-Point Tickets
For travelers who do not  plan on too much moving about during their stay in Italy, the Point-to-Point ticket option may be the best. This type of ticket allows 1st or 2nd class travel on Trenitalia domestic or international trains and is valid for up to 2 months. The Point-to-Point ticket does not cover seat reservations, sleeper cars, or upgrades Frecce.  As we already said above, you can purchase your tickets online on the Trenitalia website.
Tickets Carnet
You can buy a carnet of 10 tickets to use on any train, in any class, with a 20% discount. The tickets must be used within 180 days since the date of purchase. However, carnets can be purchased only if you have a Cartafreccia, of which we will talk in a minute, and are only available if you decide to travel on the Frecce. The carnet is valid only for the person whose nominative has been given at the time of purchase, so tickets off the carnet cannot be shared.
Rail Discount Cards
If you are planning a long vacation, and you think there will be a lot of train traveling, purchaising a discount card may be a good option. Trenitalia proposes three discount cards at the moment: the Cartafreccia,  the Carta Verde and the Carta Argento. The Cartafreccia has numerous options and is point card. For each trip you take, you gain points, which will bring you prizes and free tickets. As its name says, the Cartafreccia is only valid and worth getting if you are planning to travel on one the Frecce. Cartafreccia is often associated to temporary promotions and discounts so, if you get one, it is always worth to keep an eye on the Trenitalia website to check on what is new.  Depending on how much you travel and how many points you get in a solar year, you can bne upgraded to the Cartafreccia Oro or the Cartafreccia Platino. 
The Carta Verde  is the Ttrenitalia discount card dedicated to young people between 12 and 26 years of age. It costs 40 euro and gives you a 10% discount on all national fares and trains, including night and sleeper trains, and 25% on Internationals. The Carta Argento is a similar option, but this time dedicated to senior citizens over 60. It costs 30 euro and it is free if you are over 75. It gives 10% discount on sleeper and night trains, 15% on all other trains and 25% on international connections.
Special Offers 
One of the main reasons to always keep an eye on the Trenitalia website is for the numerous special offers it runs regularly. Some of them are always present, others change every season, but they are, in any case, a great manner to save some cash if you planning to visit the country by train. If you travel on a Freccia on a saturday, you may be able to avail of the 2X1 Special Offer, which would help you save. Similar discounts are given if you travel within the same day (this is valid only on Frecciarossa and Frecciargento trains) or if you travel over a weekend, leaving on a saturday and returning on a sunday. This particular offer is valid for all three Frecce.
If you travel with at least one child under 12 and your party is formed by a maximum of 5 people, you can avail of the Familia offer, which includes free seats reservation and provides a 50% discount of children's tickets (30% for wagon lit and sleeper trains). This offer has usually limited seats available, so you are better try to book well in advance if you wish to get it.  The Group Ttravel Special offered by Trenitalia is specifically designed to help medium to large group travellers to save some money. You will get a 20% discount is your group is formed by at least 10 people, and 30% discount  if it is between 11 and 49. Make sure you check for all the details related to the offer on the Trenitalia website.
If you need to travel with both a night train and a high speed train (AV, for alta velocità in Italian), there is a discount for you too, and do not forget that kids under 15 within a group between 2 and 5 can travel for free. For this last offer, the number of places is very limited, so you may like to reserve your place well in advance, just as in the case of the Familia offer.
Going International
Traveling by train is a great option also if you would like to visit some other european countries while you are at it. France, Germany, Austria, Switzerland are only a stone throw away from us. Interail is one of the favorite travel options of European youngsters, who often experience freedom and traveling for the first time using it. It allows to travel without any limitation by train all over Europe, with a pass that lasts for 6 months. Interail  is available to European citizens and residents, that is, people that has lived in Europe for at least 6 months. There are various different options to choose from. You can see them all on the Trenitalia website.
If you are planning to go to France, you may like to choose Thello, a train connecting Rome and Venice to Paris by night.
As you can see, discovering Italy by train may well be a great option for you, depending on your budget and your expectations, even if you are planning to go outside italy for  a while. As we said, offers change on a regular basis and for this reason it is worth to keep an eye of the Trenitalia website to see what is going on. Price-wise, regional and intercity trains are not too expensive, but Frecce can be. Very often, especially if you are moving between two cities with airports, it may be worth, at least economically, flying. Truth is, though, that travelling on the Frecce is a pretty awesome experience, as the trip itself becomes a moment of sightseeing. It all depends on how much time you have and what you fancy, really. But well, the options to have a great time are all here for you to enjoy!
By Justin Demetri
Edited and updated by Francesca Bezzone