Is a raviolo worth a trip?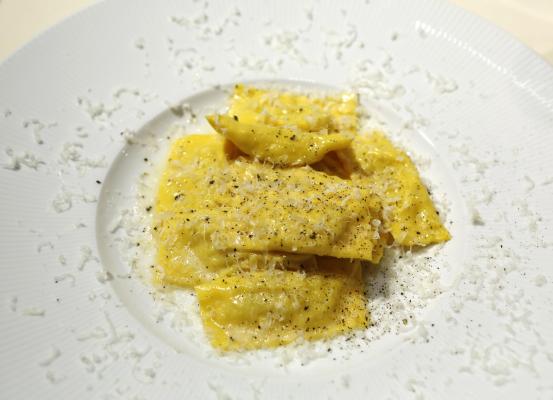 According to a research just published by JFC, a company specialized in surveys on tourism, it is definitely worth a stopover if it is stuffed with Sicilian red shrimp with a pork sausage jello. And tagliatelle pasta with cuttlefish, algae and fried quinoa, or a Russian salad, can also be valid reason for a trip if they have been prepared by Michelin-starred chefs such as Massimo Bottura, Heinz Beck, Max Alajmo, Nadia Santini, Carlo Cracco, Bruno Barbieri, Antonio Cannavacciuolo and Gianfranco Vissani, to cite a few.
Young up-and-coming stars including Oliver Piras, Antonia Klugmann, Lorenzo Cogo and Antonio Abruzzino are also a major attraction, according to the research.
Overall, the report said that high-level restaurants generate revenue worth 282 million euros across Italy.
The country in 2016 had 334 restaurants rated with at least one prestigious Michelin star – reportedly a valid reason for Italians and foreigners alike to organize a day trip, an overnight stay or a short vacation around a meal.
According to the research on celebrity chefs and the so-called 'taste tourism', the majority of expenditure comes from foreign tourists, who bring in a reported 208 million compared to the 74 million of the Italian clientele.
Indeed, noted the head of JFC, Massimo Ferruzzi, if a Michelin-starred restaurant has "a national average turnover of 775,000 euros, one single restaurant brings linked revenue to its territory worth on average 844,000 euros, thus greater than its own revenue".
Each starred restaurant has a national average of 6,318 clients a year, including an estimated 1,015 foreigners and 870 Italians who chose to sleep over in the area, according to the study. "It is interesting to note how many overnight stays are produced by the clients of Italian starred restaurants", Ferruzzi also said. "In this respect, our research noted an average stay of 1,2 nights for Italian clients and 1,7 nights for foreign clients so, overall, each restaurant generates 2,770 annual overnight stays in the territory".
Most Italian clients of Michelin-starred restaurants hail from Lombardy, followed by Piedmont and the Emilia Romagna regions. These three regions together generate 28.5% of the Italian clientele of restaurants with at least one star. The keenest fans of Italian-starred cuisine among foreigners hail from the US – representing 21% of the total foreign clientele. They are followed by clients from the UK (14.2%), France (9.2%), Japan (8.2%), China (6.9%), Belgium (6.6%), Switzerland (5.8%), Scandinavian countries (5.2%) and Germany (4.5%), the report said.
Source and picture: Ansa