Being a third-generation Sicilian American, pesto sauces were not common in my family. Sure my grandmother had all the ingredients: fresh basil from the garden, good extra virgin olive oil, Parmigiano-Reggiano, and pine nuts (a Sicilian favorite) from the local deli shop. But it just wasn't in the family tradition. Curious, I tried it in local restaurants and it was good, but I still did not understand why people raved about this "raw" sauce. However, during my first trip to Italy, I tried it, and ever since I've been a huge pesto fan and brought my knowledge of it back home.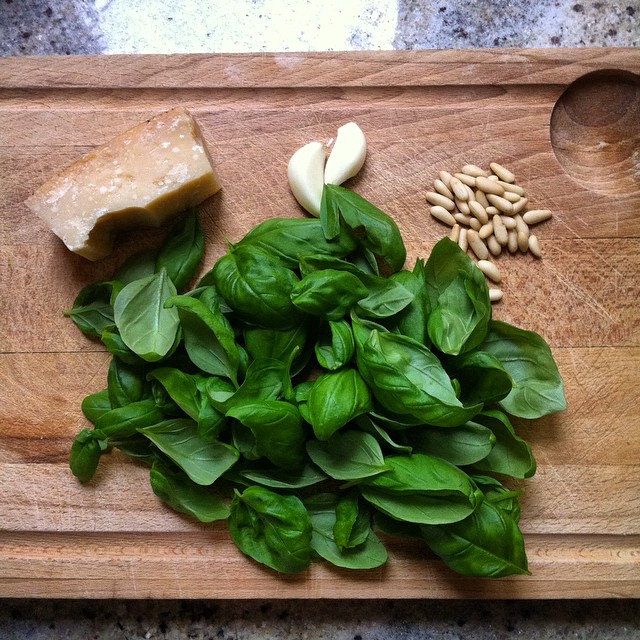 Here in the States "pesto" simply means a green basil sauce. Even in Italy, the most recognizable variety of the sauce is the basil one from Liguria. However just like most Italian cuisine, regional variation is the spice of life and now pesto recipes from other regions are getting well-deserved recognition.
Pesto purists may deride the overuse of the term, but these other sauces are loaded with local flavor and ingredients and are demanding to be noticed.
Traditional or "Green" Pesto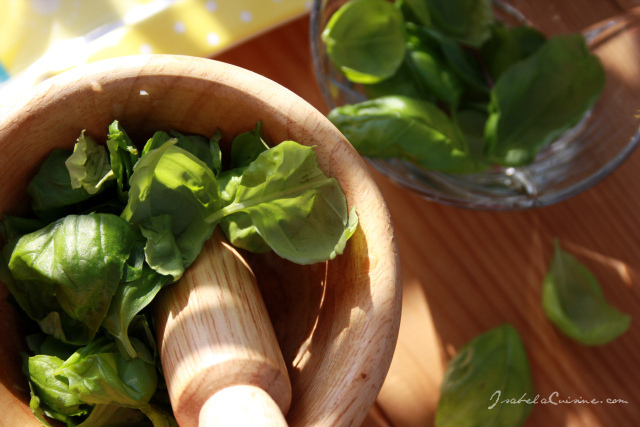 Among the fresh herbs, basil is king. The name comes from the Greek "basileus" which means king or emperor and is an apt title for such a fragrant and delicious herb.
Basil has been used for centuries in the Mediterranean, but it was the Genoese of Liguria who gave pesto to the world: a staple in the history of Italian cuisine. This is the sauce that comes to mind when one thinks of pesto. Just south of this famous port city is yet another pesto region that has made its mark. The Cinque Terre area hugs the rocky coast, producing a unique microclimate that gives the pesto produced here a slightly different quality from its better known cousin made in Genoa. The subtle differences in climate in such a small area gives the basil and olive oil from this region a taste and mouth-feel that demands respect.
What these traditional pestos share is the care in preparation, using time honored techniques that maintain the integrity of the flavor. Pesto from this region is prepared using the standard marble mortar and a wooden pestle that mashes the plant fibers into a paste – releasing the all-important oils and aromas into the pesto. Purists would never use a chef's knife to cut the basil or a food processor to blend the sauce.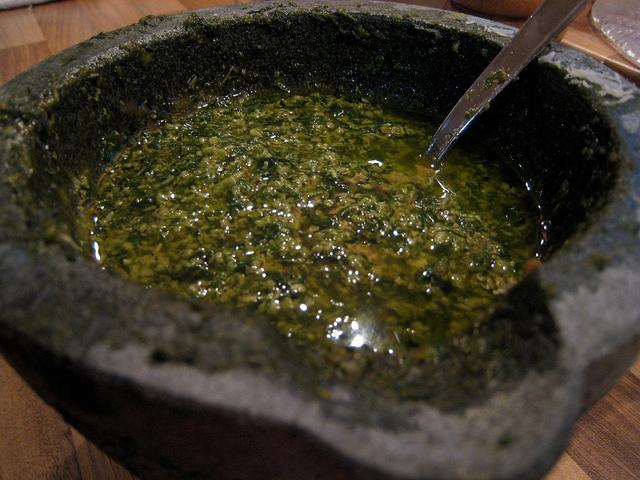 Just as important as the preparation of the pesto is what type of pasta is used. Ligurians will think immediately of trofie, or trenette (a sort of flattened spaghetti), the latter often served with pesto, potatoes and green beans.
As stated earlier, Liguria does not have a monopoly on pesto. If the green variety is quintessentially Ligurian, there are other pestos in Italy worth of trying. Let's get to know some of them.
"Red" and Other Types of Pesto
While pesto that is any color but green may be unfamiliar, it is well worth sampling these other variations. And even among green pestos the ingredients can change from region to region and can include other "greens" such as broccoli, flat-leaf parsley and even mint.
These varieties are a pleasant surprise to anyone who thinks they know pesto and are looking for something different. Also many of these types can be faithfully reproduced in your own kitchen and are a great way to experiment with the other green pestos.
Red pesto, which contains either fresh or sun-dried tomatoes, has become very popular and is sold alongside its green counterpart in Italy and abroad. The variety made in the Cinque Terre adds sun-dried tomatoes to an otherwise traditional pesto, but it takes on a whole new character from the intense, bright yet earthy flavor of the tomatoes. Sicilian pestos are a whole different world and can contain ingredients like capers, chilies, raisins, anchovies, fennel and mint. These southern pestos are thicker and richer than their Ligurian counterparts and are often spicy to accommodate Sicilian tastes.
Many of these "non-traditional" pestos use toasted pine nuts instead of fresh, which adds a little complexity to the sauce. In fact many regional pestos, green or red combine or substitute the expensive pine nuts with a locally grown nut such as pistachios or, as in the popular Trapanese pesto from Sicily, almonds. Also, if you want to change the cheese in the pesto, let's say because you don't eat or don't have the one needed, you can find substitutes for parmesan in pesto!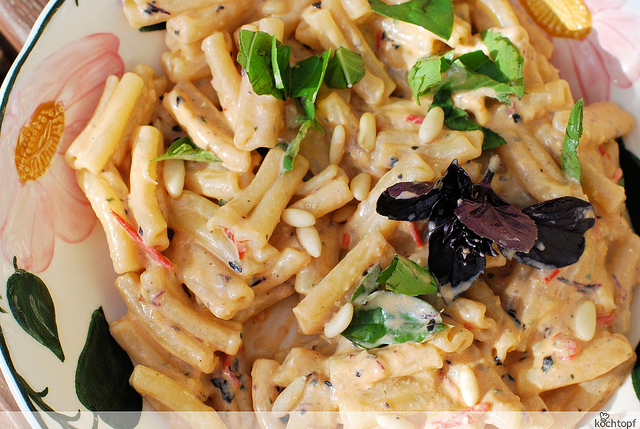 Buying Pesto
Most of the pesto sold commercially will not hold up to a pesto lover's standards because of cost cutting measures.
Pine nuts are very expensive, so many producers use the cheaper (and less flavorful) cashews, which have a similar texture. Some use soybean or canola oil instead of olive oil and nearly all of them contain added salt and other "flavorings". A quick glance at the ingredients will tell you which ones to avoid. Even well known jarred pestos that contain proper ingredients miss the mark in flavor and are often bland. If you are looking for the flavor that you had in Italy, you have the option of making it fresh (remember to use the best ingredients) or buy from a specialty shop. Many excellent imported pestos are now available online straight from the source if you don't mind paying a premium for it. However, if you are looking for a specific taste in your pesto, take the time and make it at home where you can control the flavors by what you add to it. Remember that the key to pesto, and all other Italian food is this: keep it simple and keep it fresh.
Try it at home!
A Pesto recipe so easy it's quicker than opening a jar. Note that, unlike many Italian-American recipes, this pesto recipe does not use garlic:
Use only fresh basil leaves. Put leaves in the blender. Add pine nuts (pinoli). Add ½ glass of water and ½ glass of olive oil. Blend until smooth. Add Parmigiano cheese (or Romano/Pecorino cheese for a more pungent flavor), black pepper and salt to taste and blend. Pour on the pasta of your choice. This also looks better served in a Deruta hand-painted bowl! Another great option is the mint pesto you can try!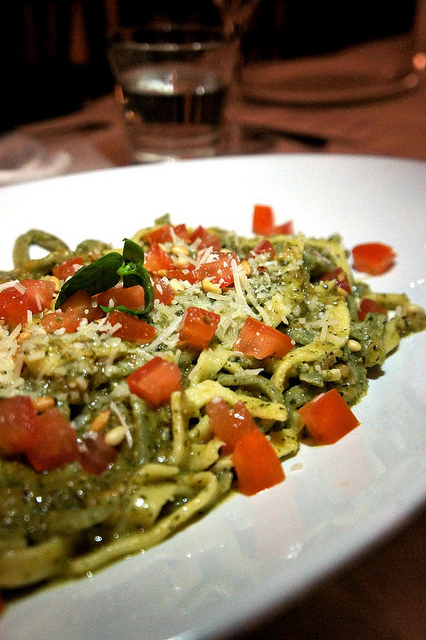 By Justin Demetri – Recipe By Paolo