Michelin Stars… for all pockets! Here's why starred bistros are all the rage in Italy
According to the 2019 Michelin Guide, Italy is home to a whooping 367 Michelin starred restaurants, 11 more than last year. Among them, 10 have three stars, the highest recognition given by the popular French culinary institution: Mauro Uliassi's homonymous eatery in Senigallia, Norbert Niederkofler's St. Hubertus in San Cassiano (Bolzano), Enrico Crippa's Piazza Duomo in Alba (Cuneo), Chicco Cerea's Da Vittorio, in Brusaporto (Bergamo), Nadia Santini's Dal Pescatore in Cannetto sull'Oglio (Mantova), Raffaele and Massimiliano Alajmo's Le Calandre in Rubano (Padova), Massimo Bottura's Osteria Francescana in Modena, Annie Feolde and Riccardo Monco's Enoteca Pinchiorri in Florence, Heinz Beck's La Pergola in Rome and Niko Romito's Reale in Castel di Sangro (Aquila).
All this without counting the one and two stars restaurants across the country, themselves on the rise with three new two stars being added in 2019, for a total of 41.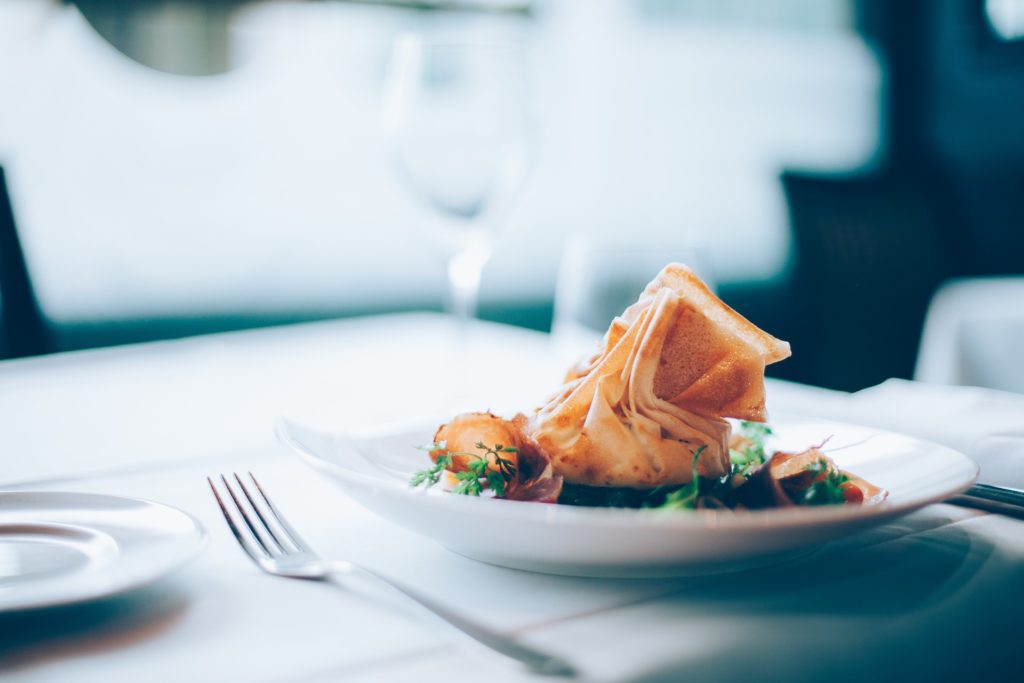 Good food goes beyond Michelin Stars in Italy
In a place like Italy, where making good food comes as second nature to most thanks to tradition and family example – who hasn't learnt the basics of good cooking through the loving support of a parent or grandparent? – the presence of so many world-recognized restaurants is not surprising. And to be fair with the industry, there are many more restaurants out there worth praise and a visit for dinner, even if they don't hold a Michelin star.
So, yes: official recognition is important, but good food in Italy is something you'll find a bit everywhere, stars or not.
Let's face it, though: the idea of trying out a starred restaurant is enticing: is the food really that amazing? What about atmosphere, service, the overall experience? And the most pressing question of all: is the food really worth the money?
In today's day and age, the last is a very important question indeed. With prices rarely dipping under the 100 euro mark (around 110 USD), but often rising up to 300 to 400 euro (330 to 450 USD) per person, satisfying our culinary curiosity can be unfeasible on a regular man's wages.
Making starred food accessible to all: the last mission of Michelin starred chefs
Now, it's known that great chefs are also incredible entrepreneurs, so it didn't take long to them to notice there was a pretty large market segment left uncovered: that of gourmet food lovers — people interested in experiencing high quality cuisine and attracted by the glitzy aura of those Michelin stars — still living on a regular person's income.
Enters the (often) Michelin starred bistro, the laid back, pocket-friendly little cousin of Italy's award-winning restaurants. While not all of them have gained a Michelin star yet, they are all the brainchild of Michelin starred chefs: quality and creativity are not an issue here.
The idea behind bistrot stellati, as we call them in Italian, is simple: keeping the quality of produce, techniques and final dishes unchanged, all while offering more accessible prices.
A recent article published by Corriere della Sera, one of Italy's dailies, presented 28 bistrot stellati, all run by famous, internationally-recognized Italian chefs of Michelin fame. We present here a small selection of them, focusing on those created by names – think of Massimo Bottura, Carlo Cracco or Enrico Crippa – who became household names all around the world, US included.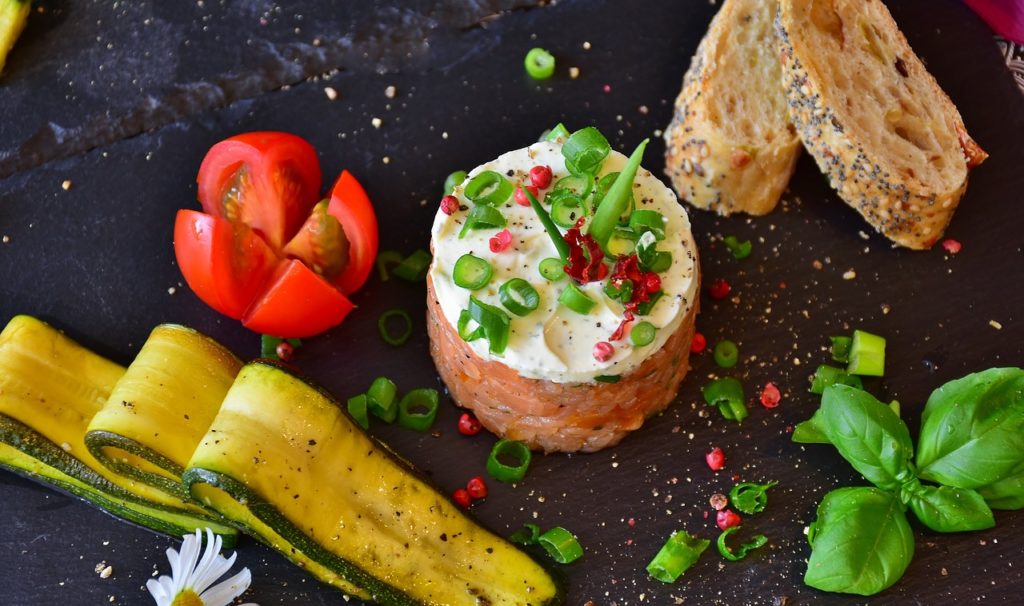 The one that began the trend: Claudio Sadler's Chic 'n Quick in Milan
Sadler owns one Michelin star restaurant Ristorante Sadler in Milan. He is credited with being the one initiating the trend of starred bistros, opening his Chic 'n Quick restaurant, in 2008. At the heart of Chic 'n Quick lie traditional Italian dishes, prepared with seasonal and fairly sourced ingredients.
The ambience is simple and minimal, the menu earthy and, indeed, traditional: starters include crudo di pesce, octopus salad, veal tartare, all for under 20 euro (25 USD). Among the primi, tagliolini with rabbit ragout, clams spaghetti with bottarga and porcini and blueberries risotto, all priced between 10 and 12 euro (roughly 11 and 13 USD). Mains include tuna, monkfish, quail and interesting vegetarian options for about 25 USD a dish. And then Italian cold cuts trays, traditional desserts and ice creams, cheeses.
Address: Via Ascanio Sforza 77, Milan
Website: https://chicnquick.it/
Two bistros in Milan, one very popular chef: Carlo Cracco
Thanks to his appearance on Masterchef Italy and numerous popular publications, Carlo Cracco is one of Italy more well known chefs. If, in fact, there is an Italian celebrity chef à la Gordon Ramsay in Italy, well, that'd be Cracco. His Ristorante Cracco is located in Milan's own trendy heart, Galleria Vittorio Emanuele II, just a stone's throw from Piazza Duomo, and has one Michelin star.
In 2014, Carlo and his wife Camilla decided to follow Sadler's example and opened their first bistro-style restaurant, Carlo e Camilla in Segheria. Led by the slogan "solo con la tradizione è possibile reinventare" (you can reinvent only through tradition), the venue soon became the place to be for money-wise food lovers. Located in a 1930s repurposed sawmill and characterized by a very theatrical ambience, Carlo e Camilla in Segheria offers a varied menu that changes every three months, following the natural rhythm of seasons. Every dish is a twist on a traditional Italian recipe, so, we have Neapolitan ragù ravioli with saffron sauce or smoked eggs with lime flavored mash potatoes. Carlo e Camilla in Segheria is also a cocktail bar, so it's perfect place to spend a nice evening, from aperitivo to post dinner drinks.
The financial damage? A sample menu will set you back about 60 euro (65 USD), while an average cocktail costs around 12 euro (15 USD).
Their first bistrot has been so successful so far that the Craccos decided to open a second one this year, Carlo e Camilla in Duomo. Located in the central Via Victor Hugo, where Cracco had his main restaurant for over a decade before moving to Galleria Vittorio, this bistro – to say it with the people of popular Italian food magazine Gambero Rosso – has two souls, one that lives all day, represented by the café opened at street level (that doubles as a cocktail bar in the evenings), the other represented by the restaurant underground, led by young chef Gabriele Faggionato.
There are four sample menus, each named after a quintessential figure of modern Italy: the Milanese Imbruttito, the Influencer, the Mammone and the Bio, which include four courses for 60 euro (65 USD). In alternative, you can eat à la carte, with dishes priced between 18 and 25 euro (20 to 22 USD). You'll find vitello tonnato with Pantelleria capers and fresh pasta with datterini tomatoes, black tea and raw scampi risotto and cardamom tiramisù: a creative take on some traditional Italian classics.
Carlo e Camilla in Segheria
Address: Via Meda 24, Milan
Website: https://www.carloecamillainsegheria.it
Carlo e Camilla in Duomo
Address: via Victor Hugo 4, Milan
Starred bistro in the Dolomites: Norbert Niederkofler's AlpiNN
Niederkofler is a well known name of traditional South Tirolese cuisine, which he offers to the public in his three Michelin stars restaurant St. Hubertus, at the Rosa Alpina Hotel, the Pizzinini family's relais et château in San Cassiano (Bolzano).
The AlpiNN is Niederkofler's accessible-to-all-pockets version of his famous eatery, a place worth to visit not only for its food, but also for its incredible location: the South Tirol chef, along with business partner Paolo Ferretti, transformed an old cableway station at 2.275 meters of altitude (about 7.500 ft) in a lively and welcoming bistro.
Surrounded by the majesty of the Dolomites, customers can enjoy Niederkofler's take on traditional mountain dishes, all created using local, fairly sourced ingredients and products. Indeed, Niederkofler is a supporter of the cook the mountain philosophy, a movement aimed at using and valorizing Alpine culinary traditions and excellencies. 
At the AlpiNN Food Space and Restaurant (this is its full name) you'll find special dishes like grilled radicchio with Eggemoa goat cheese, Val Pusteria potatoes with smoked salmerino (brook trout) and its caviar, or veal escalope with potatoes and Barbiano plums ketchup.
Another spectacular dish offered is Niederkofler's own carbonara tirolese, which he offers also at St. Hubertus, made with spelt fusilli, organic eggs, pancetta and ricotta dura di malga, matured alpine ricotta cheese.
Starters are reasonably priced between 13 and 15 euro (around 14.50 and 16.50 USD), while main dishes are a bit pricier, at around 30 USD.
Address: Plan de Corones 11, Brunico
Website: https://alpinn.it/en/
When the South meets the North: Cannavacciuolo's bistros in Turin and Novara
Like Carlo Cracco, Antonino Cannavacciuolo became a household name in Italy thanks to his presence on TV (he is the protagonist of the Italian version of Kitchen Nightmares and he's also been a Masterchef judge) and his larger than life personality, but his talent in the kitchen is what really cemented his popularity in the country.
Cannavacciuolo, who is originally from Vico Equense, in Campania, established a name for himself in Piedmont, at Villa Crespi, his two Michelin stars restaurant on the Orta Lake.
In more recent years, the chef opened two bistros, one in Novara, the Cannavacciuolo Café e Bistrot, and one in Turin, the Cannavacciuolo Bistrot. Both of them were awarded one Michelin star in 2018.
Now, if you hope to get away with a tiny bill from any of these places, you'd be wrong: menus are between 75 and 90 euro (82 and 100 USD, roughly) and all à la carte dishes lie somewhere around the 30 USD mark, desserts included. Then again, you are in a Michelin starred restaurant, in the end, and Cannavacciuolo's food always hits the spot: from fish to local meats, from Southern cavatelli to Piedmontese ravioli al plin, both bistros offer a mix of traditional Neapolitan and Piedmontese cuisine, enriched here and there with a modern, creative touch.
If you find Cannavacciuolo's bistros still too expensive, you may like to visit the branch in Novara for lunch: the bistro offers a business menu, available from Tuesday to Friday, at 50 euro (55 USD), while the café has one for 20 euro (22 USD).
Cannavacciuolo Bistrot Torino
Address: via Umberto Cosmo 6, Turin
Website: https://www.cannavacciuolobistrot.it/torino/en/
Cannavacciuolo Bistrot e Café Novara
Address: Piazza Martiri della Libertà 1, Novara
Website: http://www.cannavacciuolobistrot.it/novara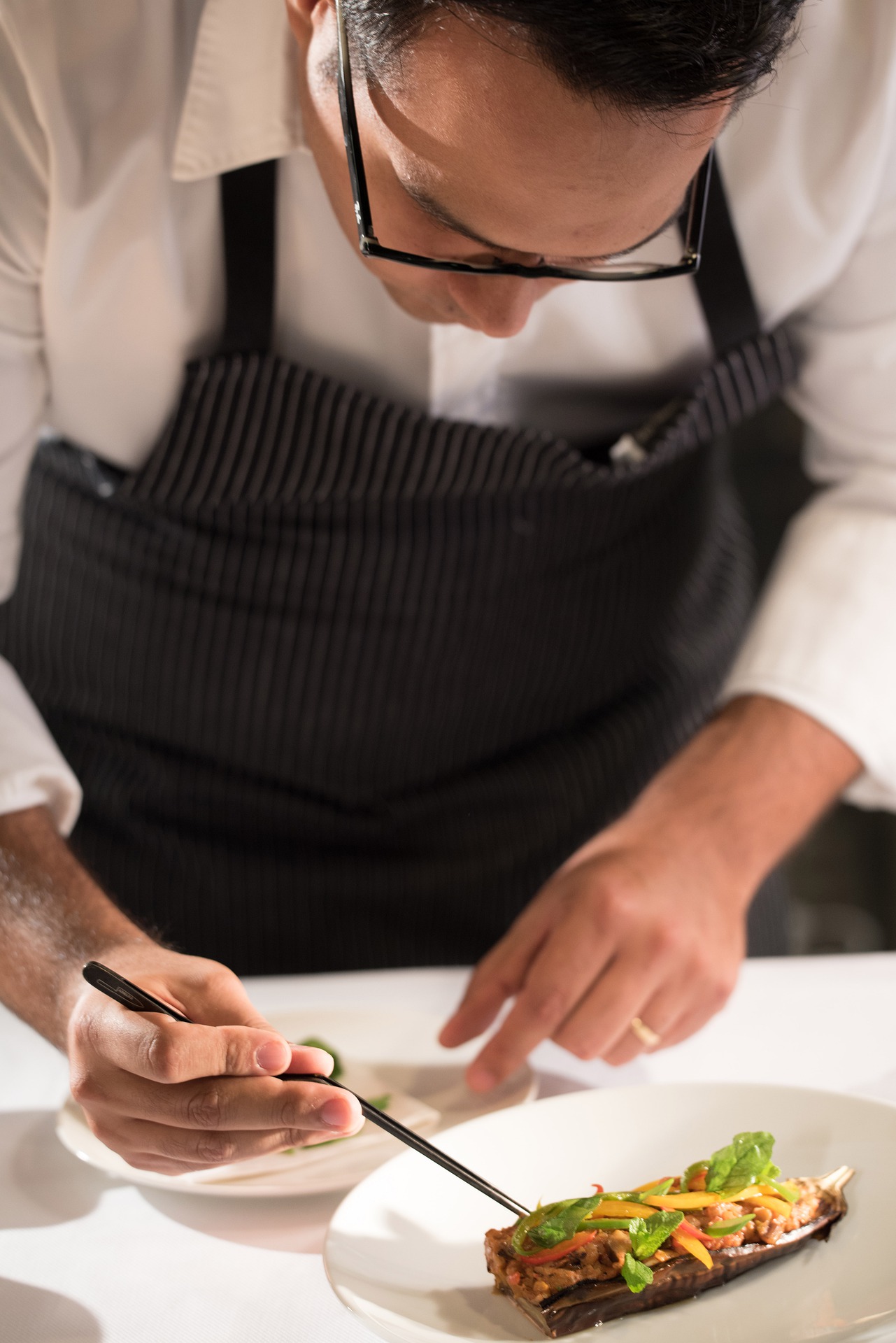 Enrico Crippa and the food of Piemonte: La Piola, in Alba
Born in Brianza and a student of Gualtiero Marchesi, Enrico Crippa's career reached its climax in Alba, at the very heart of the Langhe. Here, he opened his now three Michelin stars restaurant, Piazza Duomo, in collaboration with the Ceretto family, in 2005.
Just like the other chefs in this article, Crippa, too, wanted to offer a more affordable but equally rewarding quality experience to food lovers and it looks like he managed: La Piola has already gained one Michelin star. A little note about the name: in Piedmontese, a piola is a usually family run, wholesome type of restaurant, an osteria. This gives an idea of what Crippa had in mind when he created it.
The menu at La Piola changes everyday, depending on the products and produce available. Two things remain always the same, though: the relevance of Piedmontese traditional cuisine, especially that of the Langhe, and the exceptional wine list, as you would expect in one of Italy's best winemaking regions.
There are also set days for traditional Piedmontese specialties: tuesdays are finanziera day, wednesdays are bollito's, thursdays are fritto misto alla Piemontese's and fridays are bagna caoda's.
Price-wise, à la carte meals range between 35 to 59 euro (38 and 65 USD).
Address: Piazza Risorgimento 4, Alba
Website: https://www.lapiola-alba.it/en/
Designer food in Florence: Bottura and Gucci Osteria
Neither Massimo Bottura nor Gucci need much introduction: both are renowned names of the Made in Italy around the world. Gucci Osteria is located within the Gucci Garden, the museum in Piazza della Signoria dedicated to the famous Italian fashion house, and it's the brainchild of Bottura and Gucci's creative director, Alessandro Michele. Gucci Osteria brings together Italian and international cuisine, a choice well represented by its Mexican chef, Karime Lopez Kondo, who happens to be also the wife of Osteria Francescana's sous chef, Take Kondo.
Here you'll find anything from carciofi alla giudia and tortellini in crema di parmigiano, to Peruvian tostadas, with prices ranging between 9 and 27 euro (10 to 30 USD).
Address: Piazza della Signoria 10, Firenze
Website: https://www.gucci.com/it/it/store/osteria-bottura
Michelin starred bistros in Italy: some final remarks
Bistro-style dining has been all the rage in recent years, pretty much everywhere in the world. It's not surprising that many of Italy's Michelin starred chefs have embraced the trend, too. But it's not only a matter of what's "en vogue" and what isn't. Bistros cuisine, with its usually more traditional, heartier approach to recipes and food, allows chefs to explore a different side of cooking, one perhaps tied more closely to their food-making roots and to the very first steps they moved in the culinary world.
But Michelin starred bistros are also a way to expand their brand to a market segment which is increasingly large: that of foodies on a budget. If you think about it, it's a win-win situation: chefs get to develop more traditional menus and increase their sales and popularity. We mere mortals get to try real Michelin-starred grub for a fraction of the price.
What's not to love in all this?