How much of a difference can ten years make: even though the idea was bound to be successful, not even the most positive among its creators may have fathomed how immensely popular Eataly was to become all over the world.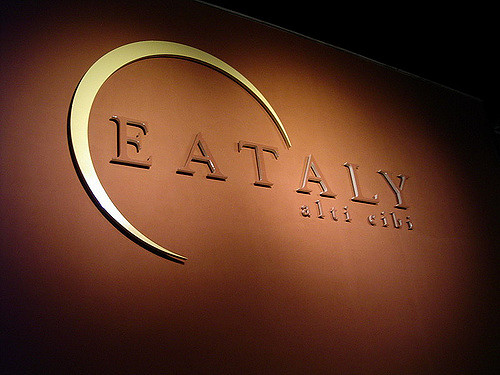 It was the 27th of January 2007, when the first Eataly store opened in the Torino Lingotto area, in a former vermouth factory; today, the chain counts 18 locations in Italy and 17 around the world, with sales surpassing 200 million Euro. With a motto like "life is too short to eat and drink badly," the aim of its founder, Oscar Farinetti, was to bring the excellence of artisanal made in Italy all over the world, all under one roof.
The name itself, clearly enough, comes from "eat" and "Italy" and wants to be synonym not only of Italian food, but of what food means to Italian people: culture, tradition, heritage and one of the greatest means to bring us all together. Eataly, so, brings around the world not only the products that made Italy famous, but all that's behind them: from their history to the way they're made and the people who make them.
The motor of the brand is the idea that food is more than what you eat: it's love, history, part of a nation's identity, but only when it's real and authentic. Thus the importance of bringing back to Italians the beauty of their culinary roots, after a couple of decades where fast food and unsavory diet trends made us all disconnect a bit from our traditional cuisine, and to the rest of the world the possibility to experience for real what true Italian food tastes like, and what a fantastic experience it's for Italians to eat.
Eataly and its history in brief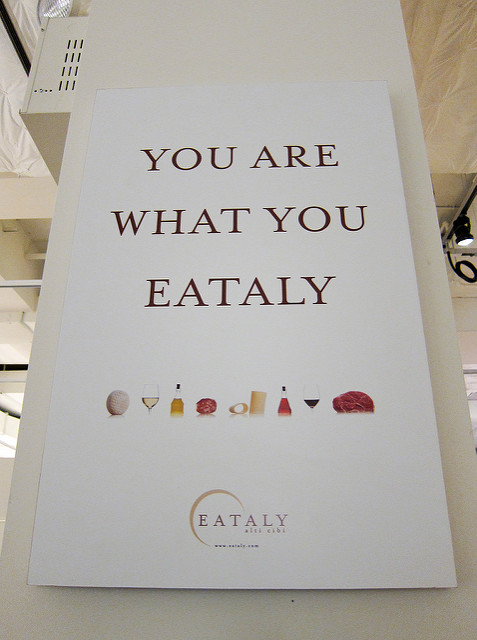 Oscar Farinetti was a well known figure in the Italian business world well before becoming the patron of Eataly.In the 1970s he took up the direction of one of  the country's most successful consumer electronics chainstores, which he eventually sold to Dixons Retail in 2003. In 2004, he began developing the idea of creating an Italian food supermarket to bring local, artisanal products around the country: the concept behind Eataly was born.
Three more years would pass before the first large Eataly store opened in Torino Lingotto: a large area where supermarket style shelves cohabit with restaurants and farmer market-style stalls, all with one thing in common, good food and love of tradition.
Soon enough more stores where opened in Italy, including more in Turin and in Rome, Bari, Milan, Florence, Genoa, only to name a few. Abroad, Eataly found a home in Germany, Turkey, Brasil, Saudi Arabia, Japan, South Korea and, of course, the US, where you can find  stores in New York city, Chicago, Boston and LA, each presenting a wide selection of authentic made in Italy.
One of the things that strikes the most when buying at Eataly is the large presence of truly local, truly artisanal brands; I'm piedmontese and had the luck to grow up in the countryside, surrounded by some of the best food and produce around and I'm always pleasantly surprised to find small, local companies of the Cuneo countryside represented on Eataly's shelves. The same can be said of many other smaller artisanal realities from everywhere in the country.
This is a very important aspect of the brand, as it has, throughout the years, given the possibility to many smaller producers to make their products known and appreciated, actively contributing to the support of one of Italy's most precious economic realities, family run companies.
Eataly and Slow Food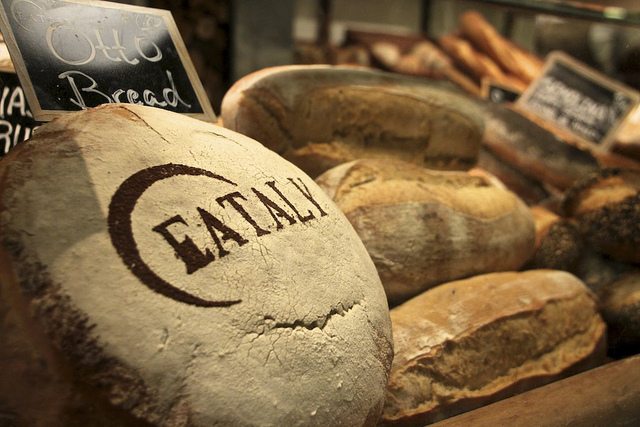 Rendering the idea of what truly moves the people behind Eataly is probably easier by pointing out how the store goes hand in hand with another beautiful reality of Italian cuisine and made in Italy, Slow Food. For those of you not familiar with the movement, just a quick summing up of what it is: you can check out our article on it (linked above!) if you're curious about it. Slow Food is a non for profit association recognized at international level, which aims at protecting food diversity and at educating people about how to recognize, appreciate and cherish good food. Just like Eataly, Slow Food also makes of valuing and safeguarding culinary traditions one of its most important goals.
Considering how much they have in common, it comes as no surprise to know that Slow Food has taken up the role of Eataly's strategic consultant: it's the people of Slow Food who select and propose to Eataly potential suppliers, and support the store's educational effort, taking care of Eataly's culinary courses' content and organization.
Eataly as a learning hub
All Eataly stores, including those in the US, host several events and culinary classes throughout the year: from basic wine tasting to proper cooking lessons, we can all get a piece of Italy and learn something new while at it. Just to give you an idea of what's on offer, here's a taste of the February class schedule at the Eataly Flat Iron branch, in NYC: this month you can learn how to make classic Italian cocktails, fresh pasta, gnocchi, several types of four course dinners, chocolates (the famous Baci Perugina!) and there's even a class to cook with your kids (unfortunately sold out already). Booking classes is easy, as it can be done directly on the chosen branch's website. Classes run for one to two hours, with prices ranging from $ 35 for a piadina making class or an Italian culinary walk of New York, to $ 125 for a two hour lesson on how to make a proper four course meal "all'Italiana".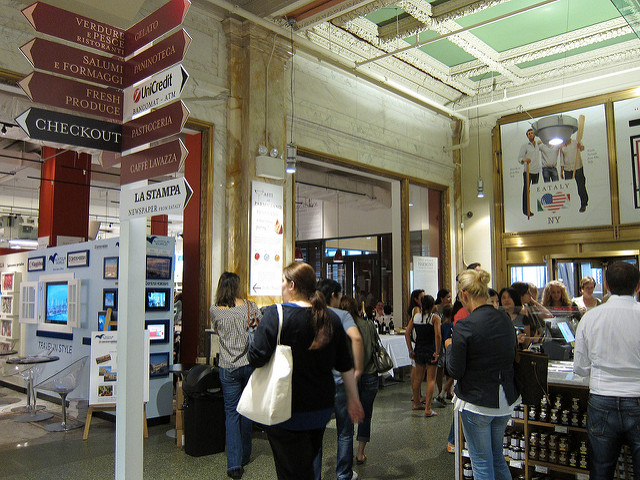 Shop Online from every Eataly store in the world
Do you like the idea of getting some good stuff from a place like Eataly, but you live no where near one of its locations? Fear not because Eataly has an online store, too, which delivers everywhere in the world. Beside foodstuff, wines and liquors, Eataly online stores offer also kitchen utensils, books and body and home care products, all handmade, all local.
Visit Eataly's own website to learn more about it and to find out what's in the store closer to you.
Francesca Bezzone