A Classic Trait of Italian Homes
The rooster is the bird to use in your home decorating these days. Whether you are an animal lover, a country girl or just like to keep up on all of the trends, you can add some "country charm" to your home by using the rooster in your decor. A country kitchen is warm and inviting with colors like yellow, red and orange to add to the ambiance of the room. Previously, popular kitchen themes were the goose, cow or the pig, but today the rooster takes all.
Starting in the kitchen, bright yellow or orange curtains in solid or a floral print would make a great addition to a rooster themed room. Get some rooster items like dishes, placemats, canisters or pictures, but be sure to balance the decorating with accents. Too much rooster can be a bad thing. If you are using rooster printed dishes then combine them with a solid colored tablecloth and add a cheerful floral bouquet to your table setting. If your canisters on the counter have roosters then use country themed pictures on the wall like birdhouse pictures or a picture of a barn in a country setting. Include something that is not rooster but ties into your theme.
Another room that looks fabulous in rooster decor is the living room. The country topic for the living room provides a warm, inviting feeling and is a fabulous idea for this area of your house. Rooster accent pillows are a great idea for your couches and chairs. You can also use a throw rug to include rooster in this room. Rooster statues or figurines on the mantle or end tables can bring in some charm. Again, remember too much rooster can ruin the image of the room. In the living room you can use wall paper or paint to accent some walls with the warm colors like red and orange. Hang some floral wreaths on the wall using wild flowers or sunflowers to create the country style feeling, which is the decorating focus. Have fun by adding a freestanding birdhouse or wooden wagon in the corner to give the room a unique appearance. If you are hanging up rooster print pictures space them away from other items with rooster on them. For instance if you have rooster figurines on the mantle then hang your pictures on the opposite wall. By doing this you can create a sense of balance and equality to the decorating.
The bathroom is another room in the house that can look fabulous with rooster decor. Get a floral print shower curtain (sunflowers work great) and a yellow rug. Then add a rooster toothbrush holder and some rooster print pictures on the wall. You can also use rooster decals as a border or get some decorative towels with roosters on them. Using bright colors in the bathroom is a great idea since the bathroom is one of the first rooms you enter in the morning. Yellow and oranges are good colors to brighten your day. These days when it comes to decorating your house, "just about anything goes." Once your pick a theme you have endless possibilities!
When you are including an unusual animal like the rooster in your home decor you need to use it sparingly and add many items that accentuate your theme. If you are on a budget, but the country/rooster theme is what you are looking for, then you can shop discount stores, secondhand shops and yard sales to find your decorating needs. Because of the rooster's popularity it is likely you will be able to find some items at garage sales and secondhand stores. eBay is a great place to search for rooster related items, plus wholesalers and distributors offer products with a rooster theme. You can make floral arrangements and curtains to match your rooster items. It doesn't have to be expensive to redecorate all you need is a little patience and a big imagination.
Learn more about the principles of Italian decorating!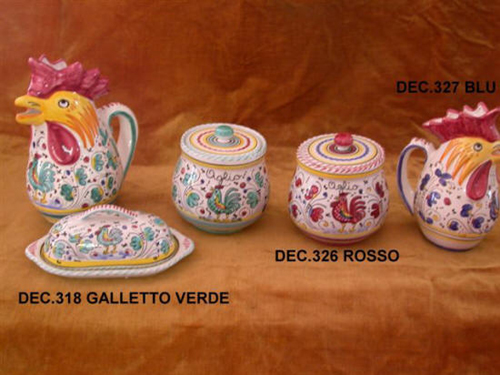 Deruta has entire dinnerware sets in Rooster design including rooster shaped pitchers, etc