The quaint town of Fermo, Italy in the central Italian region of le Marche, is known for its fantastic location, immersed in the area's outstanding landscape. It is also known for the remains of its defensive walls, still visible within its boundaries. Fermo sits atop the Sabulo hill, 319 meters above sea level, a position allowing visitors to enjoy dazzling views of the lands below.
Founded in 264 BC as a Roman colony known as Firmum Picenum, it eventually became one of the Empire's administrative headquarters in the area and was governed by four quaestores.  Fermo is not a large town, but its historical relevance and the beauty of the countryside surrounding it make it a great place to visit.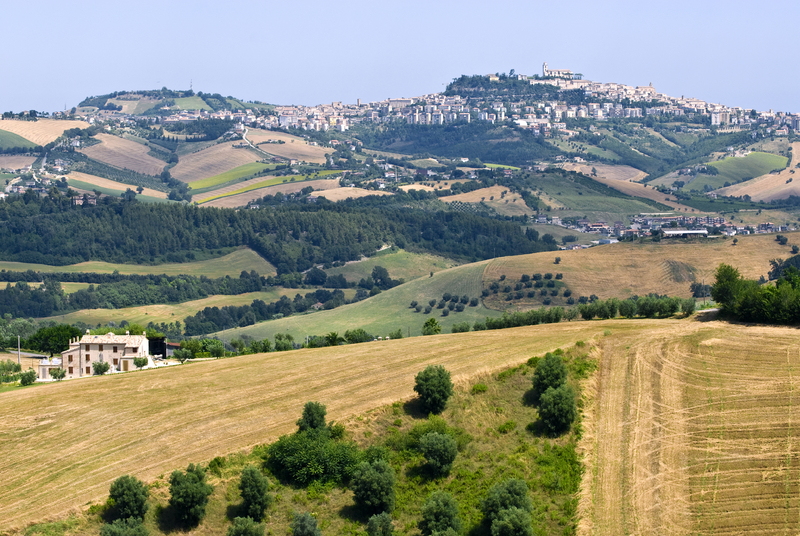 Sightseeing in Fermo, Italy
The town's most important monument is its Duomo, which was almost entirely reconstructed in 1227 by Giorgio da Como. Its façade is a very fine example of gothic architecture with the campanile and side portal reflecting the same style. Over the main door is a rose window dating back to 1348 and there are also several tombs on the porch, including one by Tura from 1366. Inside, visitors can find a monument to Giuseppe Colucci, a famous local writer.  The interior has been changed over time and is actually quite modern in nature. The Duomo of Fermo, Italy is surrounded by beautiful gardens.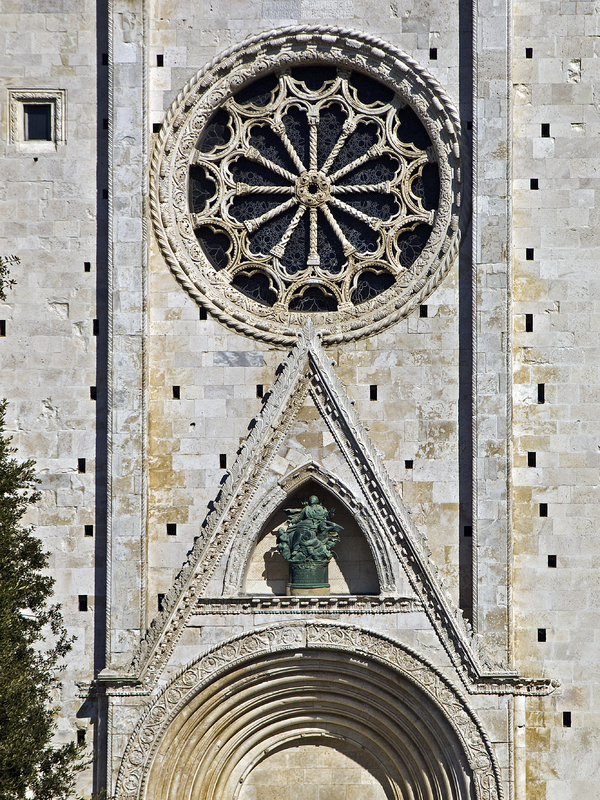 Fermo has had a lengthy history, and the presence of several archaeological sites bears witness to it. There are still traces of a Roman amphitheater and of the town's ancient walls that were built centuries ago – made of rectangular blocks of hard limestone – just outside Porta San Francesco. You can also see the remarkable remains of battlement walls erected in medieval times. 
San Francesco Church is known for its beautiful tower and brickwork choir, both of which date back to 1240. The rest of the church was modified and restored around the 17th century. For more history, visit the Palazzo Comunale, an ancient palace that now holds the Biblioteca Comunale, which is quite well known because of its large collection of antique volumes and inscriptions. Built in 1446 the palazzo is home to a large statue of Pope Sixtus V, erected during restoration works that took place centuries back.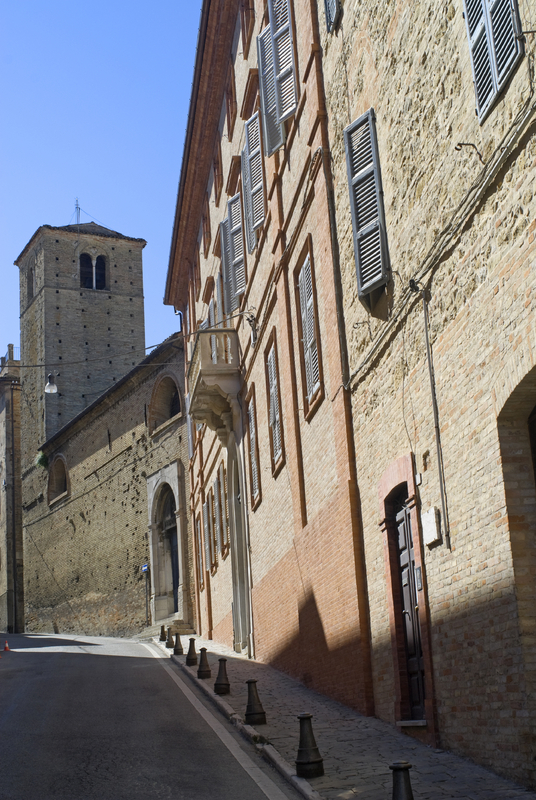 Getting to Fermo
Fermo is well connected to most major towns and cities in the region by an extensive bus network. Buses operating in the region run several times a day and connect Fermo to its neighbors on a regular basis. These buses are not as comfortable as trains, but they are widely used since train stations are not located in all the smaller towns and villages of the area. Tickets are not very expensive and the service is quite punctual. Driving down is another relatively easy and certainly pleasant option, once again thanks to the striking panoramas you would enjoy through your car's windows.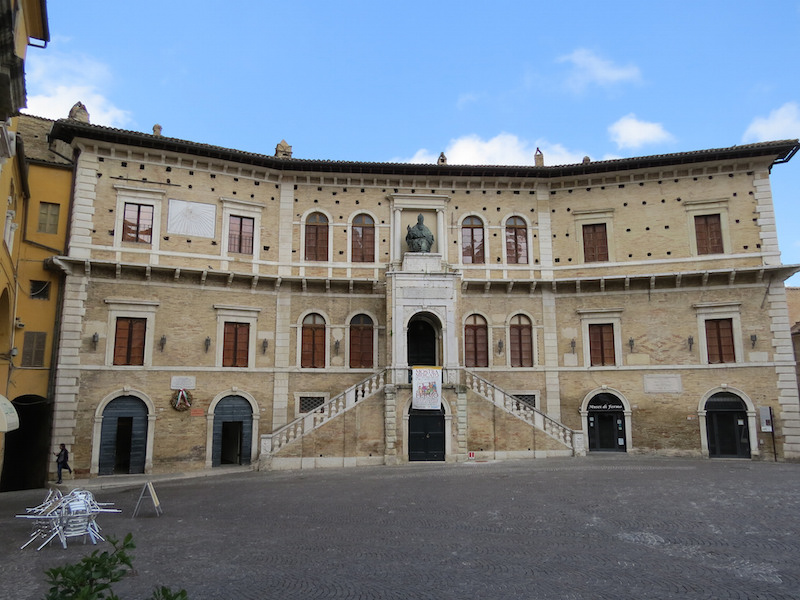 Moving Around in Fermo, Italy
Fermo, Italy is easily navigated on foot. All locations of historical and cultural interest are situated in the center and all in close proximity to one another, so walking is the fastest and easiest way to get around. Fermo may be small, but it is certainly full of charms and artistic delights, so you are bound to enjoy walking around its lovely, medieval streets. If you like cycling, you may even rent a bike and get to know Fermo this way. While staying, you should leave the car parked outside the hotel, but it will certainly come in handy to visit and enjoy Fermo's surrounding areas.
In case you really want to stick with the locals, you can choose public transport: tickets are widely available at any newsagents in town.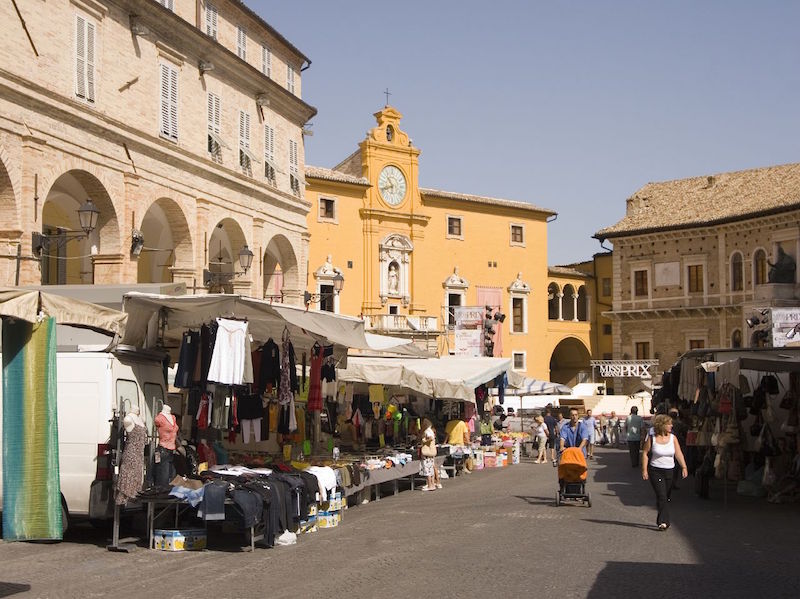 Stay and Accommodation
Fermo has quite a good selection of hotels and b+b to choose from, perfect if you wish to stay in town and enjoy a bit of buzz. If you are after some more relaxation, you could go for one of the many country homes and villas in the surrounding countryside, which can be rented. Among the best places to stay in Fermo, we find the Hotel Astoria, Casale Moretti, Hotel Casina delle Rose, New Regina Mundi, and Bed and Breakfast A Palazzo.
Eating Out
In Fermo, Italy visitors will generally find small restaurants and pizzerias that serve traditional dishes. There are also many charming trattorias and osterias run by local families that serve homestyle Italian cooking, very popular among the locals. Some of the best restaurants in town are Osteria II Galeone, Ristorante Rio Ete and Locanda Del Palio. 
Shopping in Fermo, Italy
There are plenty of small shops in Fermo, Italy selling handcrafted items made by local artisans. In the old part of town, there are also a few good places where tourists can find authentic antique pieces and knick-knacks that can be purchased as souvenirs. Many food stores in town sell good quality olive oil, sausages, and a variety of cheeses.