The thought of designing Italian style patios maybe daunting for most people, however if a few guidelines are followed we can easily suggest a strong Italian theme in our gardens. We should aim to create a shaded patio area near the house, where we can sit and dine 'al fresco' on summers evenings, or enjoy a coffee and fresh brioche in the mornings, with easy access to the house and all its amenities.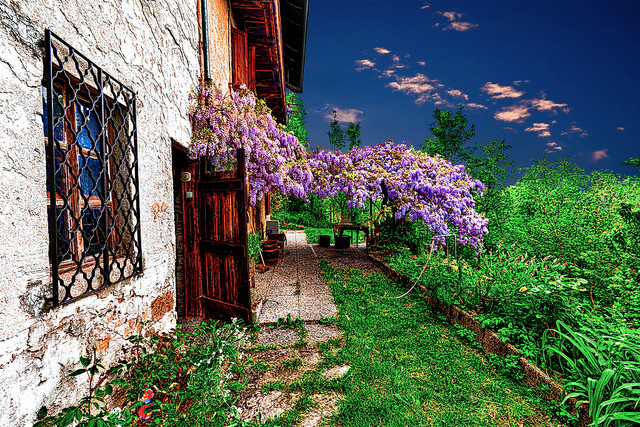 Shade is most easily achieved using a simple pergola, made from wood or wrought iron above, with a strong structure (either ornate wrought iron or even simple, taught wires) at the sides, which can then have vines, roses and classic, scented plants like Rhynchospermum jasminoides grown over it.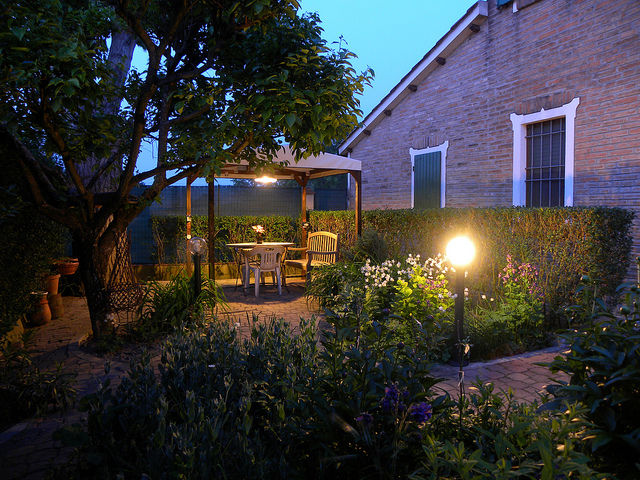 In just one year both the roof and sides of the structure will have a healthy covering- if the plants are maintained well. The best vine to use is a strawberry vine (Uva fragola 'Nera') as it is disease-resistant and releases an amazing, strawberry aroma in the summer.
The styling of the floor will say a lot so use a broken (crazy paving effect) in travertino, which is less expensive than marble, for an inexpensive elegant Italian feel, or rustic, re-claimed bricks for that Tuscan, country-garden feel, or (as I prefer) river-washed gravel in beige tones.
Italian-style furnishing and relaxed, yet colorful Italian features, like rusted iron chandeliers and candle holders will instantly suggest an Italian ambience and colorful bowls of fruit add a homely, Mediterranean touch.
In the shaded areas plants like Boxwood (Buxus sempervirens) will add a touch of elegance if placed symmetrically either side of doors or other entrances. White Hydrangeas such as H. macrophylla 'Annabelle', in large vases can make up the body of the planting and elegant evergreens like Osmanthus fragrans and Gardenia jasminoides will fill the area with scent on summers evenings and will address a very important and often overlooked feature of the garden…perfume!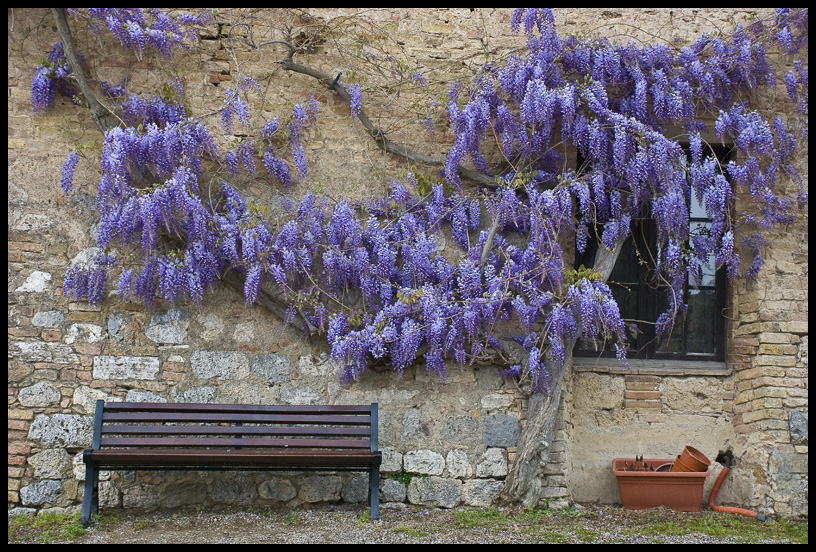 If you are lucky enough to have a sunny area then why not try a small lemon tree, as they do not require particular attention, however they will need full sun and a garage to spend the winter in.
The planting around the structure should aim to shield the area from winds and add a sense of visual security. Tough, evergreen Mediterranean plants like Oleander (Nerium oleander), Viburnum tinus and Pittosporum tobira can be used as simple yet sturdy structure plants. A trimmed cypress tree (Cupressus sempervirens) will instantly add an Italian feel and, although over-used, this plant is still a must for suggesting an Italian feel. Cypress trees can be maintained at the height you wish, with careful annual pruning and (if pruned) can even be grown right against the house, without causing serious root damage.
With the minimum of illumination on the structure plants (Buxus, Cupressus etc…) we can create a very chic environment for dining al fresco that will suggest and portray the very best of Italian style.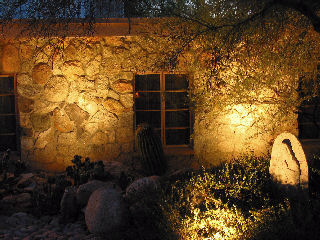 HAPPY GARDENING…!
by Jonathan Radford, garden designer