For this recipe you need a fish with the scales left on. Otherwise, the salt will penetrate the fish. It is another method of steaming and, properly done, results in impeccably moist and meaty fish that is not at all salty. To be sure of obtaining a fish with the scales on, it is probably necessary to order one in advance from a reliable fishmonger.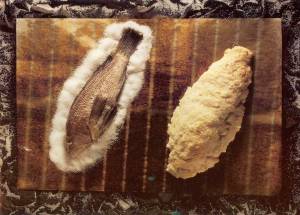 Whole Fish in Salt Crust
Ingredients
3

pounds

(1.5 kg) black sea bass

cleaned but not scaled

Several sprigs fresh herbs (rosemary, oregano, thyme)

3

cloves

garlic

peeled

4

pounds

(2 kg) kosher salt or sea salt

1

cup

(125 gr) flour

125

ml

water

6

cloves

oven-dried tomatoes

chopped

1

juice of lemon

1/4

cup

(60 ml) basil oil

Salt and freshly ground pepper
Instructions
Preheat the oven to 400°F (200°C).

Trim the fins and tail of the fish with scissors.

Cut the cavity of the fish with scissors. Stuff the cavity of the fish with the herbs and garlic and sew up the cavity with strong thread or dental floss.

Mix the salt and flour together, then mix in the water to make a thick, fairly dry paste.

Line a baking sheet with foil.

Spread the part of the salt mixture on the foil in a layer somewhat larger than the fish.

Place the fish on the salt layer, then completely bury the fish in the remaining salt mixture, packing it on to cover the fish completely.

Place in the oven and bake 45 minutes.

Mix the tomatoes with the lemon juice and basil oil, season with salt and pepper, and set aside.

Lifting the fish and foil together, transfer the fish with the foil to a serving platter.

To serve, carefully crack the salt crust and lift off the top layer.

Wipe the utensils clean and lift off the skin of the fish.

Then serve the exposed flesh, spooning a little of the tomato sauce over each serving.

Be careful not to allow any of the salt to get on the flesh of the fish.

Lift off the bones and serve the rest of the fish leaving the skin on the salt.