The grissini (bread sticks) served at Remi are positively addictive. Not only are they excellent to serve with meals, but they are superb to have on hand as a snack with the drinks. The restaurant makes reams of them daily cutting the dough not by hand but with the wide fettuccine cutter of the pasta machine "when we discovered the pasta machine, it was such a timesaver," declares Francesco. It's a trick he picked up from another chef who was nearly fired when the owner of the restaurant found out he was not making the grissini by hand! "We don't have such a tough attitude here," Francesco says.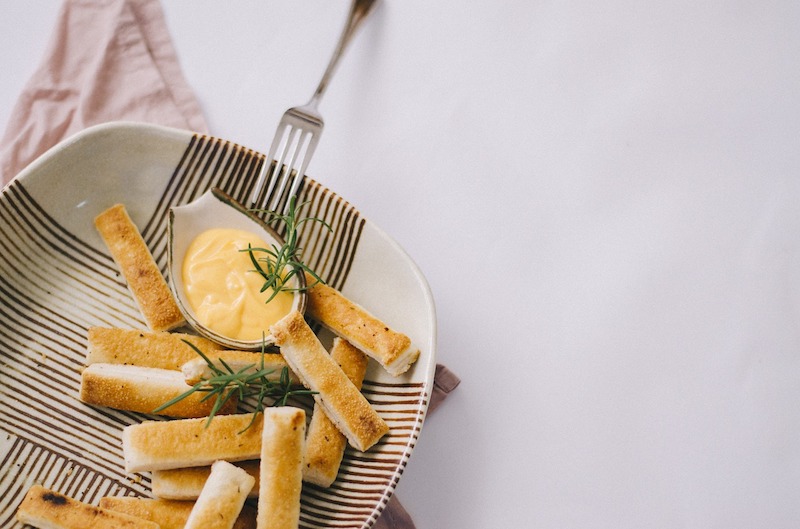 Rosemary grissini
Ingredients
1

cup

(375 ml) warm water

Cake fresh yeast

Pinch of sugar

2

tbsp

(30ml) extra virgin olive oil

1/3

cup

EVO for oiling bowl, pans, and dough

1

tbsp

salt

5

cups

(670 g) flour (approximately)

2

tbsp

minced fresh rosemary leaves

1

tbsp

minced fresh oregano leaves

Freshly ground black pepper to taste
Instructions
Place ½ cup (125 ml) of the water in a bowl, stir in the yeast and sugar, and set aside to proof for 10 minutes. Add the remaining water, 2 tablespoons (30 ml) of the oil, and the salt.

Begin stirring in the flour, and when it forms a dough, turn it out onto a floured board and knead it for about 10 minutes, kneading it enough of the remaining flour so the dough is fairly firm, dry, and not at all sticky.

Knead in the rosemary, oregano, and pepper.

Oil a large bowl, place the dough in the bowl, cover it lightly, and set it in the refrigerator to rise until doubled in bulk, about 6 hours.

Punch the dough down, divide it in quarters, and pinch off egg-sized pieces. Roll each piece to less than ½ inch (1.3 cm) thick. Cut into very narrow strips, each about 12 inches (30 cm) long.

Alternatively, you can cut the dough by running it through the widest noodle-cutter setting on a pasta machine.

Oil baking sheets and place the strips of dough about an inch (2.5) apart on the sheets.

Brush the strips lightly with oil and set them aside to rise for 1 hour.

Preheat the oven to 375°F (190°C).

Place the sheets in the oven and bake until the bread sticks are uniformly golden brown, about 20 minutes.

Allow them to cool on racks before serving.

Store them in an airtight container once they have cooled completely.