These individual pizzas are delicious eaten as a snack, cut into wedges to make an hors d'oeuvre, or served with a salad for lunch or supper. Since pizza is not traditionally Venetian, what gives this pizza its Venetian character? Francesco has a simple answer: "Onions. The minute you put onions on, it becomes Venetian. The anchovy reinforces the pizza's Venetian flavor." As with so many other dishes, Francesco has strong opinions about making pizza. "The problem with a lot of pizza is that the tomato is overcooked" he says. "The tomato cooks on the pizza so it does not need much cooking beforehand".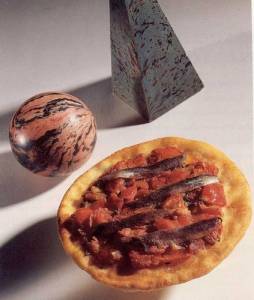 Venetian Pizza
Ingredients
1

envelope

(7 g) active dry yeast

1

cup

(250 ml) warm water

1

tsp

salt

5

tbsp

(75 ml) extra virgin olive oil

Coarsely ground black pepper

2

tbsp

chopped fresh rosemary leaves

3

cups

(375 to 435 g) flour

1

large onion, chopped

4

roasted tomatoes (8 if they are plum tomatoes)

16

large canned flat anchovy fillets
Instructions
Dissolve the yeast in ¼ cup (60 ml) of the water in a large bowl and set aside to proof about 10 minutes. Stir in the remaining water, the salt, three tablespoons (45 ml) of the oil, the pepper, and the rosemary.

Stir in about half the flour, until the mixture forms a soft dough that leaves the sides of the bowl.

Turn the dough out on a floured board and knead about 8 minutes, kneading in additional flour until the dough is elastic and no longer sticky.

Place the ball of dough in a clean oiled bowl.

Turn the dough to oil it on all sides, cover, and set aside to rise until doubled, 3 to four hours in refrigerator or 1 hour at room temperature.

While the dough is rising heat the remaining 2 tablespoons (30 ml) oil in a skillet. Add the onion and cook very slowly, stirring, for about 20 minutes, until the onion is tender and has turned a deep gold. Add 2 tablespoons (30ml) cold water to stop the cooking and remove from the heat.

Preheat the oven to 450°F (230°C). Line a baking sheet with parchment paper.

Divide the dough into four portions and shape each into a round about 8 inches (18cm) in diameter.

Make the rounds a little thinner around the edges than in the middle.

Spread the onion on each round.

Coarsely chop the tomatoes and scatter them on the onion, then top with 4 anchovy fillets.

Place on the baking sheet.

Place in the oven on the lowest rack and bake 15 to 20 minutes, until the dough is lightly browned.