For these ciccheti the slice of polenta doubles as a cracker, much the way slabs of it replace bread in the mountains of the Alto Adige. The sausage, luganega, is a spicy specialty of Belluna, in the mountains. In Venice proper a piece of grilled sardine, a grilled shrimp, or a morsel of meat or fried fish from dinner the day before might top the polenta. "You find that leftovers make fine cicchetti," Francesco says.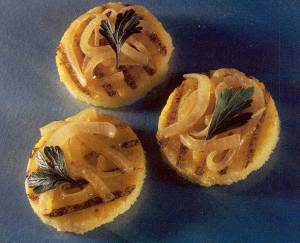 Venetian Cicchetti Polenta with Onions and Sausage
Ingredients
2

cups

(500ml) water

90

gr

yellow cornmeal for polenta

Salt to taste

1

tbsp

extra virgin olive oil

1

onion, sliced thin

1

bay leaf

8

ounces

(250 g) luganega sausage

12

medium sized shrimp (prawns), shelled

Sprigs of flat-leaf (Italian) parsley
Instructions
Bring the water to a simmer in a small saucepan. Gradually stir in the cornmeal and cook, stirring, about 15 minutes until the texture has thickened. Season with salt and stir in 1 tablespoon of the olive oil.

Spread the cornmeal mixture to a thickness of ½ inch (1.3 cm) on a baking sheet and allow to cool.

Heat the remaining oil in a medium-size nonstick skillet. Add the onion and the bay leaf and cook over medium-low heat about 10 minutes, until the onion turns light gold. Stir in 2 tablespoons (30ml) water, remove the bay leaf and remove the skillet from the heat.

Grill the sausage until browned and cooked through.

(If using shrimp, toss them with ½ tablespoon olive oil and grill them or sear briefly in a non-stick pan.)

To serve, cut the polenta into 2-inch (5 cm) circles with a glass or a biscuit cutter. Heat a grill, a nonstick skillet, or a griddle and grill the polenta circles until they are warmed and lightly browned. Top each with some of the onion and a parsley leaf. Cut the sausage on a sharp diagonal into slices about ½ inch (1.3 cm) thick and place on top or, if desired, substitute with shrimp.