"In Venice they don't bother to peel the peppers or wash the mushrooms," Francesco remarks as he starts to discuss this savory peperonata, a vegetable melange that can double as a sauce for pasta, an accompaniment for fish, or a topping for polenta. But oddly enough, at the same time, the Venetians do not use the inside of the eggplant for this dish. "The inside of the eggplant makes the mixture too mushy and watery," Francesco explains. It's best not to use slender eggplants and scoop out the flesh to within about 1/2 inch (1.3 cm) of the skin.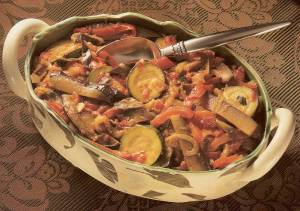 Peperonata
Ingredients
1

eggplant (aubergine), about 1.25 pounds (625 g)

1/3

cup

(80 ml) extra virgin olive oil (approximately)

1

large onion, sliced 1/4 inch (6 mm) thick

2

large cloves garlic, peeled

2

large red bell peppers (capsicums) or red and yellow pepper, seeded and cut into julienne strips

6

ounces

(185 g) zucchini (courgettes), sliced 1/4 inch (6 mm) thick

1

cup

(250 g) crushed well-drained canned plum (egg) tomatoes

Salt and freshly ground black pepper to taste

Handful of fresh basil leaves, slivered
Instructions
Quarter the eggplant and cut away the flesh to within 1/2 inch (1.3 cm) of the skin. Save the center of the eggplant for another use - a soup perhaps - and cut the skin in slivers about 1/4 inch (6 mm) wide.

Heat the oil in a large, heavy skillet.

Add the onion and garlic and saute over medium heat, stirring, until the onion is golden, about 15 minutes.

Add the peppers and saute another 10 to 15 minutes.

Add the eggplant and zucchini and, if needed, more oil. Continue to saute another 15 to 20 minutes.

Stir in the tomatoes and cook another few minutes, then season with salt and pepper, stir in the basil, and serve. Or set aside and reheat to serve with other ingredients.