It's nice to serve fried calamari on a sheet of parchment paper. The paper not only adds an inviting note of informality but also helps absorb any excess oil from the crisp fried rings of squid. And for Francesco, it adds a Proustain touch. "When I was a kid and went to the market with my mother, I was always fascinated by the way the butcher of the fisherman would wrap something up in the paper and hand it to my mother, saying, "200 lire, signora." Today the crumple of paper always brings back these memories.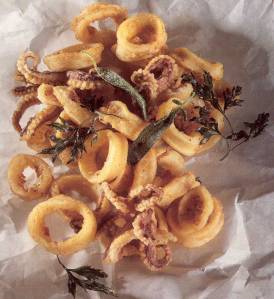 Fried Calamari
Ingredients
2

pounds

(1 kg) whole medium-size to small squid (about 625 g), cleaned

2

cups

(310 g) flour

1

tbsp

paprika

2

leaves from large sprigs fresh sage

4

tbsp

curly parsley leaves

Salt to taste

Lemon wedges

Corn oil for deep frying
Instructions
If using whole squid, clean them by removing the interior cartilage. Slice the cleaned squid in rings.

Mix the flour and paprika together in a large bowl.

Begin heating the oil to a depth of 2 inches (5 cm) in a large saucepan or a wok.

Place the squid rings and tentacles in the flour and toss to coat them.

When the oil is hot, add the squid rings, separating them and shaking off as much excess flour as possible.

Fry them until they are light gold, then drain on absorbent paper.

Continue frying the squid until they are all done.

Then quickly fry the sage leaves and parsley.

Dust the squid with salt and pile onto a large sheet of parchment paper in a bowl or basket.

Garnish with the fried herbs and serve with lemon wedges.