This recipe consists essentially of Francesco's lush, simple stewed zucchini (zucchini in umido) tossed with fresh futtuccine and garnished with crisp slices of fried zucchini and shavings of Parmesan cheese.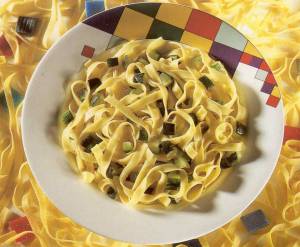 Fettuccine with Stewed Zucchini
Ingredients
1

cup

zucchine in umido

1

slender zucchini (courgette), sliced paper thin

1

cup

(250 ml) extra virgin olive oil or vegetable oil

12

ounces

(375 g) fresh fettucine (dried penne or linguine may be used)

1

tbsp

unsalted butter

1

tbsp

chopped flat-leaf Italian parsley

2

ounces

(60 g) fresh Parmesan cheese, in paper-thin shavings

Freshly ground black pepper to taste

Salt
Instructions
Prepare the zucchini in umido and set aside to keep warm.

Pat the slices of zucchini dry on paper towels. Heat the oil in a heavy skillet and fry the zucchini slices until they are a golden brown. Drain on absorbent paper.

Bring a large pot of salted water to a boil for the pasta. Add the fettuccine, stir, and cook about 2 minutes.

Drain the pasta and toss in a warm bowl with the butter and salt and pepper. (penne or linguine will take about 6 minutes to cook.)

Reheat the zucchini in umido, add to the pasta, and toss again.

Serve topping each serving with a sprinkling of parsley, some cheese shavings and slices of fried zucchini.